10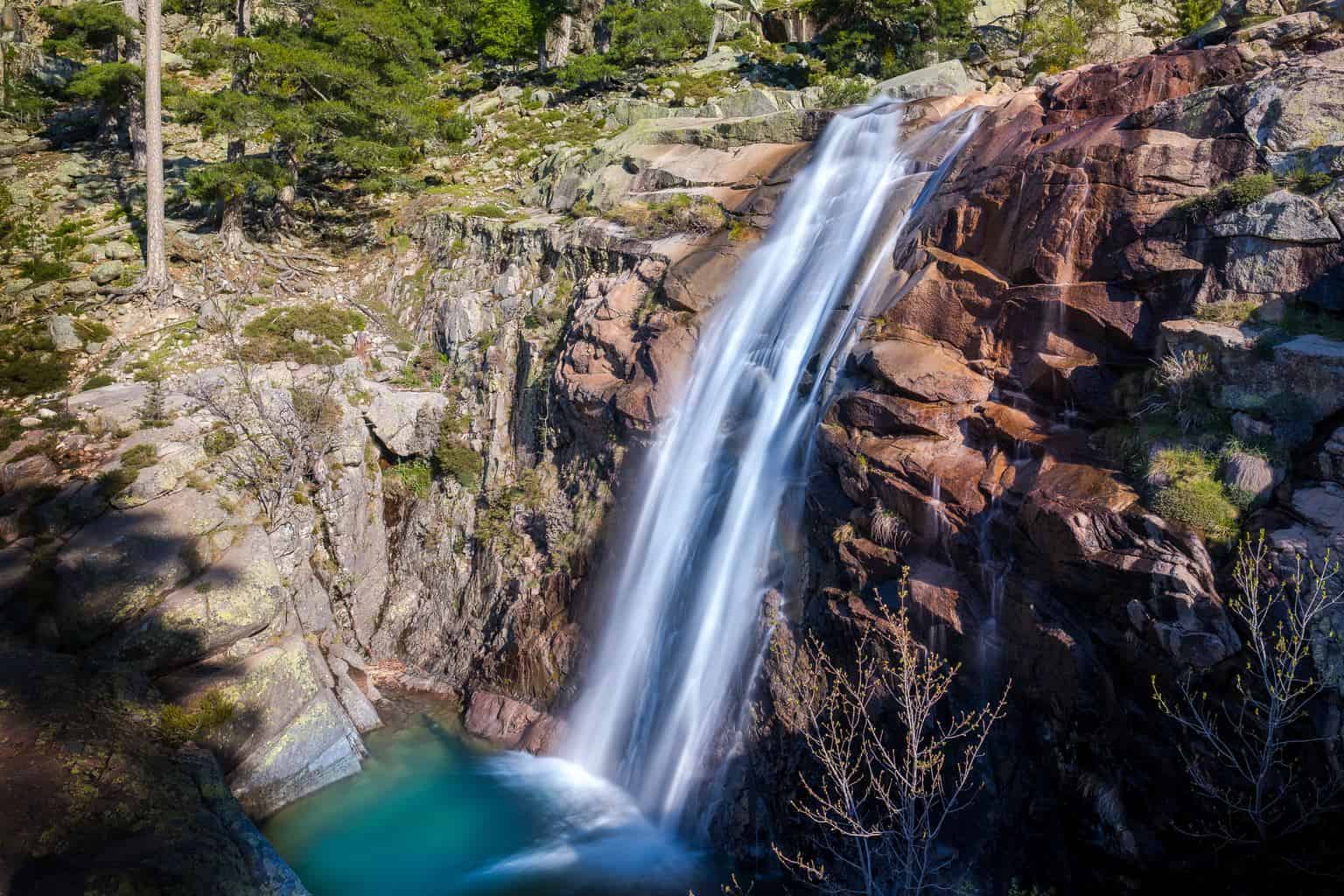 10 Marvelous Hiking Trails With Waterfalls (MUST-SEE)
When most of us hike, we are looking for an exciting and peaceful experience.
Whether you are going on your single annual hike of the year or you are hitting the trails every weekend, you are probably looking for the chance to see something truly spectacular. A wow moment.
Hiking trails with waterfalls are great for satisfying that burning thirst for amazing views. Many of us have certain features they love to see on a hike, and there are hardly any people who are not thrilled with the presence of waterfalls.
Waterfalls act as a stunning backdrop to just about any hike whether they are big or small. You can bet that if you are going on a hike and you see one, it will be one thing you'll take a picture of. Waterfalls are beautiful natural features that are always a treat to look at.
Many hikes are built around finding waterfalls as a center point for the whole experience. This is why we have compiled this list of amazing hikes that also include jaw-dropping waterfalls as a main attraction.
Let's dive in.
Booth Creek Falls - Colorado
Here's a Colorado hike perfect for the experienced hiker. As far as trails go, this is one that is short, but what it lacks in length makes up for in difficulty. The hike itself comes in at a simple six miles, but the strenuous nature of it makes it difficult for the faint of heart.
The elevation is staggering – 3000 feet. However, it's rewarding. You will love the views of this trail, which is located near Vail. You better see the video below.
If you're a native or you're just looking to visit the area for the season, consider checking this trail and see its amazing waterfall feature.
Waterfalls come in all shapes and sizes, and this one is a beautiful display. Few waterfall scenes are this unique or picturesque.
While you might be used to the image of a cascading waterfall that is raining down perfectly, this one has way more character.
You can enjoy watching the waterfall which is surrounded and cradled by a series of beautiful red rocks before ending in a shallow pool that you will want to wade in. The water might be cold, but you will not be disappointed with this sight.
Kaaterskill Falls - New York
Few people think of New York and automatically jump to hiking, but New York actually has a variety of trails and exciting experiences to enjoy.
One of those thrilling experiences is Kaaterskill Falls, which is not only beautiful, but one of the highest waterfalls around. This splendid setup is perfect for bringing you an exhilarating experience that will also provide you with amazing social media photos.
The hike itself is considered moderate and spans a total of 2.6 miles. You will love getting your exercise and enjoying a beautiful sight too.
The falls themselves are just perfect to look at. The vision of this beautiful development in nature will make you happy that you put in the work to get there.
There are multiple falls, each one cascading down from a thrilling height. While you won't be cliff jumping here anytime soon, you will enjoy photographing this natural beauty and listening to the majestic rush of the water.
Since we're in the area, it's worth mentioning that there are some amazing waterfalls in the Adirondacks.
Trail of Ten Falls - Oregon
Sometimes you need to see more than just a couple of falls. This is a hike that has you completely covered on that front.
There has never been a more appropriate hike for those who just want to see some waterfalls. This one is in Silver Falls State Park, Oregon. The hike itself is easy, but the length makes it more difficult for the inexperienced.
That's why it's recommended to be in good shape. It is a whopping 7.8 miles that will leave you wondering just how quickly you can get through it without draining yourself out.
Usually it takes between 3-5 hours to explore the entire place. The sights along the way are amazing for bringing you the most out of a good waterfall experience.
The waterfalls on this hike are awesome, and the fact that there are so many is just an obvious selling point. You will love finding the best possible way through this route, and every time you get tired, you will find a new waterfall to boost your energy.
Boulder Falls - Denver, Colorado
Surprisingly or not, not everyone who enjoys hiking likes to spend a ton of time doing it. Some people would rather have a quick burst of nature without running themselves into the ground.
Unfortunately, a lot of hikes don't pay off until much later when you've completely worn out.
Fortunately, Boulder Falls near Denver, Colorado is here to help people who want to see the beauty of nature without necessarily spending too much time (or energy) getting there.
This simple 100-yard hike is perfect for people of all experience levels and is proud to show off its truly amazing final view. You will love seeing what these falls look like all around the year.
Vernal Falls - California
This is a moderately difficult hike that requires a lot more energy but also brings an amazing payoff in the end. The trail itself is classified as strenuous even though it is only 2.4 miles in total. You will love seeing the sight of these falls, which provide a beautiful image year-round.
These very falls are the pride and joy of Yosemite National Park in Sierra Nevada Mountains, California.
This hike is a beautiful journey out, and the rewarding view in the end is absolutely amazing. Better yet, if you carry on to nearby trails, there are even more beautiful waterfalls for you to see.
This is a hike that will leave you feeling like you got plenty of exercise and ended up with a rejuvenating view. Something about it makes you feel you are exploring nature for the first time.
Fern Falls - Colorado
A good moderate hike can provide you with the kind of high-quality exercise that makes you feel proud of yourself the following day.
At 5.4 miles, this trail located in Rocky Mountain National Park, Colorado is perfect for bringing you a satisfying hiking experience.
That's a waterfall setup that has a little more character than most do. You will want to grab some pictures of this one to share with friends.
The waterfall itself does a brilliant job of effortlessly cascading through rocks and fallen trees that make it a sight quite unlike any other.
The way the falls move through nature in an almost staged setup makes it easy to see why people enjoy them so much. Just don't be the person who tries to go off trail to climb on them. These should be seen and photographed, but never touched.
South Falls - Oregon
Every once in a while, you see a scene in nature that transports you to another place. South Falls in Silver Falls State Park, Oregon is definitely one of those places.
It provides visitors with an ethereal view. Something about this entire scene looks as if it was taken from a magical fairy world. You won't be able to refrain from taking pictures of this beautiful spot.
Depending on which direction you take, this hike can either be long or short, but the shortened version is a sweet three miles. This makes it an easy to moderate hike that everyone can enjoy without getting too overwhelmed on the journey.
If you are looking for a good trail to head out on with friends, this is one that provides you with stunning sights and sounds in every direction.
Copeland Falls - Colorado
There are some waterfalls that remind you of the haunting power of the wild, and this is one of them. This waterfall feature is one that reveals the raw side of Mother Nature.
Located in Rocky Mountain National Park, it isn't necessarily picturesque, but it brings an element of genuine wilderness with it. In many ways, this rushing crash of water will remind you that nature is a strange and powerful force capable of amazing things.
You won't want to walk anywhere near these falls, but you will absolutely love watching the white water as it crashes in a rush of staggering power.
This is a nice and easy hike, making it great for those who are new to hiking or people with kids or babies. The hike itself is less than a mile, but the view of these falls makes it easy to see why people love going there.
Hanging Lake - Colorado
Yet another gorgeous place in Colorado, these turquoise waterfalls can be found in Glenwood Canyon, very close to Glenwood Springs.
The falls are a gorgeous display of picturesque nature that will leave you wanting to stare at them for hours. They are a true testament to the beauty of the state, and the surrounding area makes it that much better.
Though it is a little over three miles in length, this hike is still considered being moderate rather than difficult. Fortunately, it is well worth the effort.
Upper Calf Creek Falls - Utah
Utah is known for some pretty amazing natural phenomena, and this 126-foot-high waterfall will take your breath away. You better be physically ready, though!
After a six-mile strenuous hike going up on Grand Staircase-Escalante National Monument, you can enjoy the gorgeous sight of waterfalls that cascade down an exciting rock display.
It's a superb view of water falling in delightful patterns that will please your eyes and soul.
The hike might be a bit long for some people, but that doesn't mean it isn't worth it. In fact, if you want to see the falls from the bottom, you can even continue your hike and find your way down.
Conclusion
Finding a good hike can be a bit of a challenge depending on what you are looking for, but many people find hikes with waterfalls to always be worth it. And as we saw, there's a reason why!
A trail should bring you closer to nature and deliver some awe-inspiring views. The waterfalls on the above-mentioned trails definitely exceed expectations. They represent the raw power of nature as you bear witness to these stunning sites.
Plus, they are for every skill level. All you have to do is look for one that seems worth it and then head on your way. Many of these are so packed full of beautiful natural elements that you will find yourself clamoring to take pictures so you can capture those beautiful moments.
Just make sure you take some time to sit down and focus on the world before you before you view it through a screen.
---
What's the best trail with a waterfall you've been to? Please comment below!
Founder of this website, Asen is a passionate hiker and writer who is also a gear nerd. He's been featured on many established hiking websites where he gives hiking advice & tips. When he is not trekking with his family or friends, he is writing articles and product reviews. Asen spends most of his time in Bulgaria but he constantly travels the world in seek of more unforgettable experiences. Read more about Asen here.