8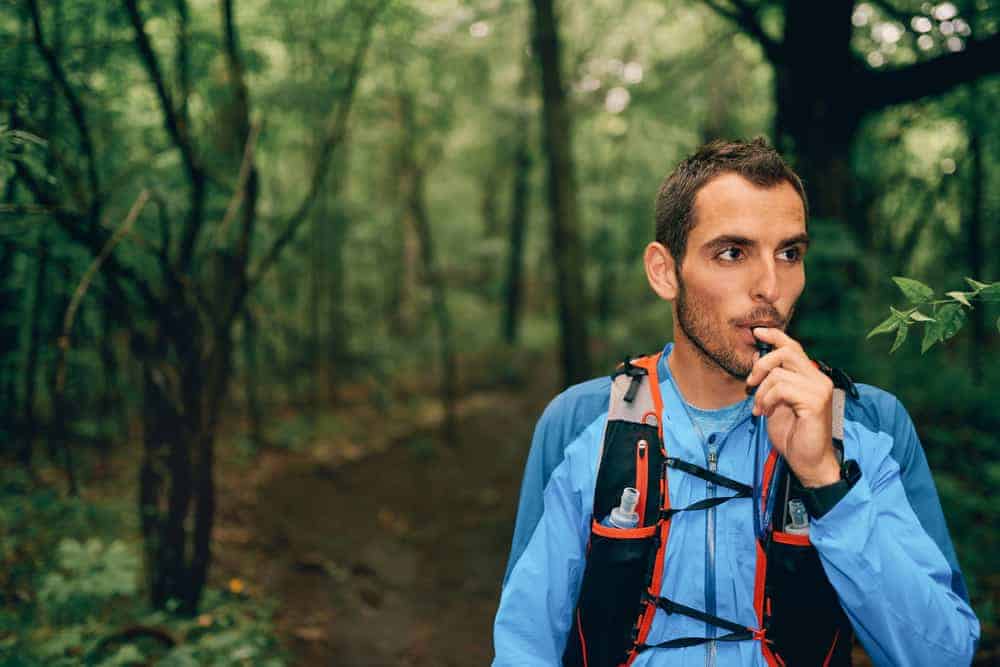 How Do Hydration Backpacks Work (Plus Pros & Cons)
Probably you've heard a lot about them.
Oh, yes.
They are super popular and they have their fans and adversaries passionately discussing them online and offline.
But are you sure you know how do hydration backpacks work?
My goal with this article is to help you better understand the structure and the components of those packs. I'm going to also show you their pros and cons based on personal experience and on a survey I recently conducted on social media.
That's right. I asked thousands of hikers from all around the world with various experience about their opinion on hydration rucksacks. Is it worth buying such a pack or use water bottles instead? The result deserves attention. It will certainly make you look from different angles, thus having a clear picture of the entire concept.
In the end, you'll join the fanbase…or you won't.
Are you ready?
Let's go.
Why Hydration Is So Important?
You know it's crucial to stay hydrated when you're performing any outdoor activity. Human body contains 60% water. No matter if you're hiking, trekking, mountaineering, cycling or running, your body requires water to function properly.
It's a known fact that staying hydrated will help you last longer in the mountains by increasing your endurance.Check the video below that gives a curious insight on the importance of proper hydration.
According to Kris Gunnars, Bsc from Healthline, people need roughly 2 liters of water on a daily basis. Sure enough, those quantities could be quite different when you're hiking many miles on a hot day. Then it's recommended to drink a liter every hour.
Increased fluid loss due to extended physical activity or heat may lead to headaches, impaired mood, and stamina decrease.
Bottom line – dehydration negatively affects both your physical and mental performance.
That's why hydration backpacks exist – they help you drink water more easily, on the go.
How Do Hydration Backpacks Work?
For the sake of this article, we will refer to hiking hydration packs. They work as a general hiking backpack, except that they have a hydration system.
A rucksack with a hydration system allows you to drink water effortlessly without taking off your pack. Often, you don't even have to use your hands. The water is stored in a water bladder stowed in a hydration sleeve inside the pack. You access the fluid via a hose that goes from the reservoir through holes on the pack to reach the exterior so that the tube hangs over either shoulder.
The slits in the pack are also called tube portals or access points. You can find backpacks with a single hole for the tube and packs with dual holes. The latter gives you more flexibility allowing you to hang the hose on the left or on the right shoulder.
The tube (hose) ends with a mouthpiece, also known as a bite valve. Some are designed with a switch that prevents water from accidently sipping out. To further stabilize the drink tube, some models include clips on the shoulder straps with which you can position the hose for easier access.
For effortless refilling of the water bladder, many hydration packs have a button on the reservoir that makes disconnecting the drink tube quick and easy, with a single press. In that way, you don't have to remove the hose from the slits. You just refill the reservoir, reconnect it to the tube, and you're ready to go.
Another feature worth mentioning is that the water bladders have a large mouth opening – up to 5-7 cm. This is especially handy when you need to clean the reservoir or you need to cool the water by putting ice cubes into the bladder.
Except for hiking, there are hydration backpacks, suited for various activities:
Other Types Of Hydration Backpacks
Another popular type is the hydration waist pack. The definition is pretty straightforward. These are packs you carry around your waist. Unlike other hydration backpacks, the waistpacks often don't have a water bladder and a hose. Instead, they have a quick-access compartment for a water bottle.
As you can imagine, the storage capacity of a waist pack is scarce. They usually have a separate compartment for a 0.5 L bottle as well as few other small pockets for storing some important essentials such as keys, smartphone, etc.
That's why waist packs are most appropriate for short day activities – running, walking, biking, etc.
Pros & Cons
Now it's time for the fun part. We will see why some people praise hydration backpacks while others prefer taking water bottles and don't want to hear a word about tubes and water bladders. Make sure to remember and refer to this section if you consider buying a hydration backpack.
As you can see, hydration packs have their benefits and downsides. It all comes down to personal preference and testing.
Popular Models of Hydration Backpacks
Here I'll briefly mention some of the biggest companies that produce hydration packs.
On a side note, you might want to check out the most popular hiking backpack brands of 2019 as well.
Camelbak
Camelbak is arguably the most famous and trustworthy brand that manufactures hydration packs and components.
Founded in 1988, the company is based in Petaluma, California. The seemingly high prices totally reflect the quality. Here are some of their popular models:
Osprey
This is a well-known name that every backpacker knows. They are known for the high quality outdoor gear and innovative technologies implemented in their backpack product line.
They also provide an All Mighty Guarantee. Let's take a look at two of their top rated hydration models:
Teton Sports
Teton Sports is a young company that specializes in manufacturing affordable, durable, and reliable outdoor gear. Don't get that wrong, though. The low price is not a tradeoff against the quality.
Check out two of their high-rated hydration backpacks.
Now let's see some popular questions related to hydration packs that people often ask.
FAQ
What is the capacity of the water bladder?
What is the gear capacity of hydration packs?
Is there a risk of leaking?
Can I fill the bladder with other liquids?
Is it hygienic to drink water from a water bladder and via a hose?
How can I prevent the freezing of my reservoir in cold weather?
Conclusion
It is a general opinion that hiking hydration backpacks are best suited for long hikes on difficult terrains (thru-hikes for example). I agree with that. It's much more comfortable and quicker to sip water from a drink tube while climbing a hill instead of painfully trying to access your water bottles.
On the other hand, a compact and lightweight hydro pack would be an excellent choice for short day hikes too. They are especially useful for runners and bikers because they allow them not to slow down their pace to hydrate from water bottles stowed in side pockets.
It all comes down to personal preference. Hydration backpacks have their pros but also their cons. My advice –go for a hydro pack if you are hiking extensively on tough terrains and if you cycle or run. Otherwise, stick to water bottles. But don't take my word for it. Test and see what's best for you.
Do you prefer water bottles or hydration backpacks? Leave a comment below!

---
Reference: https://www.rei.com/learn/expert-advice/hydration-system.html