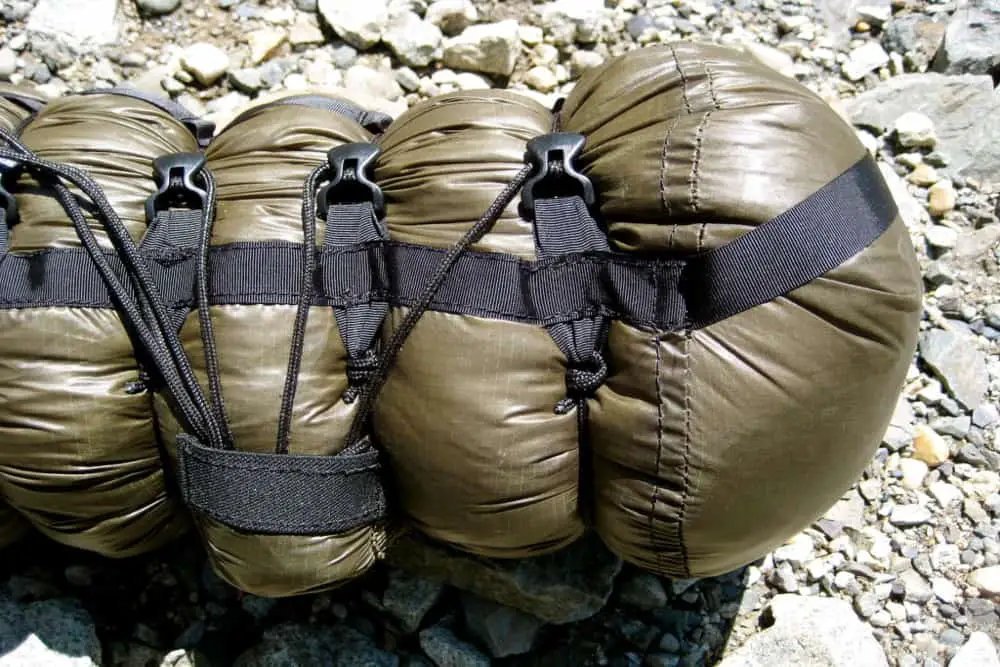 Can You Put A Tent In A Compression Sack? (Yes, But See This)
One of our biggest camping struggles is finding enough space to store everything.
Tents, which are essential for overnight comfort, take up an unfortunate amount of space. Often, we end up doubling our load with additional carry-ons.
Compression storage is the go-to solution for space-saving – but can you put a tent in a compression sack? Is it the best tent-storing solution?
The short answer is: Yes, you can put a tent in a compression sack, but only if it's for a short amount of time. Compression sacks aren't made for longer tent storage; it could potentially damage your tent fabric. With tents being rather expensive, protecting it properly should be your priority.
What seems like an easy fix may not be the best option after all! We'll walk you through the pros and cons of using a compression sack, and how (if you have no other options) to properly store a tent in one.
So if you want to learn valuable tips based on years of camping experience, read on!
Let's begin.
Can You Put a Tent in a Compression Sack?
Like we've mentioned before, you absolutely can fit a tent in a compression sack.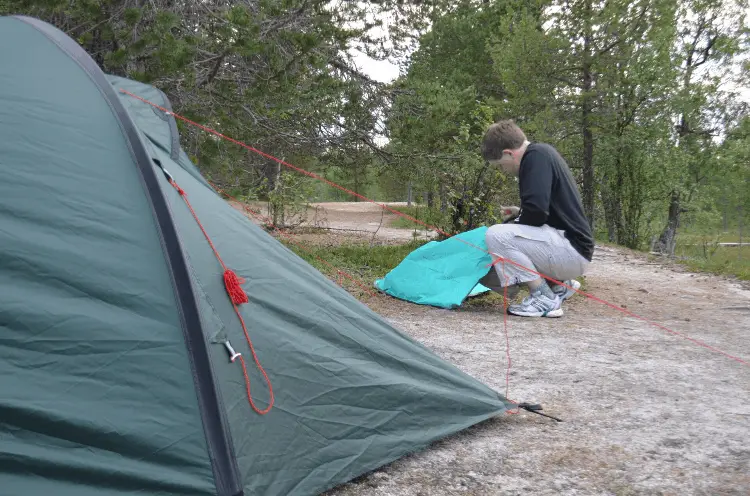 There are a few reasons for doing so:
You want to save space since tents take up a lot of space.
You need to compress bigger items when backpacking, opposed to car camping where a regular tent bag is suitable.
You want separation between your tent and other items you're carrying, or you want to split up the baggage.
That being said, putting a tent in a compression sack may not be the best idea. A major concern is that compression may cause damage to the material and helpful treatments on it.
Why It May Not Be a Good Idea
Newer tent models in particular come with waterproofing treatments, the fabric coated with special chemicals.
Special synthetic blends of material also come with their own vulnerabilities. By packing a tent into a tight space, more friction and pressure is placed on the tent.
This could result in damaged coatings over months of storage, which we certainly don't want! 
Another question is: where do your tent poles go?
Depending on how big your sack is and how short your tent poles can fold, you may have to store them separately. This negates the intention of easy and efficient storage when travelling light.
Another con of putting tents in compression sacks is having to purchase a compression sack separately.
Not only are compression sacks pricier than your regular duffle, most tents already come with a storage sack. It would be at additional cost.
However, in case you're wondering what to use as a pillow when camping, your stuffed compression sack is a great option.
When to Store Your Tent in a Compression Sack
There really is only one occasion where you would need (or want) to store your tent in a compression sack: when you need to use every bit of space you have.
I'm talking about backpacking trips or long hikes to a campsite where you have to carry everything in one go.
However, avoid using a compression sack for off-season storage. In fact, we don't recommend storing your tent in a compression sack for more than a few days at a time, especially in hot weather conditions.
Instead, think about what else you can compress that doesn't require as much care. This includes:
Sleeping bags – Important for every season but with a tendency to trap a lot of air, the tighter you roll your sleeping bags, the better.
Clothes – Multiple outfits add bulk; compress them to save space without sacrificing necessities.
Towels & cleaning cloths – While it's unlikely you'll splash out on a compression sack just to tuck these away, softer and shapeless items are better to pack tight.
To sum it up – compression sacks are great temporary solutions (for example, if you're travelling for a few days), but not a viable long-term storage option for your tent.
But it definitely helps if you want to protect your tent from water because tent bags aren't waterproof.
How to Choose a Compression Sack for Tent Storage
How do you choose the most appropriate compression sack for your tent? Let's quickly explore some important factors to consider.
On Size
Whether you're using your compression sack for tent storage or sleeping bag storage, you want to get the sizing right.
Keep in mind that size is decided by the amount of fabric and thickness of the fabric you're trying to compress.
The general rule of thumb is to get a compression sack the same size as the regular storage sack your tent came in. Sack sizes are measured in liters – pretty easy to check upon purchase.
Apart from the holding volume, compression sacks may also offer a compression volume: how much space your sack takes up once compressed.
This measurement will come in handy if you're using your compression sack for internal storage.  
On Type
As for the type of compression sack to use; that's entirely up to you! What climate are you in? What is the terrain condition like? Would you use the compression sack for other activities and occasions?
Opt for any combination of the criteria below that best fits your needs.
Waterproof
Lightweight
Durable
Note that some compressions sacks are suitable for independent and internal use, while some should only be used as internal storage.
Sacks also come with two common closings:
Roll-top stuff sacks keep moisture, sand and random debris out – better suited for external carrying. A nice example would be the Unigear dry sack, which we recently reviewed.
On the other hand, drawstring sacks allow a slightly more malleable closing. They're great for internal storage or when you're trying to squeeze that little bit more space out.
The Best Way to Store Your Tent
There have been questions about the best way to store your tent; whether we should roll, fold or stuff them.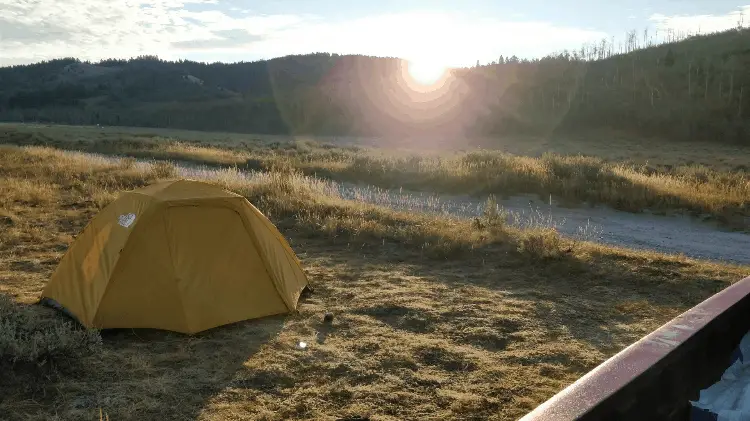 There isn't a huge difference between folding and stuffing your tent. Since I own a tent with clear seams and one that is shaped in a way that makes folding easy, that's how I prefer to store it.
Some of my colleagues own irregular-shaped tents where stuffing is easier, no matter if it's in a compression sack or not.
On General Packing
While there's no special technique to stuffing a compression sack, make sure to remove any air pockets!
The best way to do so is by packing it from bottom to the top. Keep the material as flat as possible for a better fit.
Short-term Storage
Generally, tents are made to be easily compressible. I have an efficient method of putting away my tent. Feel free to watch the useful video below.
First, I fold the tent flat at the width of the poles. Then, laying the poles down along the length, I roll the bundle up tightly and slip it into the sack.
You could also simply pack it away in a backpack and fill up any spaces with smaller items for efficient storage.
Try not to fold across zipper strips if possible; you want to zip any mosquito screens shut before folding to prevent catching them on the zipper teeth. Avoid strapping your tent down as well; the straps could delineate the fabric.
Long-term, Off-season Storage
Long-term storage of tents requires a little more thought! There are 3 golden rules to follow.
Clean your tent before storing
Simply cleaning with cold water and mild soap goes a long way in improving material longevity.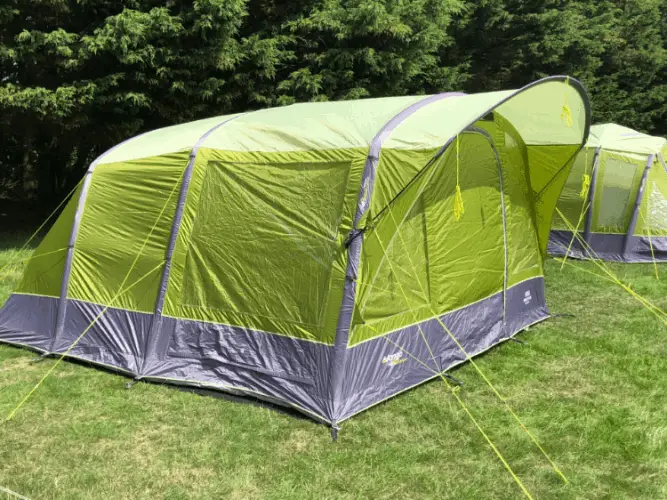 If there's sap on the fabric, let it dry before spot cleaning with mineral oil or alcohol-based products.
You might also want to remove grit from the zippers if you were in a muddy or wet location.
Dry your tent before storing
Any tent put away while damp will develop mildew.
Not only does this produce a funky smell, but it may damage the waterproof coating as well. Tight spaces will trap water especially well; pitch or hang your tent to dry.
We have an excellent guide on how to dry a tent quickly. Read more here.
Store your tent in a cool, dry place
Avoid storing your tent under sunlight and humid locations like basements or in car trunks. Gear closets and garages are much better options.
You should not store tents in compression sacks in hot weather/temperature conditions, as the extra friction and heat will cause long-lasting damage to the material.
Remember that tent fabrics need to relax and breathe. If possible, use a large-sized pillow case or mesh bag where the tent can be kept loose.
As for the tent poles, you can either store the poles partially assembled to reduce tension in the shock cords, or break the poles down working from the middle towards the ends.
Best Compression Sacks for Tents
Here are 3 models that would do the job.
Outdoor Research Ultralight Compression Sack
One of the best compression sacks for tents is the Outdoor Research Ultralight Compression Sack.
As the name implies, it's extremely lightweight. What we praise it for, however, is how it doesn't sacrifice durability at all.
Tent equipment can be much heavier than sleeping bags and clothing, meaning sacks easily burst through.
This sack is made out of 40D Ripstop Silnylon fabric, which is not only durable but also comes with lightly water-resistant qualities.
The end caps are reinforced with bound seams, so your pressure points are not weak points.
The draw cord closure and four compression traps help compress the bulky tent material. At its largest 35L capacity, you can easily fit a 3-person tent. You can also store bits and pieces of tent hardware in the extra end pocket.
Sea to Summit Ultra-Sil Compression Sack
A well-established brand among travelers, Sea to Summit's Ultra-Sil Compression Sack is a great compromise on price, durability and sizing options.
I have friends who use it for tent storage and it does a great job.
You can opt between 6L sacks to 30L capacity – you'll have no trouble fitting smaller tents into it.
The standard compression features are expected, including 4 straps for even compression; they're made extra-long for full-capacity carrying.
Pair them with a flip-top-lid and you won't have to worry about tangling. There's also a pull handle at the bottom and bar tack reinforced stress points for extra durability.
What we really like about this is the 30D Diamond Ripstop Cordura fabric. Infused with silicone, this material balances durability, water resistance qualities and light weight. It's perfect for both external carrying and internal storage.
REDCAMP Nylon Compression Sack
If you're looking for something simple, durable and cheap, Redcamp's Nylon Compression Sack is a good option.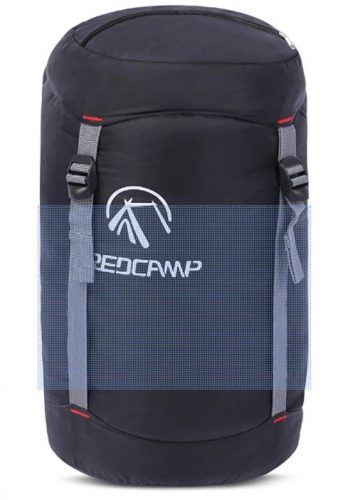 Nylon is lightweight and durable, and easy to clean. While it's not as water resistant as the other two sacks, it's a viable choice for those in dryer climates.
Four adjustable straps keep the material inside from bulging out, as well as push out extra air. The handiest feature is the top lid with a zippered pocket.
Not only does it keep out unwanted dirt and debris, the pocket allows you to store smaller tent hardware.
It comes in 4 sizes: 10L, 17L, 27L and 40L, the latter capable of fitting a relatively large tent.
Final Verdict
There you have it!
Can you put a tent in a compression sack? Yes, you can put a tent in a compression sack when you're backpacking or travelling for a few days.
Compression sacks are great space savers, especially when you're trying to go hands-free and minimizing as much weight as possible. With tents being rather bulky gear, compressing them seems great in theory.
However, compression sacks are not the ideal tent storage solution in the long-run. Tents need to breathe in order for the fabric to stay 'healthy'; the tight packaging can cause unwanted lines, damage to waterproof coatings and even encourage mildew growth.
Since tents are rather pricey investments, make sure to adhere to the 3 golden rules of tent storage.
Clean your tent, allow it to dry completely and store it in a cool and dry location. When in doubt, opt for a looser fitting storage bag and put it away at the back of your closet.
Let us know if you've come across any great compression sacks for tents!
---
Founder of this website, Asen is a passionate hiker and writer who is also a gear nerd. He's been featured on many established hiking websites where he gives hiking advice & tips. When he is not trekking with his family or friends, he is writing articles and product reviews. Asen spends most of his time in Bulgaria but he constantly travels the world in seek of more unforgettable experiences. Read more about Asen here.