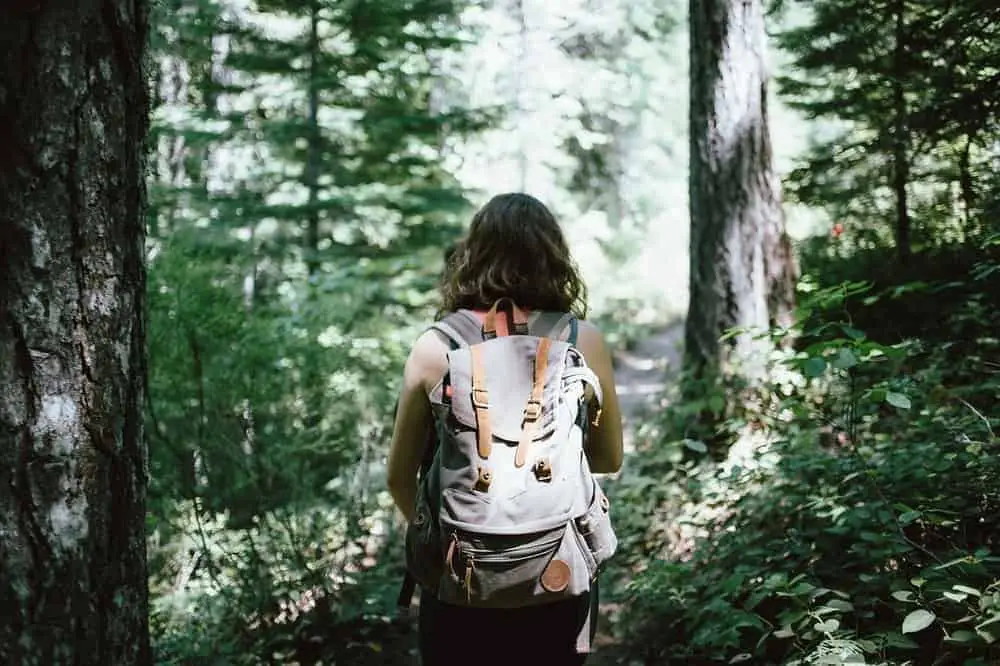 Full High Sierra Swerve Backpack Review [August 2021]
High Sierra Swerve Backpack: QUICK OVERVIEW
Review of: High Sierra Swerve 36.5 L
Do you need a multi-pocketed pack that is largely known to perform really well?
Then continue reading this High Sierra Swerve backpack review that I admit I created with tons of enthusiasm. That's because I'm always delighted to bring to your attention products from high-quality brands that are labelled "Amazon's choice".
In the following sentences however, I will do my best to help you decide if this is the best choice for you!
Uber durable, lightweight, and with a volume of 36.5 L, Swerve is suitable for daily use. It's a surprisingly versatile and spacious daypack. You can easily use it when hiking backcountry for the weekend or simply getting around the city.
It has plenty of compartments for your books, documents or electronic devices but also for your food and clothes. This is one of those packs you can carry for many hours. That's thanks to the padded shoulder straps and cushioned suspension system. It feels soft and comfortable, just the way you like it.
Enough superlatives! The most important question is whether this is the right pack for your needs. Please continue reading and let's see all the important details.
This article contains affiliate links. As an Amazon Associate I earn from qualifying purchases. That means if you click on a link and make a purchase I'll earn a small commission. This is at no extra cost for you. If that's the case, thanks a million!
High Sierra Swerve Backpack Review
Probably you are aware that High Sierra is among the best hiking backpack brands worldwide. The company gained incredible reputation creating sturdy, feature-rich, and versatile packs. They are celebrated for their numerous models of top-rated rucksacks suitable for every occasion.
Who Is This Backpack For?
On one hand, The stylish Swerve has a sleek design and characteristics that make you think it is well-suited for an urban lifestyle. And that's correct – it has plenty of internal pockets to organize your textbooks and papers and it is easy to carry.
Furthermore, you may call it a computer pack. The backpack has two media sleeves where you can put a laptop and a tablet. Heck, it even has a key fob and an usb /cable port. Perfect for students, office employees, and anyone who needs a reliable pack to carry different items for the everyday city life.
On another hand, High Sierra Swerve can be your perfect companion when you leave town and go outdoors. It has most of the bells and whistles needed for a 1-2 day hiking adventure. I am talking about the water-resistant material that will keep you items dry, the meshed side pockets where you can put water bottles, and the possibility to attach external gear thanks to the monster hook and the bottom straps. That's not even all – I'll include more details about that below in this article.
Bottom line?
The cute Swerve pack is adaptable, and that's the coolest thing about it.
It's for hikers, backpackers, outdoor lovers, college students, university professors and business people. Probably the only thing this pack is not suitable for is high altitude climbing like the one described in the movie "Meru", for instance.
Features Overview
I hope you like numbers because it's time to mention the specs of the High Sierra Swerve rucksack. They will certainly come in handy.
Size
When full, the pack is 19" x 13" x 7.8" or in other terms 48.3 x 33 x 19.8 cm. For its 36.5 liters / 2230 cubic inches, these are good dimensions. The size makes the Swerve excellent for commuting, travelling, and easy to maneuver with when walking on trails.
Let's move on.
Weight And Materials

It's always important to know how much does a hiking backpack weigh and the factors that matter.
High Sierra Swerve is as light as 2.15 lbs or 0.98 kg. I find that amazing when taking into consideration the sturdiness of its fabrics.
Speaking of the quality of the materials, this model is made of ripstop 600D polyester that features a special water resistant coating that will keep your essentials dry. Another part of the fabric includes 500D waffle weave fabric that evaporates water fast.
No matter how much we care about our backpacks, sometimes it happens to throw them here and there. That's just life in the fast lane. The good thing is that the Swerve pack has a padded bottom that gives extra protection for your belongings. I love that.
So far so good. Now let's check what's going on in the next section.
Comfort And Usability

A high quality backpack intended for daily use should not only be robust and anti-tear. It should also be comfortable to wear for a long time. It doesn't have to produce tension on the shoulders or the back. Also, it has to fit close to your body so it doesn't swing side to side.
High Sierra Swerve would be perfect if it had chest or waist straps to stabilize the load even more.
 However, thanks to its other features, it is nearly perfect. Let's see what I mean:
Let's move on and see what the Swerve model has to offer in terms of space. A lot of things to cover there.
Storage And Compartments
I always laugh when I hear some of my friends saying this backpack is so roomy that it could carry even a desk.
Well, I've never tried that, but it's true that High Sierra Swerve can hold an enormous amount of various stuff. Besides, it is cleverly organized. Here's how:
How To Use This Backpack?
A huge benefit of a backpack such as the High Sierra Swerve is that it's very easy to organize. That's because it doesn't have too many sophisticated features that complicate your life and make you wonder where and how to arrange your belongings. I'm saying this because things are slightly different with a huge trekking pack designed for multi-day adventures such as the Kelty Coyote 80, for instance.
With an everyday daypack as the Swerve, you can pack your essentials quickly and seamlessly for daily use.
It's all intuitive and you can't go wrong with that. Just make sure to distribute the load evenly. Also, avoid stuffing the pack too much when you wear it for too long. That's because unfortunately the lack of chest/waist straps makes it a bit difficult to stabilize. Here's a great article about properly packing your backpack.
What The Others Say About The Backpack?
I decided to include this section to share with you an unbelievable story. When I was gathering other opinions about the Swerve 36.5 L, I read about a woman who was accidentally hit by a car while taking a walk with the pack on her back.
After a short plunge, the lady landed on her back, ribs broken. There was a laptop in the media sleeve compartment that guess what? It stayed intact despite that it took the full weight of gravity because of the fall. The woman was severely hurt but nonetheless her laptop survived without a scratch.
That's what I call a nice advertisement! And yes, the lady is totally fine now, fully recovered. She recalls that accident with a bittersweet smile.
Just for the record:
The High Sierra Swerve has a rating of almost 5 stars based on more than 2000 reviews
But you can easily verify this online and don't take my word for it.
Alternatives
If you are looking to compare this model to others that are still worth checking out, then read my article on the best lightweight backpacks of 2021.
These are all daypacks with more or less the same volume as the Swerve. You might find the list appealing especially if you are on a budget.
For instance, the Camel 40 L comes from a well-known brand and it is inexpensive. At the same time, it offers some nice features such as an integrated rain fly and good adjustability. It doesn't have as many compartments, though, even though it is slightly bigger.
Another similar pack you may like is the Sumtree 35 L. It's a nice little daypack that is roomy and it can be folded in a pouch and carried this way. It's durable and has plenty of pockets and storage spaces to easily organize your essentials.
For the ladies, I would also recommend the super comfortable Gregory Maya 16.
FAQ
What laptop size can fit in the media compartment?

Is it carry on appropriate?

Can I use it as a fitness bag?

Is there any extra protection for my laptop and tablet?

What is the length of the straps?
Final Verdict
The best thing about the High Sierra Swerve is that it is versatile, affordable, and super spacious. It's a comfortable media backpack that has plenty of compartments for storing clothes, books, and pretty much everything you like.
However, as a hiking nerd, I would prefer something that is more customizable, waterproof, and with chest and waist straps. With that in mind, it would be difficult to find a cheaper backpack with such durability suitable for both the everyday city life but also for backcountry adventures. If you are willing to invest in a multi-purposed backpack proven to perform well in both scenarios, then the High Swerve would be your top choice.
Founder of this website, Asen is a passionate hiker and writer who is also a gear nerd. He's been featured on many established hiking websites where he gives hiking advice & tips. When he is not trekking with his family or friends, he is writing articles and product reviews. Asen spends most of his time in Bulgaria but he constantly travels the world in seek of more unforgettable experiences. Read more about Asen here.