4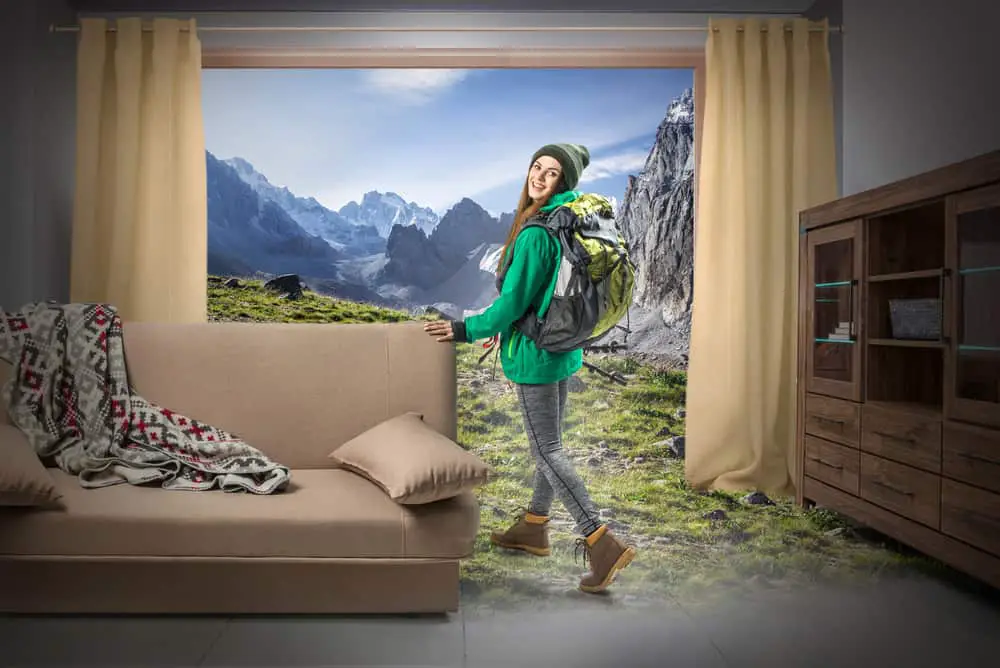 Hiking In Sweatpants: Can You Really Do It? (Pro Tips)
Have you ever been dragged onto an impromptu "hey, easy hike this weekend"?
One where you roll with the punches, throw on a workout shirt and hit the outdoors without changing out of your sweats?
I might have equated sweatpants with being exercise ready – but I sure wasn't hiking ready.
For some of us, hiking in sweatpants sounds like heaven. They're comfortable, they're cheap, and they're versatile to wear.
But is wearing sweatpants on a hike is really a good idea? While you still can hike in sweatpants, it's best if you invest in more outdoor-appropriate pants.
Our guide will answer any questions you have:
What are the pros and cons?
What are some suitable sweatpants models?
And more.
Read on for some expert know-how!
Can you go hiking in sweatpants?
Like we've said above – yes, you can go hiking in sweats. Certain comfort is guaranteed if you're enjoying a short, well-managed hiking path. Sweatpants also provide ample insulation during transition seasons.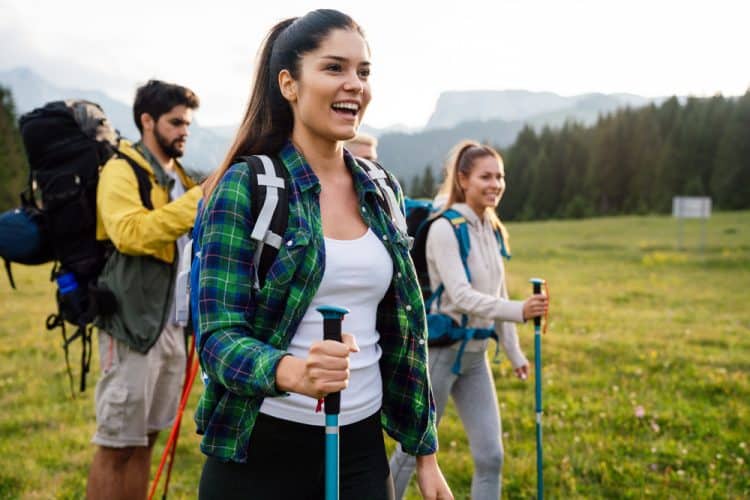 However, we don't recommend wearing sweatpants for long technical hikes. There are too many unpredictable elements, such as abrupt weather changes, challenging terrain, temperature consistency and more.
Note that the same applies to your favorite pair of Denim jeans, for that matter.
There are some factors to consider when it comes to wearing sweats for hiking.
Season – Are your sweatpants insulated enough? Are they too thick? It's important to regulate your body temperature to prevent illness.
Terrain – Do you require a wide range of motion and will you be encountering pools of water, rough surfaces, etc.? Any river crossing involved?
Duration – How long is your hike? If you're staying overnight, opt for pants that won't dirty easily (so you can rewear them) and are quick to dry. And when outdoors, you want to stay dry.
Material functionality – consider breathability, waterproofing and stretch factor. The ideal material will help keep you cool and dry, while allowing ease of movement.
Protection – Are they durable enough to protect you against brambles and debris? Do they offer any additional support to the joints?
Remember that there's more to finding the right pair of hiking pants or sweatpants than just comfort! Even something that feels comfortable may not end up comfy at the end of the day and even the best tailor can't change that. 
For instance, you don't want pants that soak up water easily. Not only does damp material stick to your skin uncomfortably, it can cause skin irritation and up the chances of catching a cold.
Remember, hike comfortably and hike smart!
Pros of Wearing Sweatpants For Hiking
Sweatpants are usually made of softer materials to maximize comfort. That's why people like to wear sweatpants. They are super comfy. 
Loose pant legs and stretchy waistband means a huge range of movement, great for when you have to squat or climb. Yet another reason people love to wear sweatpants. 
Sweatpants are thick enough to keep you warm during colder months and allows you to layer heat tech underneath. So you can wear sweatpants in colder weather on short hikes.
Sweatpants are easy to roll up when you get too hot, or when you want to dip your legs into a stream. A good reason to wear sweatpants. 
Sweatpants are generally a lot cheaper than traditional hiking pants.
Can easily access legs if needing to clean skin for any reason, like treating abrasions.
Cons of Wearing Sweatpants When Hiking
Sweatpants aren't very durable even though being super comfy – they snag on roots, rocks and other protruding things to tear more easily. Regular hiking pants are sturdier in that regard.
Wearing sweatpants hides higher risk of injuries, whether scratches, insect bites or something more serious.
Most sweatpants are made of cotton which gets dirty easily. Can't wear for more than a day.
Cotton isn't waterproof, meaning you can't wear sweatpants in rainy weather or if you're challenging routes that cross bodies of water. River crossing would be quite uncomfortable, for example. And you want to stay dry, right? I know I want to stay dry.
Even though being super comfy, cotton also absorbs moisture, but doesn't evaporate it. Staying in wet or sweaty clothes increases risk of getting sick. Can you imagine staying in your sweatpants after a laborious river crossing?
Sweatpants aren't appropriate for warm weather because they're not well-ventilated – you can overheat. The same could happen if you hike in ski pants. So in hot summer, they won't be as super comfy as you think they are.
Lack of good storage options as sweatpants either come with two large side pockets or none. You have to carry more via backpack or risk loose items falling out.
Sweatpants are not very secured. Stretchy waistband and simple belt string won't be enough to keep pants in place if heavy weights pull at the legs.
Best Hiking Sweatpants
Of course, I understand that some of us rather invest in comfort articles – especially if you're new to the hiking scene and don't want to make an expensive purchase just yet.
In this case, try to choose hiking sweatpants models that are outdoor appropriate.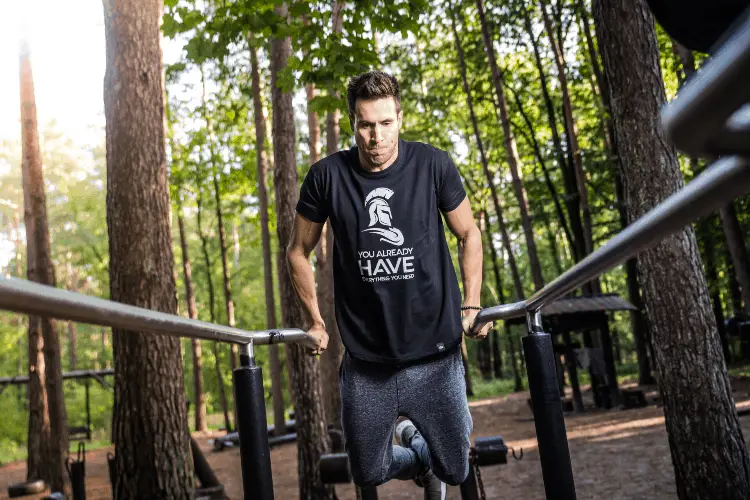 We got you covered for that too.
Here are some tested and approved hiking sweatpants models for men.
Vuori Transit Joggers

- What makes these pants so versatile is its classic silhouette and something a little extra. Treated with moisture-wicking properties, these will keep you sweat free and you will stay dry. Better yet, the four-way stretch fabric and UPF protection means you can hike or boulder under the sun for hours. The pockets are zippered for extra security.

prAna Over Rock Jogger Pants

- Sustainability concerns all of us – we can support the cause by purchasing pants that are both sustainable and functional! Made of hemp, recycled polyester and Lenzing Tencel, these sweatpants are extremely soft and warm while offering enough ventilation. It's relatively fitted and cuffed to prevent snags. You also get two large pockets for storage.

Topo Designs Fleece Pants

- If you're hiking in colder weather, opt for a pair of fleece pants. The brand's bright colors make you easy to spot on trailheads while the DWR-coated nylon knee reinforcements guarantee more protection and support. You will stay dry in mild rain or when you sweat. They're great as both a chill outer layer and base layer. Not suitable for river crossing, though, as they are not waterproof. 
And here are some top choice for hiking sweatpants for women:
Leggings Depot Women's Sweatpants

- Approximately 70,000 reviews speak for themselves – these reasonably priced sweatpants are a steal. Blending brushed polyester and spandex, the fabric is smooth but durable. It's also stretchy enough without being see-through. The high waistband keeps it in place while the slim fit style reduces drag and snag.

Romwe Women's Cargo Sweatpants

- Made of 100% polyester, these sweatpants are great for hiking. Not only is the material lightweight and breathable, the drawstrings and banded cuffs keep it neat and tucked in. The highlight is generous cargo pockets that keep your valuables safe and sound.

FULLSOFT Sweatpants

- Sometimes simple is best. The classic elastic waistband, side pocket and tapered cuff combo ensure a comfortable, adjustable fit with just enough essential storage. Made of a strong polyester and spandex blend, the breathable fabric sits comfortably on your skin without being too loose. Plus, they are water resistant ensuring you will stay dry in light rain.
Conclusion
There you have it!
Can you go hiking in sweatpants? Yes, you can but it's not the most ideal. It depends on the weather and the specific hiking conditions. 
Staying overnight? Start a campfire and hang your sweatpants to dry. Bring a sleeping mat and a much needed sleeping bag at any cost to isolate the cold. Otherwise, it's okay to sleep in sweatpants, as they can keep you warm.
And here's a very nice video describing some of the best outdoor pants.
Those are all great alternatives to any sweatpants, if you decide to go serious about your outdoor legware and stay dry when you need that the most.
Founder of this website, Asen is a passionate hiker and writer who is also a gear nerd. He's been featured on many established hiking websites where he gives hiking advice & tips. When he is not trekking with his family or friends, he is writing articles and product reviews. Asen spends most of his time in Bulgaria but he constantly travels the world in seek of more unforgettable experiences. Read more about Asen here.