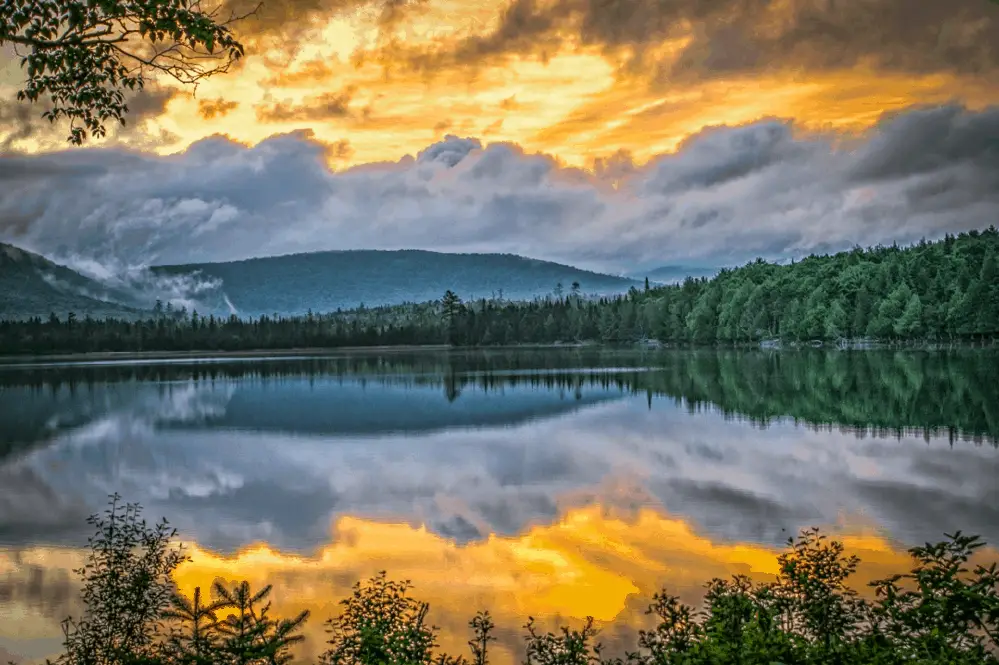 Hiking The Adirondack High Peaks: A Complete Guide [2021]
I bet you'll agree with me on that one.
It's getting harder and harder to find truly wild places. With the growth of outdoor activities and the sprawl of civilization, many parks are turning into commercial enterprises in the woods.
So if you want to get away it has to be into areas that access is challenging and the terrain has limited the possibility of development.
This usually means having to go on expedition type trips that require a huge commitment of time and resources.
But there are still some gems that have the wild nature while still being accessible enough for day hikes. The Adirondack High Peaks in New York is one such place.
Join me on a trip hiking the Adirondack High Peaks. I promise, it will be exciting!
Let's roll.
Where are the Adirondack High Peaks?
The Adirondacks are in upstate New York in the corner between Canada and Vermont.
In Eastern North America, New York's Adirondack State Park is the largest protected wilderness area.
The park runs from just north of Albany, almost to the Canadian border. The High Peaks region is a small part of the park that contains all the highest mountains.
The Olympic town of Lake Placid is jumping off point as it located in the heart of the High Peaks.
Aside from accommodations and restaurants, Lake Placid is home to a number of great outdoor stores, so you can easily equip yourself if there is any gear you forgot at home.
This location makes the Adirondacks accessible to people from Canada and the Eastern seaboard of the U.S.
We come from near Toronto, Ontario, which is only a 7-hour drive including a border crossing. Montreal, Boston, and New York City are even closer. Not far away is the gorgeous Algonquin park in Canada.
What makes the Adirondack High Peaks such a great place to hike?
Let' start with those gorgeous mountains.
46 Mountains Over 4000 Feet
While Adirondack State Park has hundreds of mountains, the High Peaks stand out as it is home to 46 mountains over 4000 feet in altitude.
To be honest, this is a little misleading as the list was compiled over a hundred years ago and modern survey techniques have found a few are just under.
Since they have been tracking ascents since before we found out the real heights, we still go with it and pretend a few are slightly taller than they actually are. Just play along.
The tallest mountain in New York State is Mt. Marcy at 5,344 feet. Since the tree line in the area sits around 4500 feet, this means there are around 10 summits that have 360-degree views and unique arctic tundra vegetation.
Just awesome. But wait for more.
The Challenge
The trails in the High Peaks are old and gnarly. A lot of the trails were created before thoughts of accessibility were on anyone's mind.
Many of the trails up the mountains are steep and rugged, making for a unique challenge compared to hiking out west where the trails are much newer in comparison.
While the altitude isn't as high, it is more than made up for by being almost rock climbing in places.
Many people I bring here for the first time are shocked by what passes for a trail up some of the mountains.
In places it seems they painted blazes up rock slabs and boulders rather than cut a trail through the forest.
But don't be scared off if you are not looking for a suffer fest. There are more moderate trails, even if the area is known for its ruggedness.
The Views
Treeless summits and exposed cliff tops offer amazing views that are shocking to see in the east where we are used to endless forests.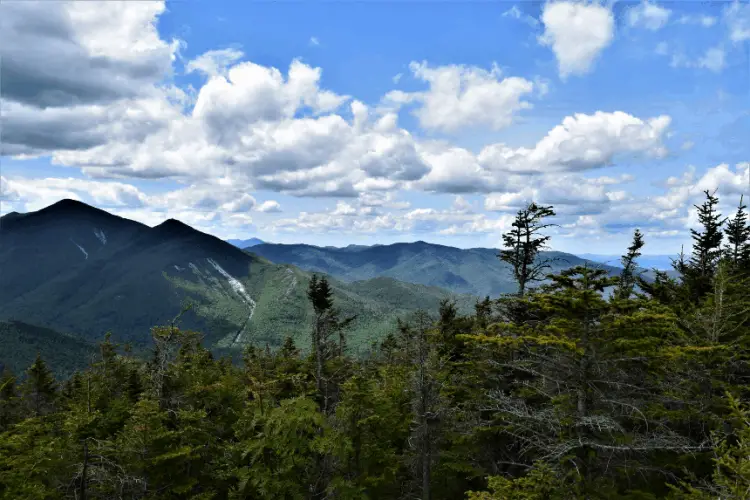 You have to earn those views with many steep miles but if you want Instagram shots that will make your friends jealous then lace up your boots and get ready for some cardio.
And don't forget to bring along your favorite stargazing tent. At such altitudes, if the night is clear you will have a memorable experience observing billions of stars.
The Water Falls
Heavy snow fall, high mountain streams and steep terrain are a recipe for beautiful waterfall.
The Adirondack High Peaks are home to many of the best waterfalls in the North East.
Beaver Meadow Falls, Roaring Brook Falls and Rainbow Falls are all beautiful, especially in late spring when the trails are clear but there is still snow melt coming from higher altitudes. Don't forget to bring your backpacking snow shovel. Also, make sure that your boots are snow appropriate. 
The Trail Network
While the White Mountains of New Hampshire might be taller and boast the Appalachian Trail passing through, the trail network in the Adirondacks makes up for it by being immense and easily accessible.
There are so many interconnecting trails you can easily put together day hikes or multi-day backpacking trips.
What is the 46er Club?
If you are into collecting cool badges you can climb all 46 of the highest mountains in New York and become an official member of the 46er club.
They offer two versions, three-season and winter. Many people make it a goal to attain this honor, coming back to the Adirondack High Peaks year after year until all the mountains have been summited.
When is the best time to hike in the Adirondacks?
The Adirondacks are open year-round, but not all seasons are equal.
Winter is often cold with deep snow, so you need the right gear and skills. Don't underestimate how much more challenging hiking in the snow is.
You will need snow shoes, as well as micro-spikes for exposed but icy sections. Winter hiking in the Adirondacks is not for the beginner.
Next comes the couple of months to avoid which is the spring melt. When this happens, it can vary from year to year, but it usually begins sometime in March or April.
The trails are often running streams over ice, and flooding is common. Once the ice is gone, the trails still take a while to dry out, otherwise you are walking in mud which causes trail damage.
Late spring is when the great hiking begins. This is usually late May. The weather is warmer and the trails dry out but the bugs haven't come out in force yet.
Summer is the most popular time to hike, so the trails are busier but not just with hikers. This is peak bug season.
For me it is still less bugs than we have in Ontario, but it can still be maddening if you aren't used to them.
The months of June, July and August also can bring hot humid temperatures, which when combined with the effort required to hike uphill for miles can increase the risk of heat injuries. Make sure you stay hydrated and consider adding electrolytes to your water.
Fall is my favorite time of year as the temperatures are cooler and the bugs are mostly gone.
Fall colors are amazing as the leaves change, so expect to see more people during this time, usually in October.
Make sure you have extra layers and rain gear as the temperatures and weather can change from comfortable and sunny to freezing and wet very quickly in the mountains.
Do you need a permit to hike in the Adirondack High Peaks?
One of the best parts of hiking in the Adirondack High Peaks is that there are no fees or permits to hike.
Hooray!
You need to sign in and out of the trail registry when beginning and ending your hike.
This is for tracking trail use and gives the rangers an idea of where to look for you if there is an emergency.
There is a parking fee at the Adirondack Loj and Garden Parking trailheads. These two are the deepest in the mountains, so you have less distance to cover when attempting certain mountains such as Mt. Marcy or certain peaks of the Great Range.
What are some good beginner hikes in the High Peaks?
In an area known for its challenging hikes it is still possible to find some great beginner hikes.
There are a ton of recreation trails and lower mountains that while still challenging don't take the commitment of the 46 High Peaks.
Let me tell you a bit about some of them.
John Brown Farm State Historic Site
The trails through the farm owned by abolitionist John Brown are relatively flat compared to the surrounding hikes in the higher mountains.
The trails are in North Elba, which is just outside Lake Placid. You get views of the mountains and the Olympic Ski Jump Center. There are about 3 miles of trails.
Adirondack Loj to Marcy Dam
This out and back hike is just over 4 miles there and back.
It takes you to the camp area near Marcy Dam with views of the mountains without having to climb any of them. This is the trail you would take in if you wanted to climb Mt. Marcy. Also, do note that there are a lot of insects in the camp area. So you might want to learn some tricks on keeping the bugs out of your tent.
Hurricane Mountain
This is a great way to get a taste of the mountains before tackling any of the bigger ones.
There are a few ways up to the summit. If you take the East trail, it is the shortest at 4 miles round trip with 1700 feet of elevation gain while the West trail is longer at around 6.5 miles round trip but not as steep.
What is the hardest hike in the Adirondacks?
With so many mountains and trails, you can create any kind of monster hike. If you are backpacking, then the options are endless as you don't have to be back to the car at the end of the day.
The hikes I'm listing as the hardest are all ones I've done in a day. I'm an experienced hiker but I don't run the trails.
Great Range Traverse
When I did this hike, I stayed at the hostel in Keene Valley, NY which allowed me to hike in a loop without having to drive anywhere.
The Great Range Traverse starts a short walk south of town and starts heading up. The day is then spent following the ridge line up and down peaks, each one taller than the last.
I headed out before sunrise with my headlamp to make use of all the daylight. Over the course of the day, you climb Rooster Comb, Hedge Hog, Lower Wolf Jaw, Upper Wolf Jaw, Armstrong, Gothics, Saddle Back, and Basin Mountains.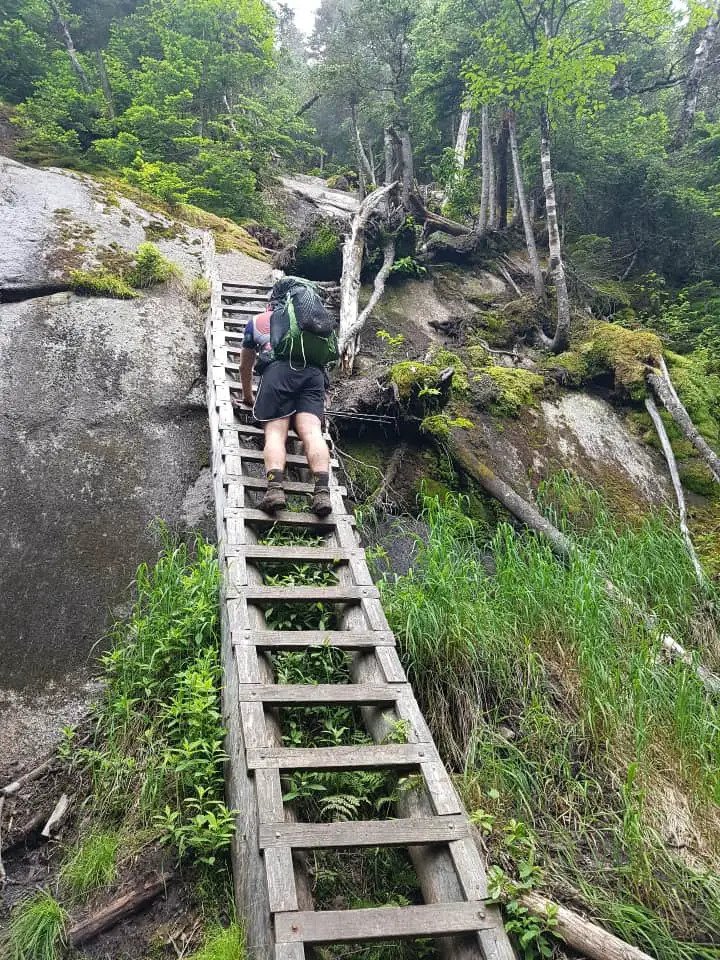 Since I was there, I also threw in an ascent of Haystack Mountain before descending to the John Brooks Valley.
The route is around 25 miles and took me almost 16 hours. I started the hike in the dark and finished the walk back to the hostel in the dark.
The Great Range is very challenging but a lot of fun as there are ladders built into cliffs, rock scrambling and cables to assist you on the slabs of Gothics. 
Is overnight camping allowed in the Adirondack High Peaks?
There is camping in the High Peaks both in the front and back country. Back country camping is free and doesn't require a permit, but there are a few rules you must follow.
 Food must be stored in a bear resistant canister between April 1 and November 30 (they can be rented if you don't own your one)
No campfire in Eastern High Peaks (this is home to many of the most popular mountains)
Group size cannot be larger than 8
Camp only in designated spots
Practice Leave No Trace
What should you bring on a hike in the High Peaks?
Want some insider tips? Continue reading.
Clothing
Dress in layers of synthetic or merino wool to manage both moisture and temperature. Avoid cotton as it retains moisture when wet. I like wearing warm winter leggings.
Bring rain gear even if the weather doesn't call for it.
Footwear
Wear supportive hiking boots or shoes. The rocky nature of the trails will need more foot protection than moderate dirt trails. 
Proper padded hiking socks will help reduce the risk of blisters.
10 Essentials Kit
Never go on a hike without your 10 Essentials kit. A twisted ankle or misjudging the time can turn a day hike into a survival situation if you aren't properly equipped.
Navigation: map, compass, GPS device, cell phone or satellite messenger plus extra batteries
Headlamp: again, bring some extra batteries
Sun protection: sunglasses, sun-protective clothes, and sunscreen
First aid: including foot care and insect repellent (as needed)
Tools and repair: Knife, multi-tool and gear repair kit
Fire: matches, lighter, tinder and/or stove
Shelter: Lightweight tarp or poncho with cordage to create a shelter
Extra food: Extra calorie-dense foods beyond what you will need for the trip
Water: Carry adequate water and a filter or chemical treatment to process more
Extra clothes: Including rain wear, gloves and head covering
Conclusion
Unless you are familiar with the area, you wouldn't think that upstate New York would be home to the largest protected wilderness area in the East with rugged mountains that rival the challenge of anything but the highest peaks in the Rockies.
For the hiking enthusiast, it is a playground with endless options for both day hikes and backpacking trips.
I have been going to the Adirondack High Peaks for over 30 years now and keep finding new challenges and treks that make me fall in love with the area all over again.
Having worked in the outdoor, fitness, and cycling industry his whole life, Winston brings a wealth of real world knowledge on the topics. Rock climbing, backpacking, cycling and wilderness survival are his life. As both an athlete, coach and outdoor educator, his practical experience translates into his writing to help people better pursue their outdoor passions. Read more about Winston here.