A Complete Gregory Maya 16 Backpack Review [2021]
Gregory Maya 16 L: Quick Overview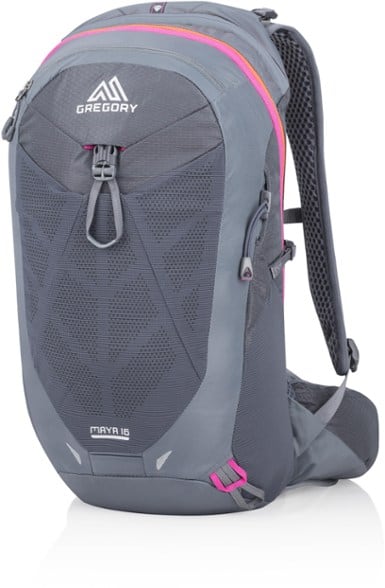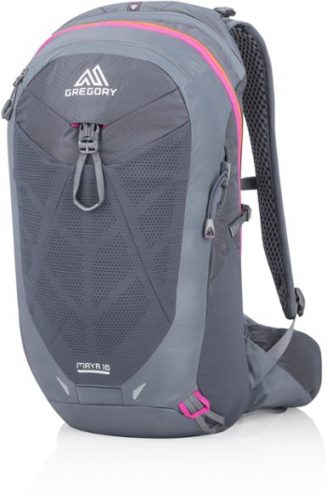 Product Name: Gregory Maya
Product Description: Lightweight and cure, yet super functional and versatile, Maya shines with a myriad of useful trail-friendly features. QuickStow sunglasses attachment, premium hydration sleeve, stowable walking pole attachment system - it's all there plus more. Besides, Maya boasts with a surprising amount of pockets everywhere so that you can organize every piece of your hear effortlessly.
Brand: Gregory
Currency: USD
Availability: InStock
Are you looking for a comprehensive information regarding a Gregory model you're particularly interested in? Do you want to find out how the pack performs based on trustworthy feedback provided by tens of hikers who use it?
Then this Gregory Maya 16 backpack review is for you.
Now, why trust us?
Our goal for this article was to present you a really thorough cheat sheet based on 9 hours of in-depth research, which included:
Reading hundreds of reviews from different sources
Speaking with 10 hikers who use the backpack
Comparing features and price with 16 other similar models from other brands
You can find more info on how we review gear on our About page.
We were able to gain a deep understanding of how the Maya performs on the trail and hopefully, that will help you decide whether this daypack is for you.
If you want to get important insights about the suspension of the backpack, its durability, ventilation, pocketing system, and overall comfort and features, then continue reading.
Let's dive right in.
Gregory Maya 16 Backpack Review
Called by many "the perfect day pack", and "just the thing", the Maya offers a surprising number of trail-friendly features for a backpack that compact. And often, we hikers want just that when we go on short day hikes.
Check out the video below that summarizes the most impressive features of the Maya.
If you have never touched a Gregory pack before, you have to know that with small exceptions, they make very comfortable backpacks. In other words, they are known to be a reputable brand, that constantly incorporates innovation in their manufacturing process.
What I love about the Gregory Maya is that it has the setup of a bulkier hiking pack, except that it's smaller and lighter. For instance, I love the fact that it has a wide and padded hip belt with huge zippered pockets. It also has a chest strap, and both are adjustable.
Most of the packs of this size have only a chest strap or a hip strap, but never both. Let alone hoping to find hip belt pouches with a decent size on a pack that small.
Sure enough, there are many other nifty features that I'm sure you'll like. But first things first.
Who Is This Backpack For?
With a volume of 16 L and a female-specific fit, the Maya is a perfect option for you if you are a gal who wants to hike light, just like me. Guys, the male equivalent of this pack is the Gregory Miwok.
It's a convenient day pack you can wear for short summit hikes if your main backpack is not with a top lid that acts as a removable knapsack. Often you need something smaller when you're at camp and you want to explore the surrounding areas carrying only a jacket and a snack in your pack.
I wouldn't say the Maya is the best EDC pack that exists (Gregory Sucia 28 was good for that and High Sierra Swerve 36 is definitely a better choice), but still you can use it in town if you want.
You can fit all the essentials you need for day hikes during summer – an extra layer of clothes, food for the day, trekking poles, first aid kit, and everything else that comes on your mind.
I say summer because on winter hikes, you usually need bulkier stuff and probably it'd be difficult to fit everything needed in the Maya. Still, it really depends on what you want to bring.
In brief, the Maya is excellent for us, hikers, who love going on minimalistic day hikes without needing to bring the kitchen sink. That doesn't mean the Maya can't handle rough hikes, though.
It has a surprisingly good suspension, which plays an important role on more demanding mountainous terrains. More on that in a minute.
Features Overview
Normally, when I hear "a 16 L knapsack" I expect a basic pack. This one surprised me with plenty of features and organization options. And as mentioned above, some of them you see only on backpacks designed for 3-5-day hikes.
I mentioned how surprised I was to learn the Maya had a beefy hip belt but also a chest strap. Another practical feature that you'll appreciate is the QuickStow system that allows you to attach your sunglasses on the shoulder strap thanks to a magnetic clip.
In that way you have quick access to your shades on the go. Plus, it's more difficult to damage them, and boy, that happens a lot when you hike.
But let's jump to the best part of this backpack first.
Suspension And Ventilation
Everyone knows that the suspension plays a key role for the comfort of a backpack. It's directly related to the fit. If a pack doesn't fit well, wearing it becomes an unpleasant task. It can cause strain and chaffing. It happened to me, probably to you too through the years.
Gregory have always been thoughtful about the quality of the suspension they put on their packs. Luckily, that's the case with the Maya. The pack has the so-called BioSync suspension technology. And yes, it's amazingly comfortable.
Technically, the pack is frameless, but you shouldn't expect any different from a backpack of that size. You can't carry more than 20 lbs. (9.1 kg.) in it anyway, so you don't need strong support as with bigger packs.
With that being said, the Maya doesn't feel thin, so you won't experience any rubbing. That's because the pack has a very supportive chasis. It includes a beefy framesheet that's reinforced with a breathable EVA foam padding. The contact with the pack is super soft and snug. It causes no discomfort whatsoever.
The best part? You can adjust the fit by 3.6" or 9.1 cm so it matches your torso length. In that way you will have an ergonomic body-wrapping fit. Guaranteed! You simply unbreak the Velcro to adjust it up and down to your perfect tight.
The well-padded back panel compensates the lack of frame. It provides fantastic support. It features a 3D foam with an aero-mesh that's moisture wicking.
Many hikers who have the pack reported that it does a great job and makes the heat evaporate quickly when you get sweaty. Gregory call this their AirWave back panel. The foam has ridges for cushioning, and the stretchy mesh present on the entire harness follows the curves of your body when you move. The pack doesn't shift, and the load is balanced, no matter how technical your hike might be. Nice!
To achieve a more ergonomic fit, you can also adjust the shoulder straps. They are S-curved, thickly padded, and breathable.
The real deal here is the hip belt. It really enhances the comfort by distributing the load to your hips. On top of that, it's wide, and also very padded, with perforated foam. It provides just the right amount of support that you need on more technical hikes.
I really like the fact that there's an adjustable chest strap with a safety whistle too. When you buckle it up, you will feel that the pack hugs your body, becoming a part of it. That's makes you barely notice that you wear it.
Oh, and I almost forgot the load lifters. Those are located at the top of the shoulders traps and allow you to draw the pack closer to your body and better align it to your spine. Quite comfy!
Let's move on and see how you can organize the pack.
Storage Organization
Would you expect an ample capacity from a 16 L backpack? I certainly didn't. And yet Gregory Maya surprises in that regard too.
This tiny pack has 8 exterior pockets. Can you believe this?
What most folks love about it is the long panel loading zipper that gives you access to the main compartment. It allows you to make a small opening wherever needed. You can also easily pull the entire panel down to access your essentials.
Very nifty!
And if you like hydration packs, you'll like this backpack too! There's a separate zippered sleeve where you can put a 3 L water reservoir and drink water on the go. The pouch has a convenient clip. You can use it to stabilize the bladder and avoid shifting when you walk.
What's really practical is that the hole for the hose is located in the middle top of the Maya. That makes big difference. It doesn't interfere with any of the shoulder straps, making it easier for you to sip water.
On the top front, there's a padded sleeve. It's zippered and with a soft-touch liner, designed to protect breakable items. It's ideal for your Kindle, gps device or head lamp.
In the main compartment there's a zippered mesh pocket. On packs that have those, I like to put my cash, a map, and keys. There's a key clip, of course. You can use that pocket to put smaller items that you don't want to lose in your backpack.
What makes the Maya a well though out pack is the presence of two large hip belt pockets. Most day packs don't have those. If they do, the pouches are too small. Not with the Maya.
You can fit an Iphone XR and any other larger device. A Garmin inReach mini would fit nicely too. Isn't that awesome? On both sides of the pack, you will find the usual water bottle holders. They are meshed and stretchy. Not too big, though. Still do a great job.
If you're wondering where to store your rain jacket, you can use the stretchy front mesh panel. It provides quick access to it whenever needed. Cool!
And if you like to organize gear externally, you can do so effortlessly with the Gregory Maya. There are compression straps to secure the pack load.  You also have bungee loops to attach your trekking poles and access them on the go.
Some users reported that long walking poles that telescope only once might stick out over your head. This is not a big deal. However, note that it'd be more comfortable if your trekking poles are collapsible.
Weight, Materials, And Durability
It's not a surprise that Gregory used tough materials to create this pack. They always care about durability. The body of the pack is made of 210D Honeycomb Cryptorip nylon that's water-repellent and tear resistant.
Logically, Gregory reinforced the base of the backpack where it's easier to damage it. It has 420D high-tenacity nylon. The lining of the pack contains high-quality 135D polyester. Based on feedback that we researched but also got from fellow backpackers who use the pack, the craftmanship is excellent. The stitching too.
The Maya is able to survive many years of rugged use. Sure enough, it's always recommended cleaning your backpack the right way and maintain it well. As for the weight, it's 1.5 lbs. or 750 grams. As compared to other backpacks of the same volume, the Maya is slightly heavier.
For instance, the Osprey Skimmer 16 L weighs only 400 grams or 14.1 oz. This shouldn't come as a surprise because the Maya is more padded and has more compartments. In brief, the weight to durability ratio is perfect.
How To Use This Backpack For Maximum Comfort?
Actually, it's pretty intuitive.
With that being said, there are a few things to take into consideration. The most important one is to adjust the torso length.
You can undo the Velcro on the back and slide it up and down to match your spine. When the pack is on your back, see how you feel the shoulder straps, the sternum strap, and the hip belt. If needed – adjust them. What many people forget is to pull the load lifters at the top of the shoulder straps. Once done, that will make the pack sit close to your body. You shouldn't feel any rubbing or strain. The end goal is to avoid any load shifting. You should also feel the weight distributed down to your hips and not only on your back and shoulders.
As for packing the Maya, I believe you don't need any guidance. It's not a cumbersome task to pack a daypack. However, you might find this guide quite useful if you are a beginner.
4 Great Alternatives
Based on expert advice, I prepared a short list of four other daypacks. They are similar to the Gregory Maya. I'm a strong believer that we hikers can make a more informed choice by making comparisons.
As you can see, the first pack is the Osprey Sirrus 24 L. Many call it "the Queen of daypacks". We are extremely satisfied with its men's equivalent – the Osprey Stratos 24.
The Sirrus is slightly bigger and therefore heavier than the Maya. It weighs 2.3 lbs or 1.04 kg. However, it comes with an integrated rain cover and Osprey's premium AirSpeed™ technology that features a suspended mesh on the back panel.
Basically, the pack doesn't have a direct contact with your back, therefore providing amazing ventilation. In this regard, no other brand can beat Osprey.
Other than that, the Sirrus offers more support because it has an internal frame with an aluminum stay. Still, it has less pockets than the Maya - 5 external pockets plus the main compartment.
The second pack is the Deuter Speed Lite 22 L. The backpack receives tons of positive comments because it's ultralight (1 lb. 9 oz.). It also features a high-performing Lite Air back panel combined with an adjustable and ergonomic fit.
The third pack worth checking out is Teton Sports Oasis 18 L. Besides being super affordable, it's actually a very well thought out hydration knapsack. It has an included 2 L water reservoir and a very durable sip hose. Read our full review here.
My fourth recommendation is Gregory Swift 20 L. It's a wonderful and sweet looking hydration pack that features Gregory's 3D water bladder that includes a drying hanger. Very convenient when you need to quick-dry your bladder. The advanced SpeedClip technology also allows you to install and remove the bladder easy and fast.
The back panel is super well ventilated and the padded hip belt incorporates a women-specific fit that better supports the load. Plus, there's a nice, quick-access zippered pocket and a trekking attachment system for your poles. 
Now, let's jump to the FAQ section.
FAQ
This is a frameless backpack. Can I fold it?
Is the pack carry on compatible?
How much weight can I carry with the pack?
Can I fit a Nalgene bottle in any of the water bottle pockets?
What is the torso length that this backpack supports?
Final Verdict
I hope that by now you have an idea of what the Gregory Maya has to offer. Being one of Gregory's bestselling day packs, it's a fantastic choice for light hikes when you need to carry only the most important essentials.
Don't Miss Out The Best Price For Gregory Maya!
The incredible suspension is where the Maya truly excels. That, combined with the rich organization and the ergonomic, female-specific fit, makes it a hit among hikers and backpackers.
You're gonna love it too, guaranteed!
Galina is a sporty gal who loves good nature, high-quality gear, and chocolate muffins. Her expertise lies in researching, evaluating, and testing women-specific hiking equipment. You can often see her in front of the laptop, watching "The Bing Bang Theory" on the couch or hiking with her friends and family. More info on our About page.