2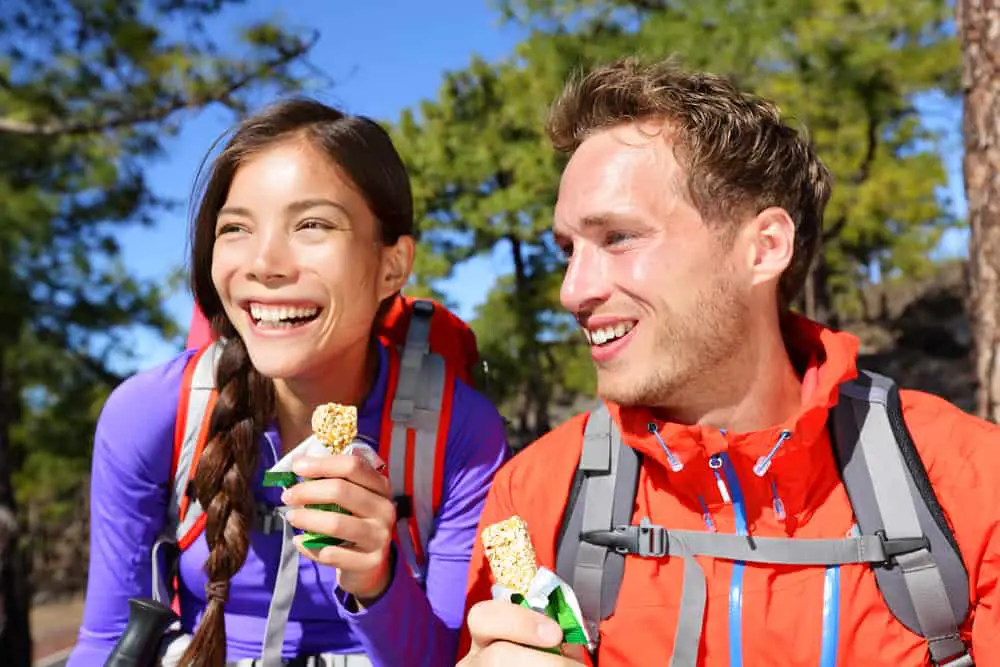 8 Easy Ways To Preserve Your Energy While Hiking
Hiking is a fun pastime where you can enjoy peace, fresh air, and stunning views. It's a great outdoor activity, which has positive effects on both your mental and physical condition.
Not only that while hiking you are building strength and cardiovascular endurance but also it is a great social activity and a good way to spend time with your friends. However, hiking can be very challenging, especially, if you are going on longer hikes.
Preserving your energy levels while hiking is one of the challenges you may encounter, and that is why it's important to know some useful tips to help you keep those levels up.
What follows is an easy guide with eight practical tips that will maintain your fitness while hiking. Let's dive right in.
#1 Pack Lightly
If you are going hiking, especially on an overnight hike, pack only the essentials. A lightweight tent and a sleeping bag designed for backpacking are a must. 
There are a few tips that will help you pack lightly and spare your energy:
Try to be selective with pots and pans. Use small pots made of a lightweight material such as aluminum or carbon. This is the same advice you should follow when moving - you shouldn't take every single thing you own with you. However, while professional movers like state to state move, for example, can take care of your belongings during relocation, you will have to carry your own things during a hike, so think carefully.
Avoid heavy hiking shoes or boots in easy hiking roads because they will slow you down and consume your energy
Use light, breathable clothes and avoid big winter jackets and wool sweaters. If you want to preserve your energy while hiking, use the principle of multilayers and put on several light layers of clothes to keep you warm.
In addition, read this guide on ultralight hiking. It explains how to hike safely with less gear and by using the appropriate materials and items.
#2 Choose The Right Footwear
While hiking, you shouldn't wear sneakers but footwear specially made for hiking. Wearing footwear that is appropriate for the terrain you are going to cover can protect your feet, ankles, and knees from injury and it is especially useful while hiking in bad weather.
For everyday hikes, use light hiking shoes, while for a longer expedition you should wear mid- or high-cut hiking boots and boots with stiffer midsoles.
#3 Proper Nutrition Will Preserve Your Energy While Hiking
Maintaining energy levels during a hike depends on your nutrition. However, many hikers don't think how and what they eat and that has effects on their trail performance.
First, make sure you have a proper breakfast on the day of your hike so that you can start on the right foot. Carbohydrates like those found in oatmeal will provide you with hours of sustained energy levels.
Some fruit will boost your natural sugars. Nuts will give you protein, preparing you for your hike without having to worry whether you will run out of steam halfway through. If you are spending a lot of time on the trail, pack along some energy-boosting meals, as well as some protein bars.
#4 Drink Enough Water
Apart from having a good nutrition plan, it is essential to stay hydrated if you want to maintain your energy while hiking. It seems like something obvious, but it's surprisingly easy to forget drinking liquids and do it only when you feel thirsty.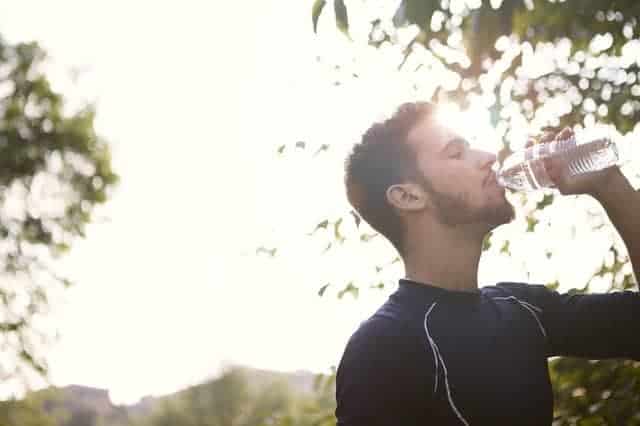 Water is crucial for a functioning body, and if you are not hydrated enough, you will lose your physical capacity. So, even if the weather is not hot, you should drink plenty of liquids to avoid muscle pain and heavy legs. You can drink water, tea, juice (sugarless), and even soup counts as a drink.
#5 Set A Sustainable Pace
It may happen that in your excitement to get on the trail, you start your hike intensely and quickly lose the energy needed to continue.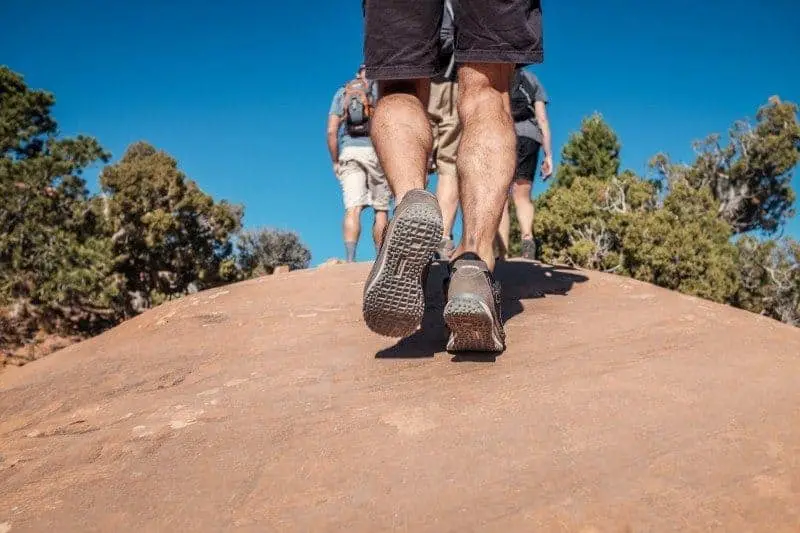 Therefore, it is important to start walking slowly and find your pace, so that your leg muscles could warm up and you can get used to your backpack's weight.
Walking slowly while hiking is important for several reasons. You will get tired less quickly, you will walk more safely and finally, a slow and more sustainable pace will allow you to enjoy the scenery.
#6 Work Out Between The Hikes
Regular physical activity is necessary if you want to build your endurance and keep your energy levels up while hiking.
Constant training throughout the year will have a huge impact on your body's ability to maintain itself over long distances. Practice physical activity at your own level. You can run, ride a bicycle or go to the gym and develop your endurance.
#7 Do Some Stretching
Everyone knows that working out without stretching is useless. The same goes for hiking. You need to allow your legs to heal and grow stronger.
Stretching will strengthen your legs and help them withstand long distances. That's why you need to stretch before and after every hike and even during the hike, if you are going long-distance. To make your hiking trip an enjoyable experience, do not skip this part.
#8 Get Some Rest (Most Obvious Tip)
It is not all working out, though. To preserve your energy while hiking, you must be well-rested and prepared for a day ahead of you.
Make sure to get plenty of sleep the night before you go on your hiking trip. Also, if your legs are giving out on you during the hike, don't hesitate to stop.
Sometimes you will just need a break and rather than pushing yourself, spend a few hours relaxing and giving your legs time to heal and recover.
Conclusion
Finally, no matter how well-prepared you are, some hikes are going to be a walk in the park, while others will be quite demanding. However, using these tips will help you preserve your energy while hiking and keep you strong.
With our advice, you can enjoy the time on the trail and not feel like you will fall apart at the end of the day.
---
How do you maintain your levels up when hiking? Leave a comment below!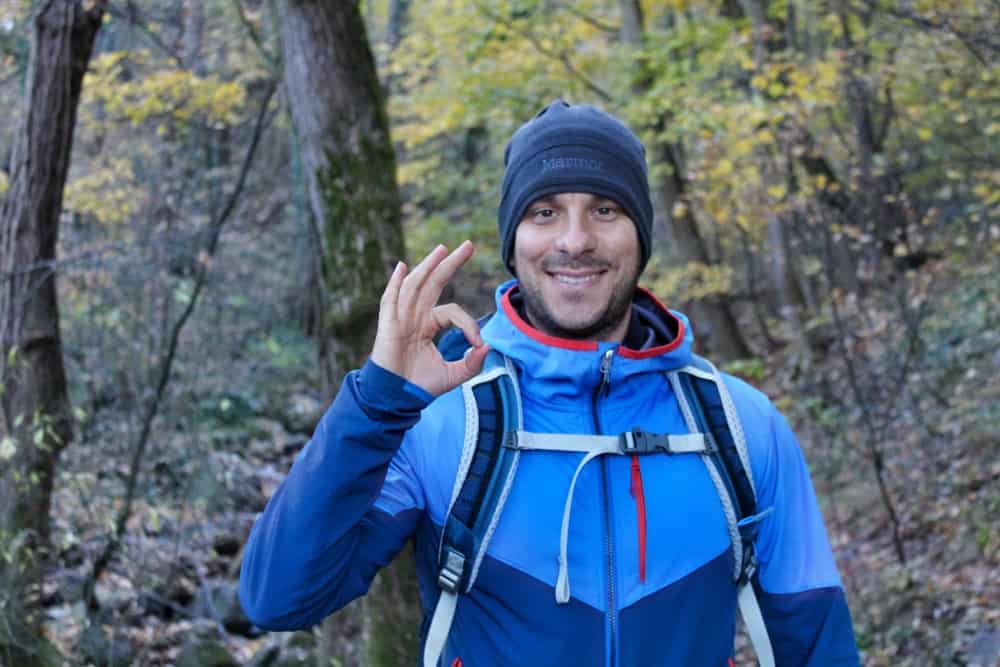 Founder of this website, Asen is a passionate hiker and writer who is also a gear nerd. He's been featured on many established hiking websites where he gives hiking advice & tips. When he is not trekking with his family or friends, he is writing articles and product reviews. Asen spends most of his time in Bulgaria but he constantly travels the world in seek of more unforgettable experiences. Read more about Asen here.