4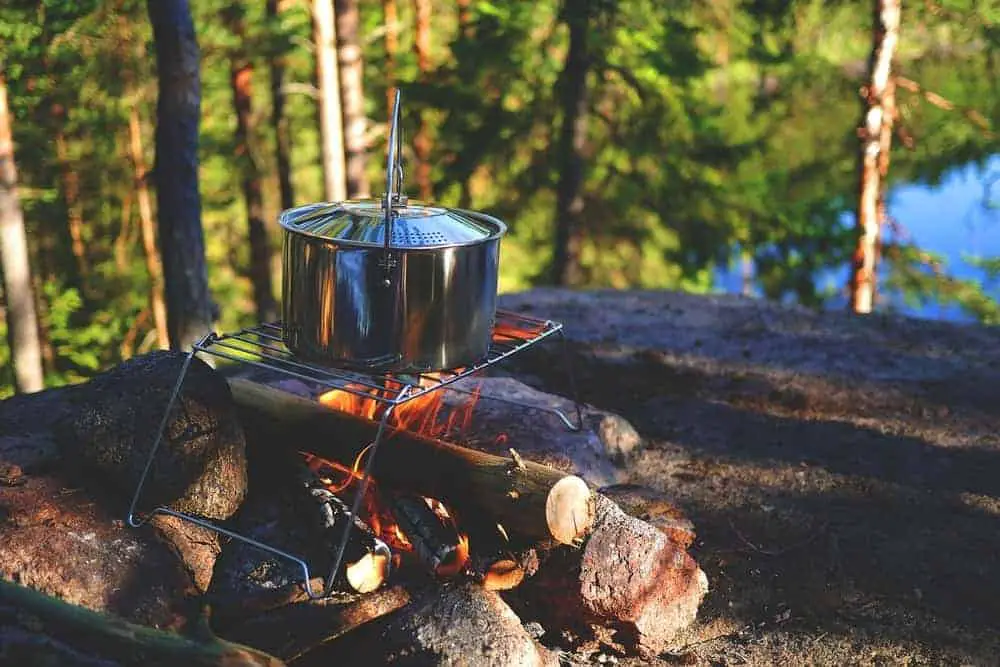 8 Insanely Delicious Vegetarian Hiking Meals [2021]
Let me tell you an interesting fact about me.
I freakin' love meat.
I doubt I could live without it.
However, I was surprised to learn there are many vegetarian hiking meals that could rival even the best meat dishes in terms of good taste and healthy supplements.
Don't believe me? Continue reading.
The hiking industry loves to bombard us with information regarding how beneficial jerky could be and how it provides an indispensable amount of energy and protein on the go.
While that's undeniable and you can even read more about it in this tasty list of the 7 best hiking meals, if you enjoy a vegetarian lifestyle, most probably you are not attracted to the idea of eating jerky. Or you just want to give your body a break from the meat which is always a good idea.
As any vegetarian knows, the key to staying properly energized while enjoying a vegetarian diet is focused around making sure you have an even distribution of vitamins and proteins that don't come with the meat.
Here's why I can bet you will find the upcoming list of meal ideas especially appealing.
Even though some people may not understand it, a good vegetarian diet can provide you not only with delicious foods and amazing energy but with proper good feelings all around too.
However, when you are exerting tons of physical energy as you might on a hike, you want to make sure your bases are completely covered when it comes to nutrition so you can keep going strong all day long.
The Importance of Trail Eating
Check out the video below in which a popular backpacker explains what she likes to eat when hiking the Pacific Crest Trail. Some really cool vegetarian stuff there!

If you have ever found yourself working out in any capacity when you are hungry, you know the immediate physical drain that can come with not having enough input to fuel your output.
This imbalance in energy can lead to a horrible mood, extreme fatigue, and worse recovery times.
Since no one really wants those things to happen, you want to make sure you have the food you need to take on your hike with absolute ease and comfort.
This means going into your hike well nourished, maintaining your energy levels while hiking, and rewarding your body with all kinds of healthy food supplements after a hike so it can heal and make you stronger for the next one.
The amount of strain your body experiences when you don't have enough of the primary dietary needs in your system can be damaging and ultimately lead to complications down the line.
That's why it's a wise idea to always make sure you have enough tasty but also healthy food options that will support your adventure.
Easy Meals On The Go That Match Your Dietary Needs
Without a further ado, let's explore some yummy vegetarian meals that are easy to carry, delicious to eat, and provide great energy supplies.
#1 Never Underestimate the Power of a Good Smoothie
For a vegetarian food lover, the power of a good smoothie in the morning to kick off your day is a fantastic option. Smoothies are not only mouth-watering, but they can be tailored to your every personal preference.
This means you can choose what goes into them depending on what your body needs and how you want it to taste.
Smoothies, when made with a healthy combination of fruit and veggie options, are an excellent way to enjoy lasting energy that will start your hike off right.
For an added impact, you can always add granola or vegetarian friendly protein powders to make sure your bases are completely covered.
Whether you enjoy a smoothie before your hike or are sipping one as you walk the trail, you are sure to love every minute of this convenient energy source. It will surely give you the strength you need to carry your backpack all day long.
#2 Trail Mix Will Always Have Your Back
Trail mix is an absolute staple for an easy energy on the go. Since the standard trail mix consists of dried fruits and nuts, you can enjoy bountiful energy without having to worry about your protein levels plummeting.
Trail mix is a popular food source for hiking simply because a little bit of it can go a long way for making sure you are properly nourished and don't end up hungry an hour after you eat.
You can either enjoy one of the millions of varieties of trail mixes available in stores or craft your own using your favorite dried fruits and nuts for a delicious and fully customized experience. They are an excellent source of carbs, sugar, proteins, and healthy fats.
#3 Vegetarian Energy Bars Are Kind Of Amazing
Depending on where you fall in regards to eggs and other animal byproducts, finding an energy bar that suits your needs can be a bit of a process.
However, with the growing interest in vegetarian and vegan options, you are likely to find amazing vegetarian energy bars available in your local grocery store, and they are delicious.
Popular options for vegetarian energy bars include oat bars that consist of tasty oats, crispy nuts, and sometimes the occasional coating of chocolate.
These energy bars have all it takes to keep you moving with the convenience of requiring absolutely no prep work.
Of course, if you decide to make your own bars at home, there are plenty of recipes available and you can enjoy making a bar that tastes exactly how you want it to.
#4 Fruit Leather Can Make For A Tasty Wrap
Fruit leather is a popular food option that provides you with all the benefits of enjoying a bowl of fruit without requiring you to worry about carrying large containers or keeping your tasty treats cold.
Besides being light and easy to pack these easy food options are delicious even if you're planning on simply eating them alone.
If you prefer, you can even use them to make quick and tasty fruit roll wrap using nuts, nut butters, or anything else that might sound delicious.
These vegetarian friendly wraps can make sure that you enjoy a well-balanced meal with virtually no prep time. Those are also part of an exemplary nutrition plan for hikers.
#5 Build Your Own Oatmeal
Oatmeal is much beloved energy source by health professionals because it gives you all kinds of benefits and lasting energy while also being incredibly healthy.
Oatmeal enhances heart health, and you surely need that when you are relying on it to carry you ten miles into the wilderness.
This option is excellent for hiking whether you want to carry dried oatmeal on the go with you so you can conveniently mix it with water when you feel hungry.
In addition, you can make delicious overnight oatmeal that is filled with your favorite fruits and goodies. In that way you can just pull it out and enjoy a well-balanced meal at your convenience.
Pro Tip: For a little extra crunch and energy boost, consider adding granola.
#6 A Little Quinoa Goes A Long Way
This super healthy plant food is a great way to get magnesium, B vitamins, potassium, and protein when you are on the move.
You can take instant quinoa that you can prepare quickly and easily by just adding water. In other cases, you'd want to sprout your own quinoa for a food supply that is ready to be eaten on the go.
Either way, you can enjoy the many health benefits of this delicious meal option with relatively little assembly.
Quinoa is delicious plain or can be built upon by adding your favorite nuts or veggies when you are on the go. This can make for a hearty meal that is easy to carry and prepare.
#7 Soups To Keep Your Energy and Spirit High
Chances are you like soup. Most of us like it.
If you are looking for something that feels a little more like a traditional meal but doesn't require much prep, taking soup on the trail can be a helpful way to enjoy a delicious meal on the go.
Whether you take dehydrated soup, prepackaged soup, or you make your soup in advance and stick it in a heat-conserving thermos, soup comes in many delicious forms that can give you a rich culinary experience in the middle of nature.
Finding a good soup with noodles, rice, or veggies, is a great way to get an energy boost with the comforts of home steaming in a mug.
This is a particularly good food option for hikes during colder seasons because it can give you an added dose of warmth while it nourishes your body at the same time.
Just set up a long-lasting campfire and start cooking.
For summer, you might be amazed to learn just how many cold and room temperature soups exist! Hint – gazpacho!
#8 When In Doubt, Butter (Nut butter, of course)
There is absolutely no doubt in anyone's mind that nut butters are a gift made from nature and human ingenuity.
These delicious butters are not only amazingly flavoursome, but are an excellent source of proteins, omega-3 fatty acids, and other vitamins.
When it comes to eating easy on the go with maximum benefit, nut butters allow you the comfort of enjoying a tasty food while also requiring you to eat very little for nutritional benefits.
Just a spoonful of this miraculous food can make you feel satisfied. This means you can pack light and stay energized throughout your entire journey.
In regards to carrying nut butter, you have options too. You can have it in squeeze tubes or small plastic jars for better convenience.
Conclusion
When you are hitting the trails, aside from appreciating the beauty of nature, your biggest priority should always be making sure your body has the fuel it needs to match your adventure.
Staying well-nourished on the go is a great way to make sure you get the best possible experience from your hike.
Eating meals designed to limit prep time that are light to carry can do wonders when it comes to helping you focus on the glory of the world around you.
That also means you don't have to worry about feeling tired, annoyed, or like you don't have the ability to comfortably complete your hike.
For a vegetarian focused on conquering the next big trail, embracing these kinds of meal options can help you hike longer, stay stronger, and enjoy a pleasant eat time. Bon Appétit!
---
What's your favorite vegetarian food and what you bring on hikes? Leave a comment below!
Founder of this website, Asen is a passionate hiker and writer who is also a gear nerd. He's been featured on many established hiking websites where he gives hiking advice & tips. When he is not trekking with his family or friends, he is writing articles and product reviews. Asen spends most of his time in Bulgaria but he constantly travels the world in seek of more unforgettable experiences. Read more about Asen here.