7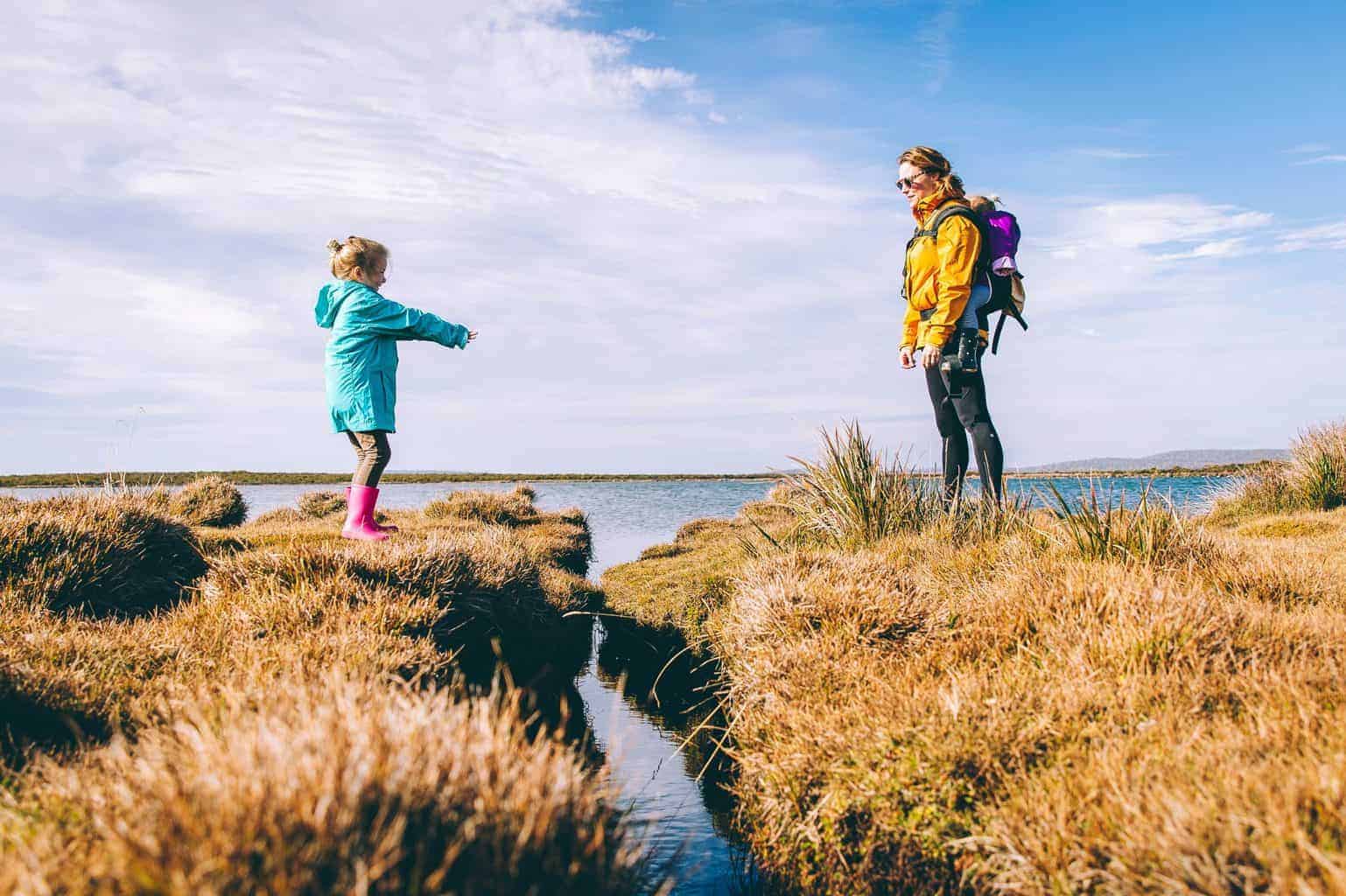 Guide To Hiking With Kids: How To Make It Easy And Fun
It's common knowledge that spending time as a family is really important. But how you spend that time matters too, so it's essential to use it wisely, especially in today's constantly plugged-in world.
That's why hiking is a great activity that lets you disconnect from technology and connect to nature.
Not only is it a great outdoor activity that allows exploration and encourages curiosity in children, but it strengthens the family bond as well. Unfortunately, a lot of parents worry that hiking isn't a suitable activity for a baby or a toddler, but this is simply not the case. Hiking with kids of any age is not only possible but lots of fun too – let us show you how!
Why Go Hiking With Kids?
It's unanimous that kids and the outdoors are a perfect match, but why hiking? They can run around in the backyard, so why bother going out on the trail? In case you're doubtful of the benefits of hiking with kids, read on carefully.
Below are the reasons that will turn you in favor of this marvelous activity:
Instilling Nature Appreciation
Hiking in nature will give your kids a deeper understanding and appreciation of the natural world. Having contact with flora and fauna, exploring natural landscapes and learning to predict weather systems is all extremely useful for kids.
Effective Physical Activity
Increased stamina, strength, and a healthy cardiovascular system are just some of the many health benefits of hiking. And this regards to you as well!
Creates A Sense Of Achievement
There are also numerous emotional benefits of hiking. Just imagine the feeling of accomplishment your kids will have upon reaching a mountain peak!
Quality Time With Family
Putting away technology at least for the weekend and heading into the woods will do wonders. With no distractions, you'll bond with your family members much easier. Add to that natural surroundings, and you're all in for a wonderful evening full of games and laughter.
Decide On A Destination
Now that we're on the same page about the benefits of hiking, the next step is finding the right hike for your kids.
Depending on the age of your kids, you'll want to find a trail that's safe and not too strenuous but still offers interesting sights. 
If you decide to stay overnight, you can choose a camp site where you will have an unobstructed view to the stars.
Tent stargazing is a magical experience for kids that they will never forget. 
Here is where natural parks step in the game, as they have some of the best and most diverse kid-friendly hiking routes in the country.
Colorado and Dunes Fields, Washington's Sourdough Ridge Trail or Arizona's Giant Logs Trail – take your pick.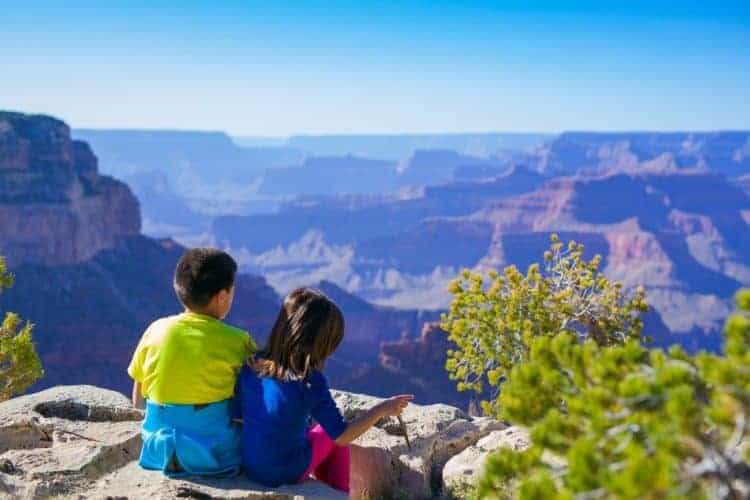 If you live in Virginia, Life of the Marsh and Woodland Trails offer your kids a chance to see ponies. Research a couple of parks to find which ones have activities that match your kids' interests. Whether it's sandboarding, cave tours or just panoramic scenery, you can be sure you'll find your family's idea of fun.
Most of the family-friendly trails are safe even for hiking with a baby, provided you have a child carrier backpack, of course.
Plan Your Route
Once you've picked your destination, you should focus on planning your outdoor adventure. Although most of the hiking part is spontaneous, plan a couple of breaks for younger children. Take out a map and scan it carefully for suitable pit stops on your trail.
During the journey, your kids should stay well energized and hydrated, so don't forget to bring snacks as well as lots of water.
Try to determine how long the trip will take and divide the time in equal breaks – on average, you'll want a break every half an hour to avoid muscle cramps your kids might develop from strenuous activity.
"Try to avoid exposed trails – in general, they shouldn't take longer than four hours for kids under 6."
Steeper sections and a bit of climbing can be included for early school-age children (6 to 10 years old), but not before.
Gear Up When Hiking With Kids
In the words of Sir Ranulph Fiennes, there is no bad weather, only inappropriate clothing. If you're going on a full day walk in the woods, it's essential your kids have the right clothing for all-weather situations.
Consider buying a waterproof jacket, and for sunny days - don't forget to bring sun cream and hats.
Longer walks will be easier with a pair of walking boots to help protect their feet and keep them comfortable. Just don't let them hike in Converse. They are quite uncomfortable for hiking.
But the most important part of the gear is, of course, the backpack. We've already mentioned child carrier backpacks for hiking with infants or even toddlers.
On the other hand, older kids will love to have gear of their own. Get them a small pack to carry something like a water bottle or a lightweight jacket.
As for yourself, stick to the general pack weight guidelines and you'll be good to go. As you and your partner will have to carry extra pairs of clothing both for yourselves and your kids, try to find lighter versions of old gear to lower your packs' weight.
Plan your meals ahead of time so you don't overpack. Remember, this is supposed to be a fun trip, and not a burden on your shoulders (quite literally!).
Make It Fun!
While you might enjoy a serene walk in the woods, your kids will require a bit more stimulation to have an unforgettable time.
For this reason, try to make their stay in nature as interactive as possible. Think of games such as spotting blazes on trees, counting squirrels, singing songs and making up lyrics, holding twig races, etc. But games aren't only for kids, so don't hesitate to join them.
Here's a useful video that contains some valuable tips on hiking with children.
You can also organize scavenger hunts, print out bucket lists and do them together. Another way to make them look forward to the journey is by involving them in preparations.
From helping with buying the snacks to letting them choose the activities, giving them some say in the process will increase their excitement. The essence of fun in nature is to make them feel like explorers, be it slashing in the waterfalls or venturing into a cave.
Hiking with kids really is as fun as you allow it to be – so, don't forget to pack a whole lot of spontaneity in your backpack as well!
Conclusion
There you go. We hope this short guide will help you have a great time in the outdoors with your kids.
 With proper planning, the right gear, and tons of healthy stimulation, your children will easily fall in love in the magic of nature.
---
Do you often hike with your kids? Share some tips and opinions in the comments below!
Founder of this website, Asen is a passionate hiker and writer who is also a gear nerd. He's been featured on many established hiking websites where he gives hiking advice & tips. When he is not trekking with his family or friends, he is writing articles and product reviews. Asen spends most of his time in Bulgaria but he constantly travels the world in seek of more unforgettable experiences. Read more about Asen here.