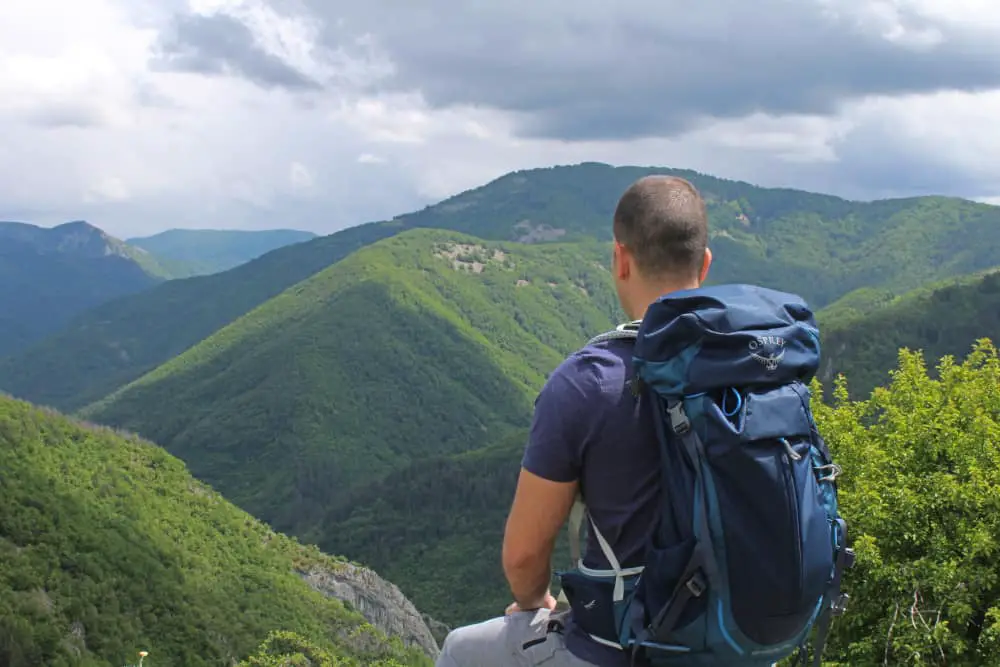 Osprey Stratos 24 Pack Review – What Everybody Says Is True
Osprey Stratos 24 L: Quick Overview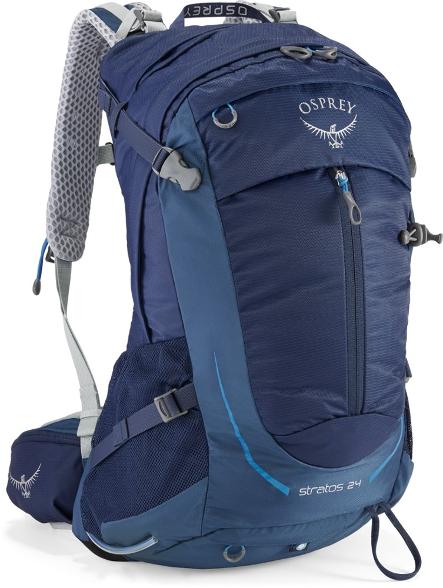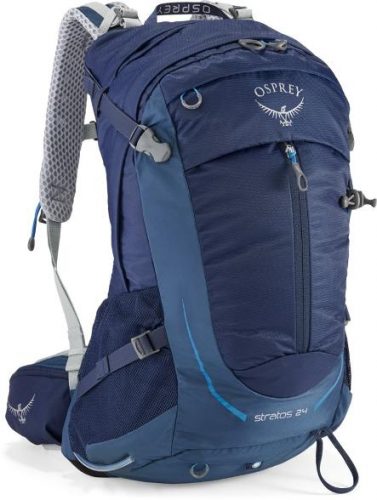 Product Name: Osprey Stratos 24
Product Description: Meet a premium backpack with superior trail-friendly features. With a convenient panel loading design and featuring the legendary AirSpeed™ suspended mesh back panel, Stratos 24 is a successful blend of comfort, functionality, and storage capacity. It has 5 exterior pockets, built-in rain cover, adjustable torso length, and it's hydration-ready. Only for keen hikers!
Brand: Osprey
Currency: USD
Availability: InStock
I bet you will immediately agree with me on this one.
Life is much more difficult on the trail without a good hiking backpack.
Finding a GOOD rucksack is not easy, though. In fact, that is why I created this Osprey Stratos 24 pack review – to help you understand whether the hype about the Stratos is justified. And after spending hours testing and researching now I know why so many people are crazy about this daypack.
If you have owned a backpack or two, you probably know that often one thing works at the expense of another, especially if it is a cheap brand. For instance, I had a pack that was super lightweight but not so comfortable because the shoulder straps were rubbing my back.
I am pleased to say this is not the case with the Stratos Osprey model. The backpack performs equally well no matter if it is for adjustability, fit, storage or durability. Believe me when I say that its overall comfort is unmatched.
Please continue reading to learn everything to the slightest detail. You're in a hurry? Click on the button below to see the pack on Amazon where currently the price is the best.
Osprey Stratos 24 Pack Review
I'll start by making a small, yet important precision. This review is about the updated Stratos model (2017). The previous one had two unadjustable sizes – small and medium while this one is better. It allows a much more tailored fit thanks to the adjustable torso length panel on the back.
It would be difficult to find someone with a keen interest in hiking who doesn't know that Osprey is a high-class brand. The name is a synonym for quality for more than 40 years. And there's surely a reason why. They stand behind their products and back them up with a lifetime guarantee.
As some of my fellow hikers like to say - you don't purchase a backpack from Osprey. You are rewarding yourself with an Osprey. It's a valuable investment in the quality of your outdoor life.
Having owned several packs from the brand, I have to agree. In fact, I'm also a proud owner of the bigger model - Osprey Stratos 50. You can learn more about my experience with it here. I was very intrigued to learn more about the fairly smaller Stratos 24 too.
The Stratos series combine great comfort and usefulness thanks to some amazing features. Here I mean the famous AirSpeed™ ventilation system and the already mentioned adjustable torso length panel, among some others that I'm going to describe in a minute.
Before that let's see who will benefit this pack at the most.
Who Is This Backpack For?
First, it's important to notice that the Stratos series are designed for men.
The women's equivalent are all models from the Sirrus product line. I found great that Osprey cares enough to create models that strictly comply with the body specificity of both sexes. Those differences matter a lot.
Being a daypack with a volume of 24 L or 1464 cubic inches, the Stratos 24 works best for 1-2 day outdoor activities:
You can even use the Stratos for commuting if you'd like. However, I don't like doing that because it shortens the life of my pack. I strongly believe that every rucksack has to serve its purpose and this Stratos model is best suited for hiking.
Now let's check out the features.
Overview of Features
Owning an Osprey pack, you have to prepare yourself for a lot of features, even for a compact day pack. Hopefully, none of them are superfluous. Every mechanism, strap or a pocket is there for a reason – to make your walk easier and more comfortable.
It's true that sometimes you don't know how to use all the features in order to achieve the best possible fit and carry. Don't worry, there's a user manual for that but I will tell you about it in another section of this review.
Now, watch the video below in which my friend Base Camp Chris meticulously depicts the pack.

What I personally like a lot about the Stratos 24 is the well-structured, lightweight frame. It follows the curves of your body so you can imagine the comfort I felt when I first wore it.
Now, please follow me and let's jump to the details.
Size
Good news!
You'll be able to take the Osprey Stratos 24 as a cabin luggage. The pack's dimensions will fit the carry on requirements of any airline – 22" x 12" x 12" or 56 x 30 x 30 cm.
There's enough room for spare clothes, food, water, and any kind of gear you might need for a day hike. You can also use the external storage capacity to take voluminous hiking supplies. Don't expect too much, though -it's a daypack after all.
All in all, you can carry comfortably 10-25 lbs of gear. I don't recommend going beyond because the pack won't hold it the way it should.
In the next paragraph, I will share my impressions about the materials and the weight of this buddy.
Weight And Materials
Honestly, I expected the pack to be lighter for its size and volume. Don't get me wrong – it's not heavy at all. Still, I've had backpacks lighter that this one.
As an example, if you read my Gonex 35 L backpack review, you'll notice that it is lighter than the Stratos – only 2.3 lbs or 1.07 kg for 35 L!
Thinking about it – it's probably because of the thick padding and the reasonably rugged materials that the Stratos model has. For me, that's a fair trade-off for such a tiny difference in the weight.
To get straight to the point, Stratos 24 weights 2.76 lbs or 1.2 kg. When fitted well and thanks to the ventilated AirSpeed™ trampoline back panel, you won't even feel it's on your back.
When it comes to the materials, no upgrade here. The fabrics used to make the pack as durable as it is (and believe me – it is) are 210D HT nylon. The bottom is even reinforced with a higher denier – 420D HT nylon.
Overall, the backpack is hard-wearing. I haven't used it for more than 3 months to say more but I have heard great feedback from fellow hikers.
The time has come to mention what I like (and don't like) about the comfort.
Usability And Comfort
This is where the Stratos and the Sirrus series excel.
To repeat myself, I'll mention one more time that the Stratos is amazingly comfortable.
When I first put it, it wasn't like that, though.
Somehow, the top of the pack was touching the back of my neck and it was rubbing my shoulders. It turned out that I needed to adjust it to fit my torso size.
So I used the adaptable torso length panel and moved it a little bit so the pack adjusted to my back, completely following the shape of my spine and shoulders. I have to tell you - it felt like a part of my body!
I mention that because some people wrongly believe that when they put a backpack, it should feel comfortable immediately. Don't forget to adjust it using all the features and straps. That makes all the difference.
Now, here's what the Stratos offers in terms of comfort and easiness of use:
The only thing I don't like in regards to the comfort of the pack is the lack of padding on the chest strap. On longer hikes, it's possible that it starts rubbing your sternum so make sure to loosen the ends a bit.
Now, I'm eager to present you the storage abilities of the Stratos 24 so continue reading.
Storage And Compartments
My wife recently bought an Osprey Skimmer 28.
She loves everything about it except the fact that it lacks enough pockets and separate compartments.
I have to admit the Stratos 24 is slightly better designed in that aspect. In fact, the rucksack exceeds my expectations for storage and pockets, even though many people consider its compartmentalization poor.
The Stratos has 5 external pockets and I think there's enough room to accommodate everything you might need even for an overnight hike. You can attach gear on the exterior too.
Keep in mind that you access the backpack from the panel.  
Let's learn more about all the pockets and storage features of the Osprey Stratos 24 pack:
I think I don't miss anything. Don't hesitate to ask questions in the comments should you have any! Now let's move to an important part.
How To Use This Backpack?

Like already outlined, Osprey is known for designing their products with tons of useful features. If you don't use them the way you should, you just won't be able to experience the maximum comfort of the backpack.
What if you want to use them but you don't know how?
Luckily, there's a user manual. It explains every component of the pack and has tons of illustrations. It's really handy so make sure to check it out.
I'll just mention three important aspects when it comes to proper usage:
Regulate the adjustable harness so it matches your exact torso length. It is positioned on the backpanel. You need to glide it until you achieve the desired fit after loosening the load lifter straps.
If you want to add a water bladder, note that there's an external sleeve where you can put it. Again, you'll find it on the pack's back. Properly positioning it using the buckled loop will assure a better load distribution.
Don't forget to use the side compression straps to shrink and tighten the size of the backpack for optimal carry.
Now, I'll show you some cool alternatives that you might want to consider.
Alternatives
To decide what pack would be best for you, you'll need to compare it to others.
Here are some alternatives worth checking out:
Osprey Packs Talon 22 Men's Hiking Backpack, Medium/Large, Black
Dual-zippered access to main compartment
External hydration sleeve accommodates up to a 3L reservoir (sold separately)
Adjustable shoulder harness to dial in perfect fit
Stretch mesh pockets on both sides of pack provide convenient storage for bottles and smaller items.
Two zippered hipbelt pockets and LidLock helmet attachment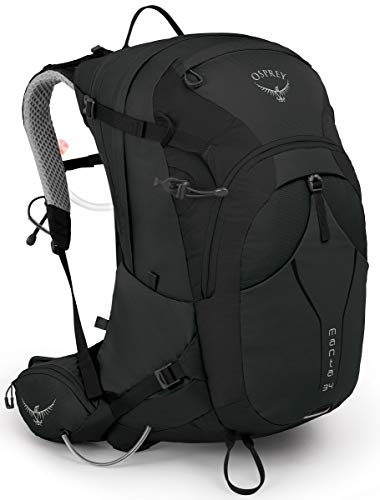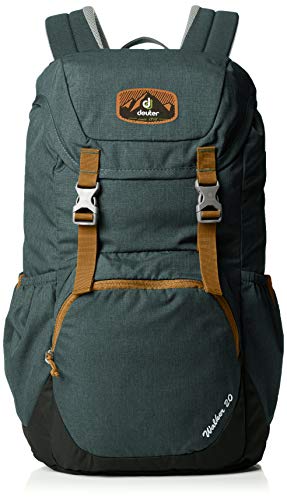 Deuter Casual Daypack, Anthracite-Black, 6 3/8
ENGINEERED WITH INNOVATION - Deuter's Walker packs bring together all around versatility and advanced ergonomics to deliver optimal comfort and performance through anatomically-sound construction; Designed to keep the load close to the body this pack distributes weight effectively and features S-shaped Soft Edge shoulder straps that reduce neck strain and won't chafe as you move thanks to a secure chest strap and removable hip belt
OPTIMAL AIRFLOW - Deuter's Airstripes System is secure and snug, while offering effective ventilation; 2 contoured, air-channeled foam profiles are encased in a breathable Wide AirMesh lining that reduces contact with your back; A channel between the pads pushes warm air away and draws fresh air in, keeping you cool through your rush hour commute
STORAGE OPTIONS - This everyday backpack was designed to keep your school or office essentials organized and secure; Dedicated compartments for documents and valuables are complemented by an integrated key clip and zip-up side pocket made to carry a mouse and cables; Zippered patch pocket includes a built-in organizer for your phone, wallet, etc.; Slot pocket fits a 15.6-inch laptop and can be accessed from a convenient side-zip
BUILT TO LAST - Made from Ripstop-Polytex, Walker daypacks deliver lightweight, high-performance durability; PU coating makes these backpacks water- and abrasion- resistant, ensuring they'll work as hard as you do
SPECIFICATIONS - This 24-liter pack comfortably carries up to 18 lbs (8.2kg); Adjustable strap-and-buckle lid closure; Weight: 1 lb 11 oz (0.8kg). Dimensions: 20 x 12 x 9 in.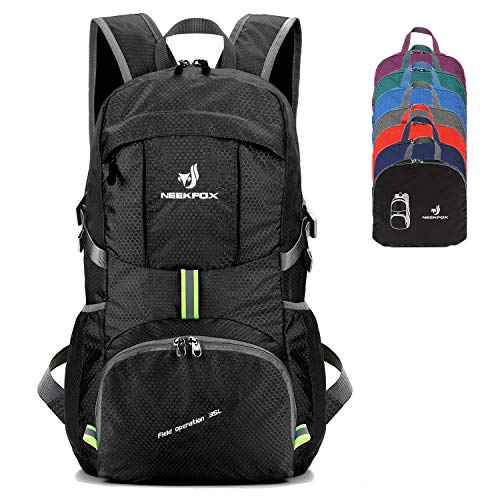 NEEKFOX Packable Lightweight Hiking Daypack 35L Travel Hiking Backpack, Ultralight Foldable Backpack for Women Men
Durable and Comfortable: Made from ultra-strong rip-stop nylon fabric, NEEKFOX hiking daypack provides longer life on heavy duty use. Its adjustable breathable straps and chest strap can fit your body properly and comfortable all-day use. Durable two-way SBS metal zippers are abrasion-resistant and ensure secure closure.
Ultralight and Spacious (35 Liter): Though this packable backpack is ultra lightweight, it still provides a generous storage capacity. It features one roomy main compartment, even can hold a 13" laptop with spare space. Two mesh side pockets work well for a water bottle or umbrella. Two front zipper pockets and internal zippered pockets for smaller items.
Multipurpose: NEEKFOX 35L hiking backpack ideal to use as a overnight packs or multiple-day packs. Good for Disney day trip, day travel, overnight trip, camping, day hiking and vocation. Great hiking backpack for women and men.
Compact and Space-Saving: Fold this backpack into its own zip pocket for storage and unfold it when you reach travel destination. Pull it from luggage and use it as a carry-on bag for excess items to avoid overweight-baggage charges. Collapse size only 8.66 x 9.8 x1.18 inches. Unfold size is 20.86 x 12.6 x 9 inches.
Enjoying Your Hiking Backpack: Its rip-resistant nylon construction sheds rain and resists wear better than cheaper polyester, provides extra strength and long-lasting performance with the lightest weight possible.
Last update on 2023-06-07 / Affiliate links / Images from Amazon Product Advertising API
If you want something similar in terms of volume and quality, then consider checking out Osprey Talon 22 L. It's super versatile, lightweight, and the ventilation system on the back is still amazing.
Should you need a bigger volume from the same brand, then take a look at Osprey Manta 34 L. It has 7 exterior pockets and hydration system included with a 2.5 L water reservoir.
A slightly cheaper alternative from another respected brand is Deuter Walker 24 L. It's highly ergonomic and has an S-shaped soft edge shoulder straps to reduce tension on longer hikes. The airflow on the backpanel, courtesy of Deuter is awesome too.
If you prefer a budget-friendly pack that you'll not regret buying, then check out Neekfox 35 L. It's well worth it and the price is ridiculous for the surprising quality.
A great option for the ladies is the fabulous Gregory Maya 16 L. 
FAQ
What is the torso fit size of the Osprey Stratos 24?
Is this a foldable backpack?
Does it comes with a hydration bladder?
Can I put a 13" laptop in the pack?
Is the rain cover removable?
How much load can I carry with the pack?
Final Verdict
Not without some minor flaws, Osprey Stratos 24 is a well-worthy all-around backpack.
What most impresses me about it is the unparalleled comfort, courtesy of Osprey. This is achieved thanks to their revolutionary AirSpeed™ ventilation system on the back panel that keeps my back dry even on the hottest days.
The adjustable ergonomic shape of the pack makes it super easy to maneuver with which is crucial on longer, more technical hikes.
In brief, you can't go wrong with this Osprey pack if you want to invest some bucks in a quality hiking daypack that will last you for many years.
Founder of this website, Asen is a passionate hiker and writer who is also a gear nerd. He's been featured on many established hiking websites where he gives hiking advice & tips. When he is not trekking with his family or friends, he is writing articles and product reviews. Asen spends most of his time in Bulgaria but he constantly travels the world in seek of more unforgettable experiences. Read more about Asen here.