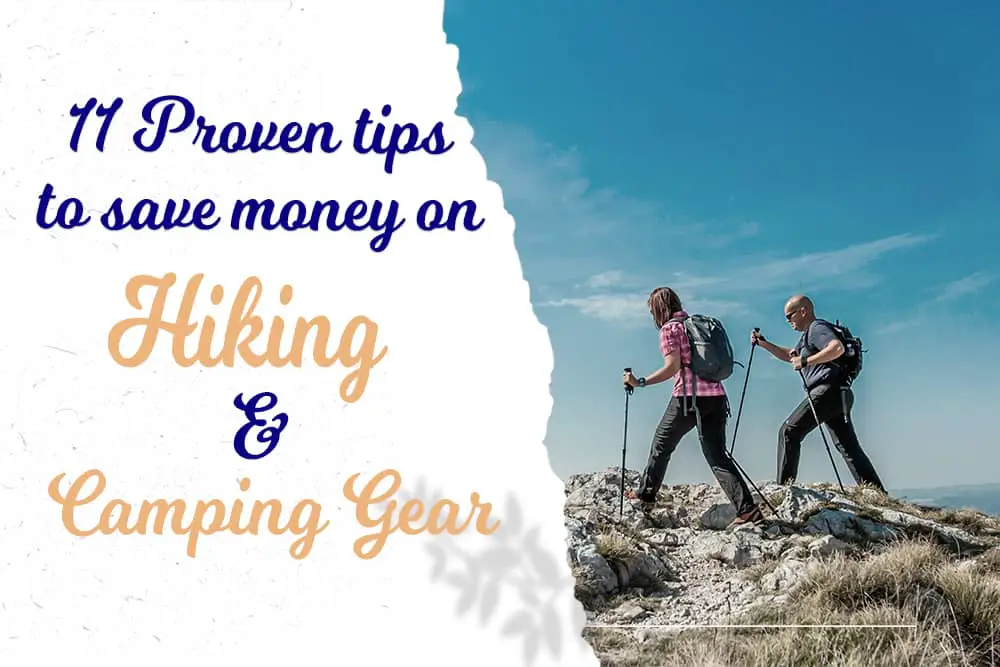 11 Proven Tips To Save Money On Hiking And Camping Gear
Here is the truth about outdoor adventures.
We all want the best gear and we want to get it cheap.
I guess there may be some folks who aren't concerned with price because they are rich, but that doesn't apply to most of the dirt-bag hikers I know.
Whether it is an Arc'teryx hard-shell jacket or an ultra-light down sleeping bag, we want the benefits of premium gear. But we also don't want to break the bank.
Hey, what's better than that!
If you want the good stuff but want it at the best price, here are our tried-and-true tips to get the most bang for your buck.
Let's dive in.
Before that, though, if you prefer watching than reading, here's a cool little video summarizing this article:
This article contains affiliate links. That means if you click on a link and make a purchase we'll earn a small commission. This is at no extra cost for you and it helps us maintain this website. If that's the case, thank you! For more information, visit our disclosure page.
#1 Get your timing right
Outdoor sports usually have seasons.
The start of the season when new products come out is not the time to expect big deals.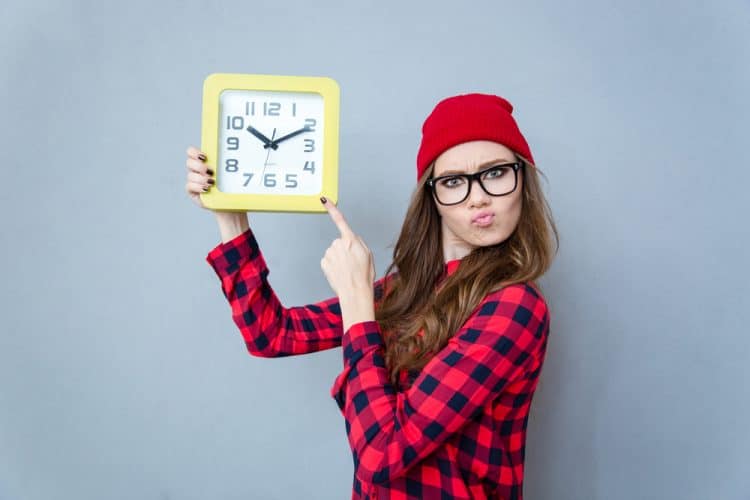 Early season purchases are driven by need and the desire for the latest gear so retailers don't usually put things on sale then.
Look to find the best deals at the end of each season. Selection will often be lower, but prices are too.
Clothing is an area that you could get great end-of-season sales as the fashions change from year to year so models don't often carry over. For Summer gear look at August and September for the best deals. For Winter gear, it is usually March that sees the best prices.
Brick and mortar stores want to move the older gear rather than pay to have it sit in storage until the next season.
If you are in the southern hemisphere, it will probably be backward as your seasons are reversed.
#2 Get someone else to buy it for you
If there is a big gear purchase, consider letting friends and family know about it and ask for contributions for Christmas and your birthday.
The same goes if you are getting married. If you and your soon-to-be spouse are both adventure enthusiasts, then consider setting up a wedding registry at an outdoor store.
REI in the U.S. and MEC in Canada offer registries where you can put down the exact gear you want and your guests buy it for you.
#3 Save up for Black Friday and Boxing Week
Did you know that in 2020, US consumers spent $9.0 billion during Black Friday week?
Besides being mind-blowing, that's also 21.6 percent more than the previous year. And there's a reason for that.
Almost every retailer and direct selling brand will do some Black Friday promotion. It used to be just one day, but now you will often see a full week of sales.
The competition for retail dollars has seen Black Friday expand in-person and online.
Boxing Week is often the last chance for retailers to make big sales before the end of the year, so it isn't uncommon to see big discounts to drive this.
January is one of the slowest months in the outdoor business, so they want to bring in any sales they can to carry them over.
#
4 Find the sources
Year-round you can find deals online, especially when buying directly from a brand.
Brands like Patagonia and Black Diamond have clearance sections on their websites where you get great pricing on items, they want to get rid of.
This is usually previous year merchandise or older model items that have been replaced with new designs. 
This goes for electronics and useful gadgets like GPS units as well. If you are content to have the previous generation, you can often get it for up to 50% cheaper than when it first came out.
You will always pay a premium to have the latest technology, and the older models will often do most of the things the new one does.
REI's outlet store is one of my favorite places, as they have discounts of 25-50% on a lot of clearance items and occasionally off members additional discounts on top of that.
Because they sell everything from clothing to hard goods, you can get deals on your wardrobe as well as your next tent and backpack. By the way, we have an excellent article on the most affordable outdoor packs that you can get as of now.
Keep your eye out for REI's garage sales where they sell off returns. They have these usually 4-6 times per year. Big discounts, but all sales are final.
Two websites that specialize in clear-out gear are www.thelasthunt.com and Steep And Cheap. These websites are clearinghouses for discounted online gear with everything on the sites being marked down.
#5 Don't forget your coupon codes
Many online retailers use promo codes to bring traffic to their site via advertising on other websites or podcasts.
The app "Honey" is great at helping you find discount codes. Just install the app and it will find a discount code for what you are shopping for if there is one available. I've used it to save 20-40% on items that weren't listed as on-sale.
Sometimes you can get a discount code by giving a product a rating, referring friends, or doing a survey. If you want to save some money, be ready to put a little work in.
#6 Buy used
Previously owned gear can be a great deal.
I would only buy stuff I could inspect or come from a reputable online supplier where you can trust the rating of what condition the item is in.
I have found a lot of great deals at second-hand shops where things are priced very low because they don't know what they have. I got a Patagonia fleece for $10 and a pair of Outdoor Research pants for $8.
Speaking of Patagonia, they have a website for second-hand gear - www.wornwear.com.
People trade in used Patagonia clothing, and it is refurbished before being sold. This keeps waste down and money in your pocket.
REI will also sell used gear both at their garage sales and online. This is usually returned, trade-ins, and rental gear. Prices are well over 50% off.
You can also scan local online classified ads such as Facebook Marketplace to see what used items are for sale in your area. In addition, there's a cool Facebook group called "Backpacking Gear Flea Market" where members discuss, sell, and buy used gear.
Just make sure you practice good safety by meeting in a public place if you are going to buy something from a stranger.
With Covid, you can expect to see a lot of slightly used items available for sale by people who got into the outdoors during lock-down because there wasn't anything else to do.
"Requipper" is another great option to find high-quality used outdoor gear. Their mission is to make the outdoors more accessible and sustainable by making it super easy to buy and sell used outdoor gear.
Many outdoor consignment shops across the country sell on their site, so you can trust the quality of their gear, and their protection policy backs up every transaction.
#7 Create a gear list
One easy way to save money is don't spend it.
Didn't expect that, did you?
But check this out:
By working out a gear list, you won't randomly buy the stuff you won't need. Especially if you are new to the outdoors, there are a lot of things you will need, but you might also get sucked into buying fun things you won't use.
For example, when camping I use a single pot, a spork, a small stove, and maybe I'll bring a mug if it is cold out for coffee or hot chocolate.
In addition, you don't necessarily need a sleeping bag. Depending on the weather conditions, of course, you could be just fine with a wool blanket or a quilt. 
I cook and eat out of the pot. If you check out the kitchen section of an outdoor store, you will see things like plates, bowls, cutlery, cooking utensils, spice racks, various mugs, wine glasses, and cleaning gear.
The list goes on.
You may need some of these things or you may not. Just because it is for sale doesn't mean you need it.
Do your research and figure out what you need so you save by not purchasing extra crap you won't be using.
#8 Get a job in the outdoor industry
One of the hidden secrets of the outdoor industry is if you work in it, you get the best deals.
Brands want you to represent their gear, so they give deals to people in the industry. If you work at a store, they offer staff deals as a perk.
If you have an outdoor store in your area, think about getting a part-time job. This will give you access to the best deals as well as insider information about what the best gear is. When you work at a shop, you start to see what gear has a lot of warranty problems and the products that the staff use themselves.
And if you're lucky, there will be free swag when you attend product knowledge sessions.
I haven't had to buy socks in years as the brands give them out when we learn about the products. The same goes for t-shirts.
#9 Know your size
Create a list with your sizes in different brands whether it is for clothing, footwear, or a backpack.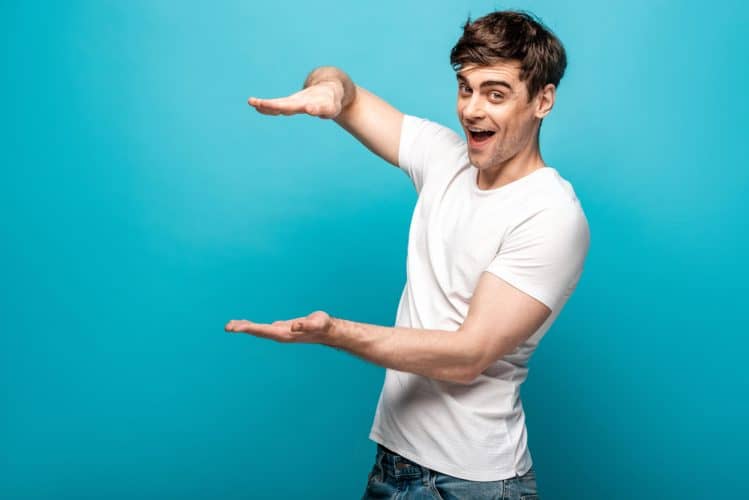 When you know what size works for you, then you can jump on deals online with confidence that you are getting the right gear.
Often, deeply discounted items are sold as a final sale, so you can't return them. The same goes for industry pro-deals if you get the job I suggested above.
#10 Don't be picky
If you want the best gear at the best prices, you might have to ease your requirements about some things.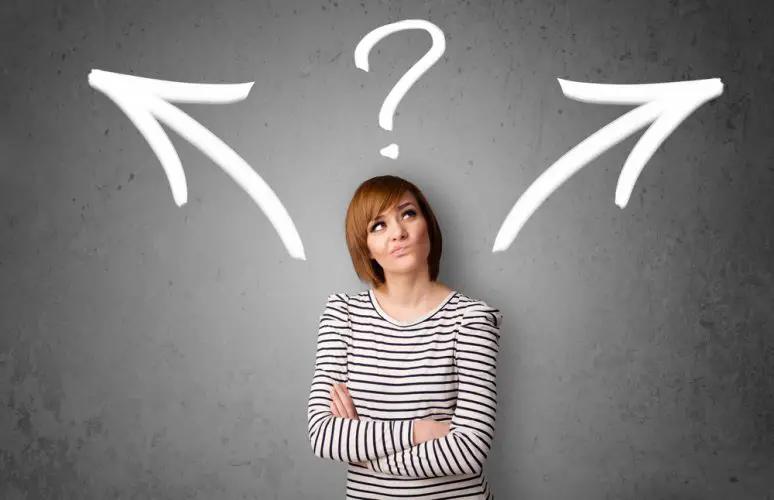 This often means not getting the color you want. I once bought a down jacket for half price because it was an ugly color.
Companies are just guessing when they pick colors that aren't the standard black, blue, or red, and sometimes they guess wrong.
At the end of the season, you will often find it is bold colors or patterns leftover and stores are happy to mark them down to get rid of them.
#11 Buy once, cry once
This is a long-term strategy to save money. Especially when it comes to important outdoor products such as stargazing tents, for example. 
In the short term, it can be attractive to buy cheaper gear, but if you buy better quality gear that lasts longer, the extra cost works out to be saving money.
Working in the outdoor industry, I see people buy a $200 backpacking backpack and then come back the next season and buy the $350 I originally recommended.
They would have saved $150 if they bought it the first time. When you do this with your sleeping bag, tent, sleeping pad, backpack, and all the other gear you need, it can add up.
With research and asking people with experience, you can often figure out the best options in each category so you only have to buy once. This saves a lot of money over the long term.
Sometimes we just can't afford the more expensive option, but often it would be a case of saving up a few more weeks.
Conclusion
Good camping and hiking gear is pricey, but if you follow our tips you can save a lot of money. You just have to be patient and put in the effort to find those great deals.
Figure out the best gear for your needs, find the best prices and then get out and have some kickass adventure. Plan ahead so you don't get stuck being forced to buy at full price just before a trip.
---
What tips do you have to save money on outdoor gear?
Having worked in the outdoor, fitness, and cycling industry his whole life, Winston brings a wealth of real world knowledge on the topics. Rock climbing, backpacking, cycling and wilderness survival are his life. As both an athlete, coach and outdoor educator, his practical experience translates into his writing to help people better pursue their outdoor passions. Read more about Winston here.