14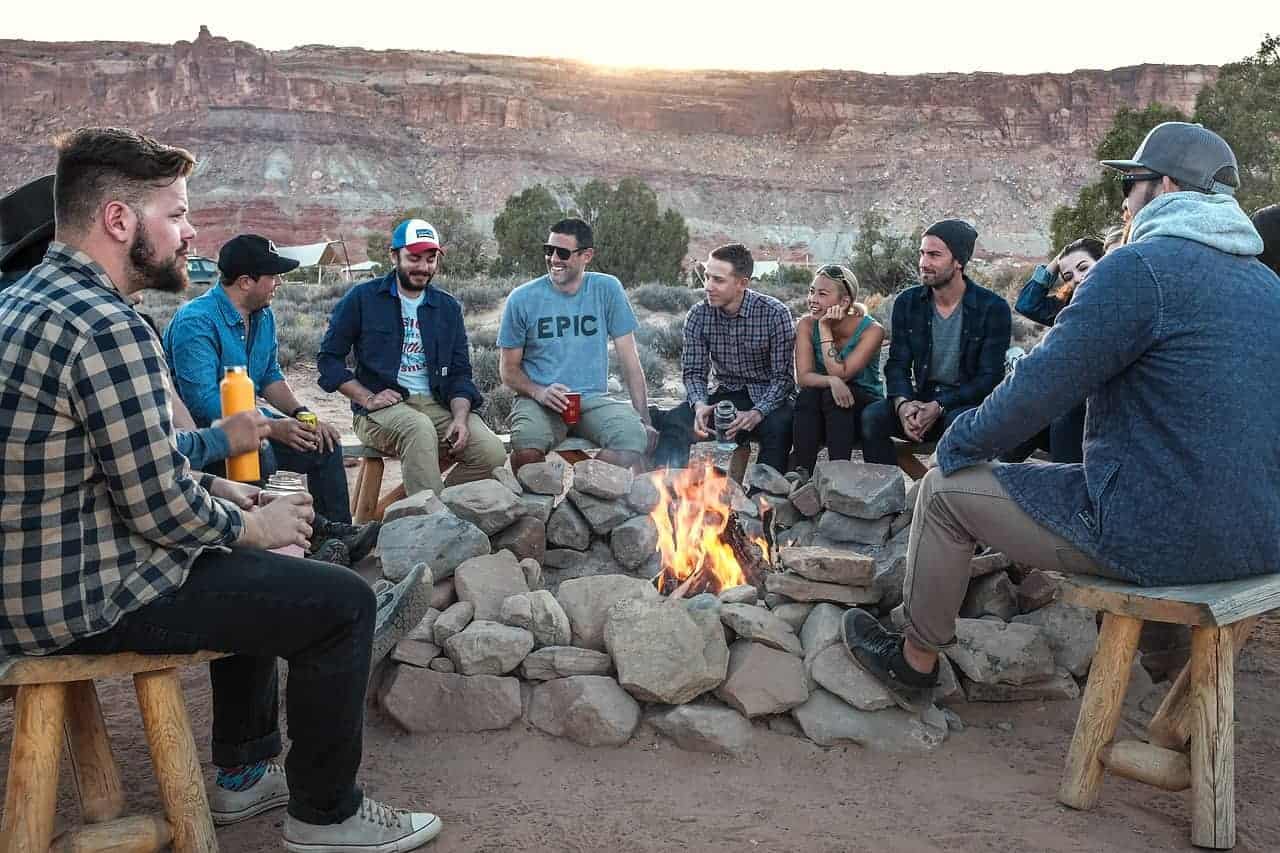 Cool Camping Checklist For Beginners (Quick and Easy)
Let's face it – there are few activities that are as fun to do with your friends and family as camping. You've got the great outdoors to explore and enjoy, while also getting plenty of socialization with the people you love the most!
If you look back, you'll find that camping provides some of the best opportunities for bonding and creating emotionally packed memories you'll cherish forever. But, while all of that is true, camping also means dealing with a lot of practicalities you're not used to thinking about in your daily life.
For example, there are plenty of things you must bring. Don't worry, though – you won't forget anything important. That's why we're here to give you a little reminder, with a camping checklist for beginners!
Let's start with the obvious.
Your Tent
Yes, yes, putting this on the list is basically redundant. But when you're making a camping checklist, you'd do well to write down absolutely everything you need to bring.
That way, you'll be in the right mindset not to forget anything crucial. So, taking this into consideration you'll need to bring a tent! 
Obviously, you need to have somewhere to sleep while you're on the trip. And sure, we guess you *could* sleep in the car, but that sounds like an awful idea. After all, you're on a camping trip.
So you want to do some camping!
And for the quintessential camp experience, having a good tent is a necessity. 
That way, you'll be able to feel one with nature. Just imagine being lulled to sleep by the chirping of nearby crickets! Make sure to learn how to waterproof your tent if it's not water-repellent already.
And if you're interested in stargazing, which is an awesome activity, by the way, check our thorough guide on the most popular tents for stargazing this summer.
We also have an extensive guide on the top-rated tents for warm weather, if you plan on camping in hot temperatures.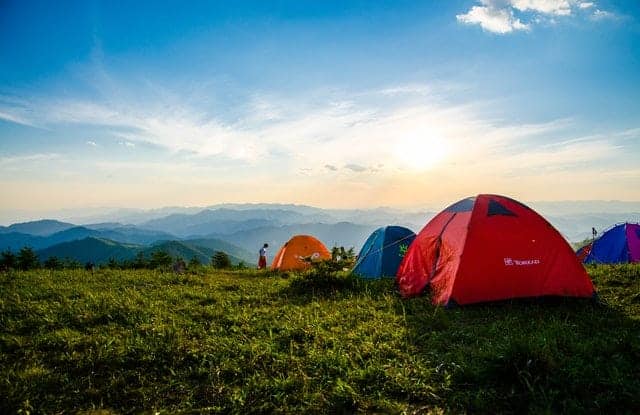 If you take a hike alone, going back to your camp will be much more monumental than a boring walk back to your vehicle.
Our advice is to choose a tent you can use during all seasons for versatility. There are three-season tents that are super convenient or if you're planning to do winter camping you can even go for a four-season one.
Regarding the size, that depends on whether you will sleep alone or with other people. The weight is also very important. If you're planning to drive to a campsite then you can afford to have a bulkier tent.
However, if you are a hiker or a trekker and you need to attach your tent on your backpack, then invest more money in a lightweight tent. It will save you troubles in the long run.
What's also important, by the way, is to succeed in keeping the bugs out of your tent when sleeping. Don't get eaten by those nasty insects!
Sleeping Bag
You might think we're quite fond of sleeping, as this next item on our camping checklist concerns that part of the trips as well. Yeah, that's right - we're talking about the sleeping bags!
Let's be honest, is there something more magical than snuggling inside a comfy sleeping bag in the middle of the forest at night?
Before you pack up for the trip, choose the best possible sleeping bag. You want to have one that's the right fit for both you and the trip itself
If you do that, you'll have everything you need for a memorable evening under the stars! Though, if you're going on a winter trip, definitely consider getting a 0-degree bag.
It's easy to attach the bag on your backpack using the external straps. Moreover, some packs, like Osprey Stratos 50, for example, have a dedicated sleeping bag compartment that's very handy.
Also, if you're looking for neat camping hacks that will help you save on space in the car, with this one, you won't need to bring a pillow!
Just use the sack that comes with your sleeping bag, and stuff it with the clothing you're not wearing at the moment.
Sure, buying a smaller backpack is definitely one of the camping mistakes to avoid, but as you can see, there are still ways you can utilize available space smartly.
Also, if you decide to bring your hammock, learn how to measure hammock length. That will help you when you set it up for an ultimate experience.
Last but not least, really decide whether you need that bulky sleeping bag. There are other alternatives such as quilts and blankets, for example.
Firewood
Let's make a mental exercise for a moment.
Take a deep breath, relax, and try to empty your mind. Then, when we mention the word 'camping', tell us the first image that pops into your mind.
Chances are, this will be a bunch of people huddled around a fire.
Indeed, that's the essence of any proper camping trip! That's one of the main reasons why camping is fun. 
You'll enjoy your friends' company, make your meals, and share cool fireside stories around the flames.
Check out the video below that explains how to pick wood for campfire.
But for that, you'll need two things. Well, one thing and one person, to be more precise. You'll need someone who can build a proper fire and some firewood! In fact, learning how to do it yourself is not difficult, and it's surely a good skill to master.
Just don't forget to buy a couple of cords of wood. Those will be essential if you plan on keeping your tent warm without electricity.
Also, if you often kneel to cook at camp, probably it'd be a wise idea to invest in solid hiking pants with reinforced knees. 
Water Jug
We're getting all the essentials on our camping checklist. Now that we've covered fire, we're moving onto the water. Or, in other words, what you'll be keeping water in.
When it comes to the assembly of a camping checklist, one of the first things you should think about is a storage container for water.
You'll need quite a lot of it, and not just for drinking. You also require water for cleaning and cooking. And if you're not going to a campsite that provides running water facilities, this becomes even more crucial. Bear in mind, winter camping is often like that!
So, pack a water carrier you can refill, so you'll be able to use it constantly, over and over again. And if you want to go the extra mile in your preparations for camping, give a call to the local state parks or nearby gas stations. They may have water stations where you can fill up.
If you're camping in the wilderness, you have to bring your water. Handy advice is to use a portable water tank. As for refilling your supplies, it's a good idea to find a running source of water.
If you're not sure about its quality, always use a water purifier. 
Cooler
Naturally, not all people enjoy camping in the winter. In fact, camping out in the summer is an equally rewarding experience. It's just completely different! If you come across any cool hiking destinations, obviously you'll want to visit them while the weather's still nice.
With all of that in mind, you should definitely bring a properly large cooler. Make sure it's one that keeps the ice as long as possible.
Don't feel obliged to go for an expensive brand like "Yeti", for instance. Everything from "Yeti" is of high quality, but you can find some great coolers at a much lower price.
Sure, you'll need it to store all of your fresh groceries, but on a camping trip, a cooler is so much more than that.
Simultaneously, you'll be using it as a temporary bench, a prep station for lunch - or even a place where you'll keep other stuff cool. Have you ever tried cool sunscreen on a particularly hot day?
Headlamp
Having a headlamp or portable camping lights is essential once the fire is extinguished. It would be very difficult to navigate your way in pitch black darkness around the camp when nature is calling, for example.
Plus, it's very practical when you need to organize your gear when in the tent or if you need to go and gather some wood for keeping up the fire.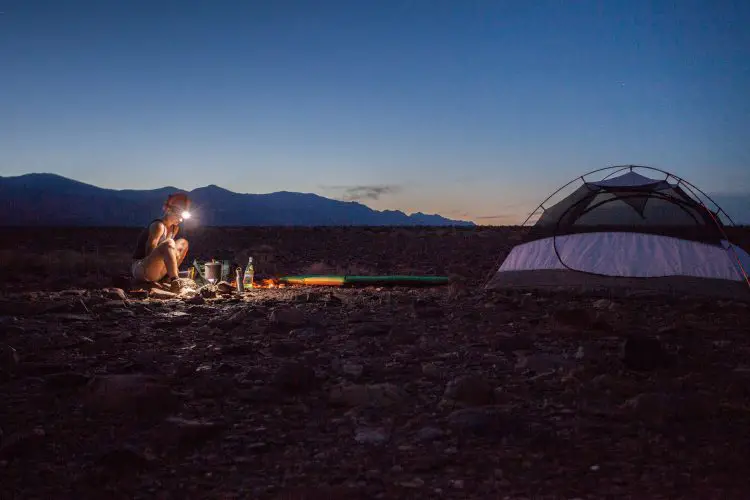 There are some cool and useful headlamps on the market. They have the option to adjust the brightness, to choose from several light modes, and to even zoom the light.
In addition, don't just rely on batteries but get a headlamp, a quality hiking flashlight or a camping light that can be charged using a socket or an USB charger.
It will be best if the bulb has a large lifespan of let's say 100 000 hours.
Appropriate Backpack
Sure, you need a pack to organize and carry all the essentials mentioned above. However, the emphasis here is on the word appropriate.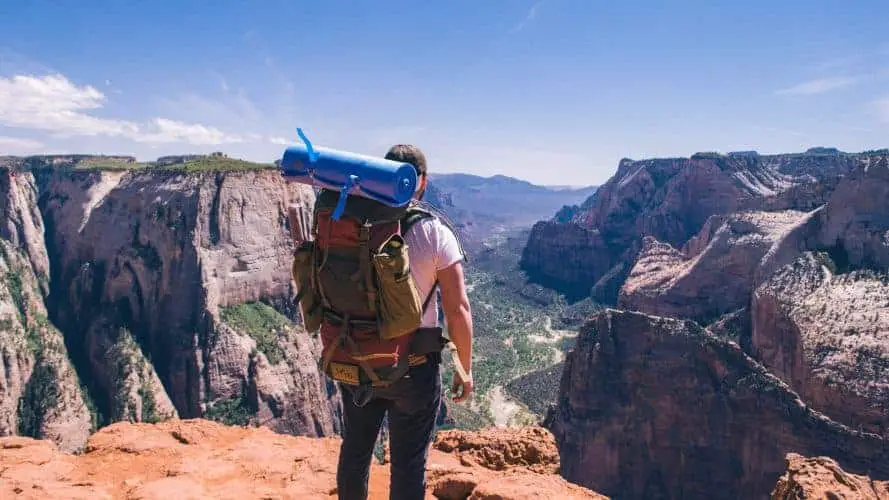 If you're driving to a well-organized camping place, that's fine. However, not every pack can do the job efficiently, especially if reaching the camp site involves trekking or hiking. In such cases, your backpack has to fit the following criteria:
It has to be comfortable enough to withstand wearing bulky gear for a long time. That means sufficient padding on all stress points, adjustable fit, and high performing ventilation system on the back panel.
It should have sturdy materials and a strong frame. To be stable and support the load aptly, the pack needs to have an internal frame with one or two aluminum stays.
As for the fabrics, you'd want them to be durable and water repellent to serve you well in rough conditions. A good measurement for rigidity of the materials is the denier. The higher the number, the better.
Well thought out internal and external organization – besides having enough internal compartments and pockets (zippered sleeping bag space, for instance) to organize your smaller items, a good camping pack needs to have external storage options too.
That's important when you need to carry your tent, a hatchet, and a sleeping pad. Such backpacks have straps on both sides and lashing points on top and bottom to allow attaching gear externally.
Another great feature is the detachable daypack. Packs that include removable daypacks are very convenient when you are at the camp and you decide to explore the surrounding area.
For that you'll need to pack super light and an integrated daypack in your main backpack would accommodate some of your important items for this short trip.
The good news is you don't have to spend a small fortune to buy a good backpack. Take a look at our list of the best cheap hiking packs, and you will see why.
Also, respect the gender classifications. If you're a female, don't go for a male pack because there are some slight but important differences. 
Last but not least, follow these tried-and-true tips on saving money on outdoor gear.
Conclusion (Plus Bonus Infographic)
Before you leave, don't forget to follow the Tent Commandments!
Camping is often an unforgettable experience. It creates exciting memories that stay with us for a long time. Nothing can rival the coziness and the peace of sleeping under the stars. When you have the right gear, you're sure to check all boxes when it comes to comfort and safety.
You don't need much and it doesn't have to be expensive or fancy.
---
Do you have any ideas or recommendations for some useful camping gear? Leave a comment below!