6
Can You Hike In Leggings? Here's A Complete Answer [2021]
Among other things, going hiking requires that you wear the right clothing, and while many people concentrate most on the shoes or boots, it's good to think about your legwear as well.
Hiking requires you to wear garments that are comfortable and allows you to move around freely without being too loose or too tight.
That's why many people ask, "can you hike in leggings?" Indeed, leggings are extremely popular these days for a variety of reasons, and the short answer to this question is yes, you can hike in leggings.
However, here we are not talking about the type of leggings that only ladies wear as base layer when the weather gets cold.
Those are typically made of cotton-lycra, and even though ladies could wear them on short summer hikes, they are not the optimal choice.
The proper type of leggings, also known as tights or yoga pants, are far more suitable for hiking. That's because they are made of special fabrics, the most common being polyester and spandex.
In fact, the spandex is just another name for lycra, but sport tights usually consist of small percentage of it, the main textile being polyester.
Hare are the fundamental characteristics of those materials that make leggings so comfy on the trail:
They are lightweight and close to the skin, providing naked feeling
They are stretchy and follow the shape of your body, allowing you to move freely on any type of terrain
They are durable
They are moisture-wicking and breathable
That's why those types of leggings give you a lot of freedom as you hike across different terrains. You can keep going for a very long time without feeling any chaffing or discomfort whatsoever.
The Many Types Of Leggings
Not only do leggings come in different lengths, including ankle and knee lengths, they also come in a variety of colors, materials, and designs.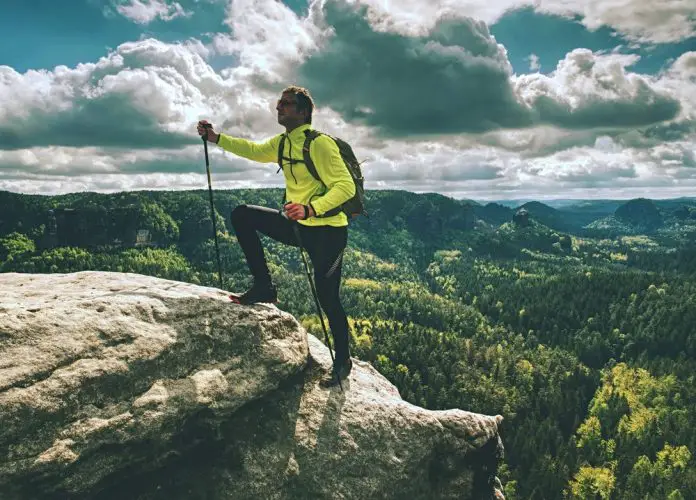 Regardless of what you intend to wear your tights with, they'll look great every time you put them on.
Only people who have never worn leggings will wonder why they are so trendy. Everyone can find a pair that suits their needs and their sense of style.
Leggings can be casual or dressy, thick or thin, solid-colored or print, and some of the materials used to make leggings include:
Cotton, which is breathable and super comfortable (it absorbs moisture, though)
Nylon, which is strong, lightweight, and doesn't crease easily
Polyester, which is usually chosen for an active lifestyle because it's moisture wicking and dries fast
Spandex, which provides just the amount of stretchiness you need
Wool, which is the preferred choice for people who live in cold places and enjoy winter hiking
No matter if it's for hiking, running, or working out, leggings are perfect because they are form-fitting without being too tight and are made of materials that let your skin breathe as you hike or exercise. Besides, they come in different thicknesses so you can hike virtually any time of the year, and cost so little that you can easily afford to purchase a few pairs at a time.
They can easily be your smartest purchase when you're shopping for outdoor wear or checking off items on your lightweight hiking gear list.
Why Choose Leggings For Hiking?
Even though some folks still believe leggings are an odd choice for hiking, once you consider all benefits of wearing them, you'll understand why many hikers wear them so often these days.
They are a much better choice than a pair of jeans, for example. 
To begin with, let's take a look at some amazing perks of wearing tights when you being out in nature.
They Retain Your Body Heat
With leggings made out of wool, spandex, polyester, and everything in between, you can keep your legs at the right temperature regardless of where you're hiking or which season it is.
Leggings are a great base layer when you're mountaineering at high altitude, where the temperatures are low.
As mentioned earlier, the best leggings for hiking are usually a combination of spandex and polyester, but you may find that other types work best for you. For example, the best winter hiking leggings are made of merino wool. 
They Do A Great Job Of Keeping Your Legs Protected
Leggings protect you not just from the elements, but also from any tall grass or anything else that grows outdoors that might cause skin irritation and discomfort.
When you're hiking, you never know what your body is going to be exposed to, especially your legs, but the right pair of leggings can help you stay a lot more comfortable and protected throughout the journey.
For further protection, and if you hike on technical terrains, you can have an outer layer of pants with reinforced knees and seat.
They Compress And Support Your Legs
Leggings provide you with light compression on your legs so you get a little extra support for your muscles.
They can increase the blood flow circulation in your legs and therefore provide your outing with a little extra kick which also preserves your energy while hiking.
Tights also ensure good support without being too tight, allowing you to get a better workout out in nature. And you can easily bring them to a tailor to hem them if needed for a better fit.
They Decrease Wind Resistance
Wind resistance experienced as you're hiking can cause drag, which means it will slow you down and make the hike more challenging than it should be.
The right leggings will get rid of this resistance while still making sure your overall stride is not affected, providing you with the best of both worlds. For your safety, it's not a bad idea to learn how to deal with wind speeds in the mountains.
They Provide You With Certain Health Benefits
If you suffer with varicose veins, muscle cramps, or similar problems during long hikes, the leggings that offer compression could be of a huge help.
This means you don't have to put off your next hiking trip just because you're suffering with these types of problems. You can simply stay active for as long as you like.
Leggings Are Breathable And Versatile
You can hike in them and then sit by the campfire afterward. They are comfortable when they get wet and always dry quickly.
Leggings can be used in multi-day hikes, they are available in sustainable materials, and they are much more affordable than many other "official" types of hiking garment. Not to mention that they are easy to pack and would easily fit in packing cubes.  
They are also available in tons of colors and designs, which means the companies that make them truly offer something for everyone. 
Hiking in leggings is as much comfortable as wearing sweatpants when you hike. It's just that leggings are far more outdoor appropriate. 
The fact that there are now leggings made specifically for hiking and other outdoor activities is an even better reason to choose to wear them on your next hiking adventure. It's a decision you certainly won't regret.
How To Choose The Right Leggings – A Few Useful Tips
What makes leggings awesome is that you can wear them with just a big t-shirt or underneath another outfit, depending on the weather and your own tastes and preferences.
A lot of people wear them as base layer but also on its own. Whatever you choose, you have to do a proper research so that you find a pair of leggings that properly fits you.
As a suggestion, we encourage you to check out our article on the best hiking leggings with pockets for men and women. It contains not only pre-selected models but also a very useful informational buying guide.
Note that since the sizes don't always match up with the sizes offered in other articles of clothing, you have to pay special attention when shopping for the right fit.
Leggings are usually sized as Small through Large or Extra-Large, unlike a pair of pants. Pants are usually measured in numbers, and even that can vary depending on which country you live in. Start with your pant size, but to make sure you get the right leggings in the end, you have to know the size of your inseam, which is the measurement from your crotch to the bottom of your ankle bone.
Besides knowing your inseam number, make sure to measure your waist, hips, and thighs.
Find a fitting chart just for leggings to make sure you get the right size. Just because you wear a small size in pants doesn't necessarily mean you need small leggings. Only the fitting guide will tell you for sure.
Conclusion
Now that you know that leggings can, in fact, make the perfect hiking wear, you're likely pretty anxious to rush out and get yourself a pair.
That's a lot easier than you think, especially because there are so many sporting goods companies that offer them.
Look for brands such as Nike, Beyond Yoga, Vuori, and Patagonia, among others, to get the variety and quality you need and deserve.
Of course, the fact that you can now go hiking in great-fitting leggings that are also very fashionable is another huge benefit provided by the leggings made today. Enjoy yourself and happy trails!
---
Have you ever hiked wearing leggings? Do you find them comfortable? Share your thoughts below.
Founder of this website, Asen is a passionate hiker and writer who is also a gear nerd. He's been featured on many established hiking websites where he gives hiking advice & tips. When he is not trekking with his family or friends, he is writing articles and product reviews. Asen spends most of his time in Bulgaria but he constantly travels the world in seek of more unforgettable experiences. Read more about Asen here.