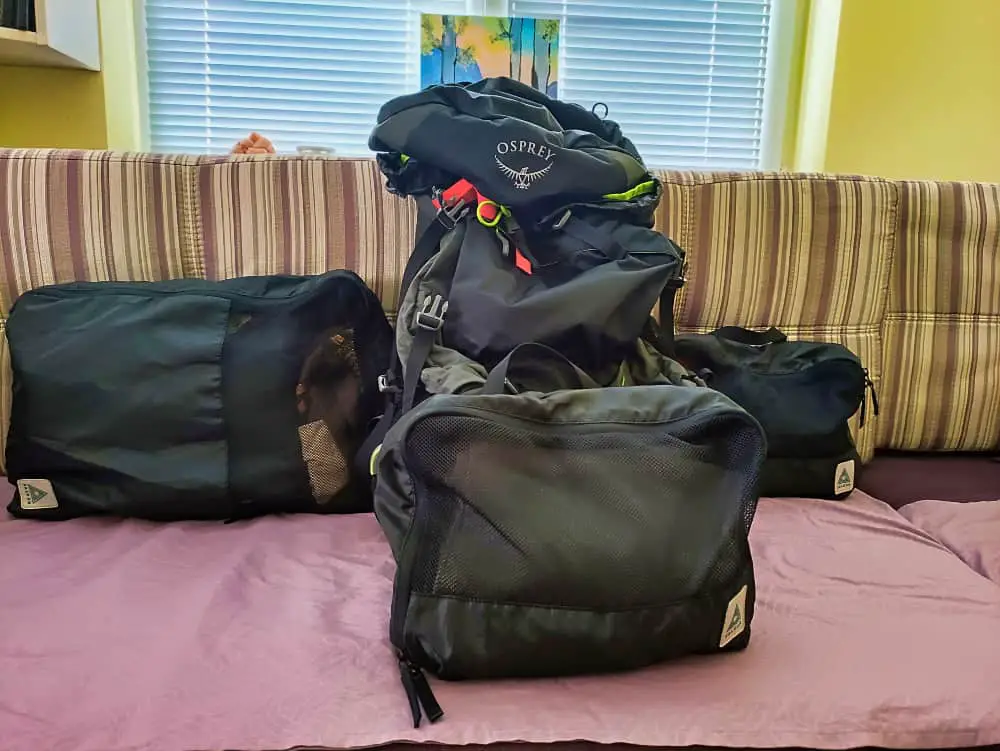 The 7 Very Best Packing Cubes For Hiking Of 2021 Reviewed
In this article, you will learn what the best packing cubes for hiking are.
You might have noticed already that their popularity is constantly rising. And it's totally understandable – those rectangular pouches are super practical, stylish, and very affordable.
AT A GLANCE: OUR TOP 5 PICKS FOR Packing Cubes For Hiking
Choosing the most suitable for hiking, however, could be a bit difficult. Sometimes, even, quite confusing. That's because there are tons of them on the market right now. There are mesh cubes, padded cubes, compression cubes, and more.
That's why we decided to invest 38 hours to compile this all-inclusive guide. You'll find out:
What packing cubes are and why they are useful
Which are the top-notch kit bags suitable specifically for outdoor adventure packing
How to pick the most suitable set of cubes for you
How to properly use packing cubes for better space optimization and carrying comfort
So if you want to have full knowledge about choosing the right cubes for packing and significantly ease your life, then continue reading.
Let's dive right in.

Our Top Recommendation
To tell you the truth, we really like all 7 sets described in our list. That's simply because each of them has something that the others don't have. Plus, they are all practical and useful no matter if it's for hiking, backpacking or traveling.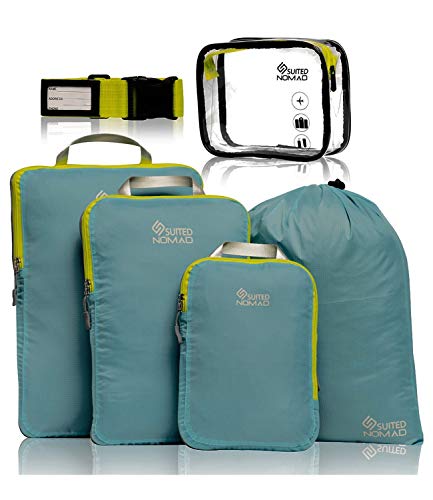 SuitedNomad 6-Set Ultralight Compression Cubes
Super lightweight with an impressive weight to strength ratio.
Highly efficient compression for space savings.
Unbelievably roomy design with strong expendable materials that are water-resistant.
Additional items such as a laundry/shoe bag, a see-through toiletry bag, and bright adjustable luggage belt.
Last update on 2023-06-08 / Affiliate links / Images from Amazon Product Advertising API
With that being said, our winner and our top pick is #7 Suitednomad Compression Packing Cubes. It stands out from the rest. This set of 6 including 3 cubes, a toiletry bag, a laundry bag, and a luggage belt fulfills all requirements to be a winner.
Of course, this is an unbiased opinion. Based on your needs and preferences, any other packing cube set could be more convenient for you. But how do you choose, and why put your stuff in rectangular pouches in a first place? 
More on that later.
The Best Packing Cubes For Hiking At A Glance
* Weight means total weight with the cubes empty and decompressed.
* Some sets may come in a different number of cubes, based on your preference (you can view the options at Amazon).
#1 Osprey Ultralight Cubes (Set Of 3)
This super light set of three stylish and practical cubes will make packing a breeze. Manufactured with the recognizable quality of Osprey and designed to organize your belongings in the most efficient way possible, you're quickly gonna love using these pouches. Check them out!
Ask anyone – you can't go wrong with Osprey. This also applies when it comes to this set of packing pouches. Conveniently, the set comprises three cubes in a rectangular shape which makes it easy for arranging them in your backpack (you've played Tetris, right).
The total weight of the three cubes is only 2.3 oz or 65 grams. The overall volume is 8 L. The smallest cube's capacity is 1 L and its perfect for storing small items such as an insect repellent, toothbrush, tiny medical kit, etc. It could easily accommodate your winter hiking hat too.
The medium-sized pouch has a volume of 2 L. It's great for stowing socks, towels, underwear, and similar stuff. The largest one is with a volume of 5L. It could easily accommodate t-shirts, pants, and even sweaters. Well, your snow shovel won't fit it, for instance, but, hey, we don't expect them to.
The material used on the Osprey Ultra-Light packing cube set is 40D nylon. Now let's show you the pros and the cons.
#2 Eagle Creek Pack-It Starter (Set Of 3)
Made by a brand known to produce durable packing gear, this set of three cubes is one of Eagle Creek's finest. Moreover, it's a longtime bestseller on Amazon with hundreds of positive comments. Water resistant, light, and coming in 5 different colors, this set will help you stow your stuff and carry it safely and comfortably no matter where you go.
This kit bag offers three packing sleeves with different sizes and capacity for smart compartmentalization.  The XS cube has a volume of 1.2 L and it's good for keeping your dirty underwear or socks. Or toiletries. The capacity of the S pouch is 5 L, and it allows you to stow t-shirts, short pants, and anything along those lines.
The M cube is the largest one. Its volume is 10.5 L. It's perfect for bigger stuff such as shirts, therm sweaters, outdoor pants, and even jackets.
Those who are keen on ultralight hiking will appreciate the fact that the weight of the entire set is only 2.1 oz or 60 grams. So no extra weight in your pack and on your back.
In addition, Eagle Creek back up their product with a reliable No Matter What™ warranty. The manufacturer will repair or replace the set regardless of the cause of damage during the product's lifetime. Isn't that nice!
Now it's time to highlight the pros and cons of the Pack-It-Starter Set. Let's see.
#3 Gonex Compression Cubes (Set Of 5)
When it comes to packing gear, we all want small size and a large capacity. Well, this is exactly what you have with these high performing, yet budget-friendly compression cubes from Gonex. With rough materials, lightweight design, and easy organization, packing and unpacking gear with this combo is quick and intuitive. Make sure to check them out.
Gonex Sport is one of those rare brands that make cheap, but quality outdoor products. We know that because we are very happy with one of their backpacks – Gonex 35 L. Feel free to read our impressions here.
This particular 5-set combo of cubes includes 4 medium-sized and one small pouches in a convenient rectangular shape that allows smooth packing. It could accommodate clothes and supplies for a week-long trip in the mountains or in the woods.
The size of the medium bag is 30x23x9 cm /11.8x9.1x3.54 inches. It can store up to 6 rolled up t-shirts, towels, and underwear. Besides clothes, you can even stow more technical accessories such as bushcraft knife, torch, tinder, and anything that makes sense.
The small cube is 25x19x9 cm /9.8x7.5x3.54 inches. It's best for stowing socks, a lighter, wired headphones, and similar stuff based on your trip and preference.
They are pretty light too – only 0.90 lbs or 408 grams. That is essential when you carry other heavy gear on extensive hikes. 
What's best is that you can choose between a variety of colors and different sets. For instance, depending on your needs, you can order a set that combines two large and two medium cubes.
Another option would be to take a package that includes a large, medium, and a small pouch, and sleeves dedicated for toiletry supplies, a shoe bag, and a laundry sleeve. That flexibility is something that many would appreciate.
Continue reading to see the major pros and cons of those sweet bags.
#4 Tripped Compression Cubes (Set Of 6)
Created with tons of passion by a backpacking couple living on the road, the compression cubes from Tripped are loved by thousands of outdoor fanatics and travelers. Expectedly, this 6-piece set includes everything you need when packing, hiking, and travelling. The best part – it has a laundry/shoe bag and a super cool slim tube pouch dedicated for stuff you want isolated. Let's see more!
Tim and Fin – the couple behind these packing pouches was frustrated because of the lack of affordable gear that met their quality standards and way of life.
That's why they started designing their own products. It turned out people love them! That's why it's not a surprise that their set of cubes is an Amazon's choice and a highly rated bestseller.
Besides this six set, that you can find in eight colors, you can also consider their 2,3, and 6-piece XL set. Of course, that's based on your preferences.
This particular set has 6 pouches (2 small, 2 large, a slim tube, and a laundry bag) that you can use to organize your clothes and gear no matter if you're headed on a 2-4-day hike with your kids or on a weekend camping adventure with your dog. Sure enough, these compact bags are excellent for carry on as well.
They are lightweight – only 297 grams or 10.5 oz of total weight. The size of the small cubes is 10' x 7" or 25 x 17.5 cm. To give you a better idea of its capacity, let's say that you'll easily put several medium-sized t-shirts in there.
The size of the large cubes is 14" x 10" or 35 x 25 cm. It gives you the freedom to put more bulky clothes – a jacket, a sweater, pants, or just a bigger number of t-shirts – up to 7 would snug nicely.
You can safely arrange the packed six-piece set in a backpack that's 40+ liters.
Let's move on to the most important part.
#5 Travel Dude Compression Cubes (Set Of 7)
Another great option for adventure packing, this cube set is made out of 14 recycled plastic bottles. But it's not just eco-friendly. It's stylish, dependable, and crazy comfortable to use. The kit bag features a laundry sleeve and a waterproof compartment in one of the large cubes. So if you care about your neat gear organization but also protection, you should check this set out!
Probably it might come as a surprise that Travel Dude was founded by a woman. The digital nomad Julia Dudorov had a strong passion for backpacking and a burning desire to find a way to make packing easier and affordable. That's how she created her own brand of packing cubes in 2018. Now her product is a bestseller on Amazon with hundreds of cheerful reviews.
You can choose between the 4-piece set and the 7-piece set. Our review covers the bigger package. Both packages come in four colors, which gives you a decent choice.
The ergonomic rectangular shape of the cubes makes them easy to stow in a 50 L backpack. With it you can pack a week's worth of clothes and gear. Sure enough, for shorter journeys you can leave some cubes at home.
The set has 2 large pouches whose size is 13.7" x 11" x 3.9" or 35cm x 28cm x 10cm. They are pretty roomy and allow you to put bulky clothes such as a winter jacket, hoodies, sweaters, shoes, etc.
The two medium-sized cubes included are great for towels, t-shirts, shirts, hats, etc. Their dimensions are 11" x 7" x 3.9" or 28cm x 18cm x 10cm.
The two small cubes in the set are suitable for underwear, socks, gloves, poo paper, small electronics, etc. Their size is 11" x 5.5" x 3.9".
Finally, in the set you have a laundry bag with a capacious design. It has a drawstring closure on the top. Its size is 13.3" x 20.4" or 34cm x 52 cm. The volume of the pack is approximately 10 L.
The weight of the whole kit bag is 0.9 lbs or 408 grams. Not bad for 7 cubes made out of heavy-duty nylon material. When not used, you can fold or roll the empty cubes so they don't take up space.
#6 Taskin Dual Side Compression Cubes (Set Of 4)
Supper durable, with an exquisite quality of the materials, and having a highly functional design, this kit bag from Taskin is all you need to pack smart and carry your stuff effortlessly. What differentiates those cubes is that each of them has a divider separating your dirty/wet and fresh/clean clothes. Plus, your essentials are protected from the elements while they breathe. Check those pouches out!
Taskin is a young and ambitious company startup from San Francisco. They are striving to become one of the most recognizable brands manufacturing packing equipment.
The staff there take their job very seriously and as visible on their website and on Amazon, their products attract hundreds of positive reviews. Moreover, this dual-side packing set is an Amazon's choice.
When it comes to the number of pouches in the set, you have two options – a set of two (one large and one medium) and a set of four. This review is for the four-piece set.
The package includes 4 cubes (three large and one medium) in a space-maximizing rectangular shape. Depending on the nature of your hiking trip, you'll be able to fit them nicely in your backpack. If you need to pack only for the day or the weekend, you can take less of them. If you go on longer adventures, the four bags could hold plenty of clothes and gear for 4-6 days.
The large cube can hold a big number of clothes and gear if packed correctly. You can stow 3-5 blouses, pants, and a jacket or just a larger amount of smaller garments, such as 7—9 t-shirts combined with short pants. The size of the cube is 10.1" x 14.25" or 25.6 cm x 36.2 cm.
The medium pouch is perfect for underwear, socks, small electronics, toiletries, and similar stuff. Its size is 10"x 8" or 25.4 cm x 20.3 cm.
It's important to mention that those cubes weigh a little more than others. It's a small trade-off for the extreme durability of the fabrics. The weight of the large cube is 0.56 lbs or 256 grams. The weight of the medium cube is 0.39 lbs or 178 grams. That makes 2.07 lbs or 930 grams for the entire pack.
What's great is the 1-year unconditional warranty and the 30-day money-back guarantee. The customer service is reliable too, as reported by many buyers.
Let's quickly outline the good and the bad.
#7 SuitedNomad Compression Cubes (Set Of 6)
Another top-rated set coming from a reputable brand, say hi to these practical cubes from Suitednomad. Don't let the minimalistic design fool you. You'll be able to pack tons of stuff in them and save space without adding extra pounds to your pack. Yes, they are ultralight and have an impressive strength to weight ratio. As a bonus, the package includes a laundry sleeve and a transparent toiletry bag. Woohoo!
I admit that what first caught our attention to those packing bags was the eye-catching color. Yes, good looks attract. And this Caribbean blue color is really awesome.
Then, when we saw the hundreds of positive reviews, we decided to go ahead and test them. We were impressed how capacious these cubes were. And they fit pretty well in a backpack thanks to their rectangular, rounded shape.
With this set comprising 3 pouches, a laundry bag, and a toiletry bag, you'll be able to pack for a 10-day trip. Suitednomad also offers a set of three pouches – it doesn't include the toiletry bag, the laundry bag, and the luggage strap with an id tag. So you can pick what suits you best.
Let's talk about the pouches. First, about the extra-large cube. Its dimensions are 16" x 12" x 4" or 40cm x 30cm x 10 cm. It's already big when it's empty and not compressed. You can easily stuff large items in it such as jackets, pants, and roughly 10 t-shirts.
When you fill it, you can use the large cube. It fits shirts, t-shirts, thermo jacket, etc. Really big space and expandability. Its size is 14" x 10" x 4" or 35.5cm x 25.4cm to 10 cm.
The medium cube is great for storing small garments, underwear, socks, sleeveless shirts, etc. When not compressed, its size is 10" x 7" x 4" or 25.4 cm x 17.8cm x 10cm.
The weight of each cube is approximately 60-65 grams or 0.14 lbs. The entire set weighs 1 lbs or 450 grams. Let's see the most important pros and cons of the Suitednomad packing cube set.
Why Use Packing Cubes?
Packing cubes are trendy. People are crazy about them. Just check out the graph below from Exploding Topics.
Of course, it's rare that you'll start doing something just because everyone else seems to do it. That would be unsound. Here's the deal – packing cubes are practical. What's more, they have many capabilities that can ease your life when hiking or travelling.
Their biggest benefits are related to space saving and gear organization. That's especially true if you're messy and disorganized when packing (like I often am). They can really make a difference for those who like to over-pack or don't know how to pack.
Packing cubes come in different sets that contain a different number of zippered sleeves. Usually they are in various sizes. That allows you to compartmentalize your essentials in a neat and easily identifiable way in your backpack.
Your socks and underwear are stowed in one place, your toiletries are in another, while your t-shirts, pants, and jacket are secured in usually the largest cube.
Some sets come with a laundry bag for dirty clothes (or extra shoes) and a dedicated toiletry bag. Moreover, you know where everything is. And you can access it quickly. Simple as that. But here's the interesting part.
Nowadays, most people use packing bags for travel. Indeed, they fit very well in a suitcase. However, their rectangular shape and thin weight make them snug even better in a Jansport hiking backpack. Furthermore, packs usually have many compartments which allows you to arrange your cubes strategically.  
Speaking of arrangement, their rectangular shape is not accidental. They are like small bricks. The ergonomic shape allows for a smart packing that eliminates dead space in your rucksack.
We found that packing cubes could be very comfortable when used as a pillow. Use one, in which you have only clothes and enjoy that splendid view like a boss. Or doze off like a baby near the campfire.
Besides, you can put not only clothes in them. The nylon sleeves can accommodate any other hiking gear that you'd normally stuff unorganized in your backpack. That could be a medical kit, thermo blanket, multi-tool, snacks, navigation tool, gloves, lighters, sunscreen, insect repellent, etc. The list is long.
Furthermore, keeping your stuff in cubes is convenient when you need to sleep over in a hiker cabin or a hotel. You can have your clothes arranged in cubes in drawers (or anywhere else, actually). No scattering, no more mess. Clean and simple.
Compression Makes A Big Difference
Packing pouches are also quite powerful when they provide compression. In fact, that would easily bring your packing experience to a higher level
Compression packing cubes have an additional zipper that goes all over the side of the pouch. When you zip it, that expels the air, thus reducing the size of the cube, making it flatter. The result – sometimes up to 60 percent more space in your pack. And you can pack more gear!
For more info about the benefits of packing cubes for hikers, check out the fun infographic below.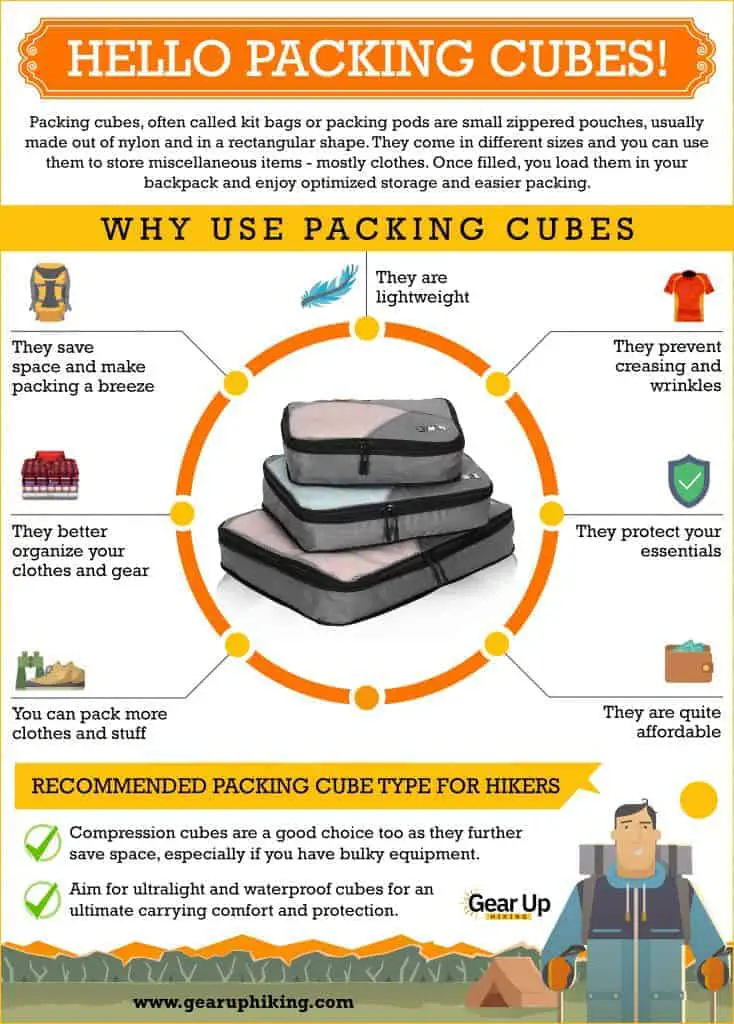 If you want to learn how to make the right choice and pick the best packing cube set for you, please continue reading. What follows is a buying guide.
Choosing The Right Packing Cubes Set
Chances are, you already noticed there's a crazy number of packing pouches online. What makes the choice even more difficult is their similar features. And every brand labels them as being the best and better from the others.
So how do you decide which one is the best for you? Also, how do you know the cubes are appropriate for packing for outdoors? The first thing you need to consider is the shape.
The Shape
Luckily, most of the packing cubes are rectangular. That makes them very easy to put in order in your pack. Cubes with a square shape are also packing-friendly. Avoid those with an oval shape because that leaves unused space, which is not efficient.
Oblong cubes are also a bad idea for hikers because it's more difficult to arrange them in your backpack.
The Size
Usually, packing cubes are sold in sets. The set could have up to 7-10 pieces of cubes. Conveniently, they differ in size. That makes it easier to compartmentalize various stuff in each pouch. The most common sets have between 3 - 6 pieces. They might also include a toiletry bag and a laundry/shoe bag.
It's not rare to see sets that include two or three pouches only. The good thing is that there's anything for everybody. So depending on what you need to pack and for how long, you can take your pick.
If you're unsure about what size to choose, go for a bigger set. It's easier to leave a pouch or two at home than regretting that you haven't purchased a larger set later, when you need that extra room.
Another rule of thumb is to have various-sized pouches. That gives you better options to separate small items from bigger ones. In that way, you can also organize them by type. In my larger packing cube, I'm able to even store a foldable dry bag. Interested in dry bags? We have a detailed buying guide. Read more here.
The Weight
It's difficult to find cubes that are heavy. Most manufacturers today realize that nobody likes to add extra weight in his/her backpack. For hiking purposes, go for ultralight cubes. An ideal weight of a single pouch is around 60-100 grams depending on its size.
If the brand is good, then the fabrics will be thin and tear-resistant at the same time.
The Fabrics
Most of the packing kit bags are made out of nylon and mesh clothing if they are see-through. Plus, the nylon is water-resistant. Also, all cubes on our list have a very good weight to strength ration, meaning that they are lightweight and sturdy.
Note that the higher the denier of the nylon, the more durable the cubes will be. Many reputable brands reinforce the stitching and the sewing. And that's important.
As for the zippers, it's best if they are branded and with big teeth and pulls. YKK or SBS zippers is the ideal solution. Probably you'll agree that lackluster zippers could be nerve-wrenching.
The Type
The type of cubes that you will buy depends entirely on your hiking style and trip. If you go in places where the climate is hot and humid, probably it'd be best to have meshed cubes. That will provide ventilation and easier wet evaporation. Besides, it's easier to see what's inside.
If you hike in cold conditions, then compression cubes would be very appropriate. That's because you must pack bulkier clothes. Reducing space by compression would definitely come in handy.
Sometimes, you go to places where your pack could get wet. If that's the case, then waterproof cubes are recommended.
As you can see, finding the right features for you will largely influence your decision. The good news is that you can buy cubes that are ultralight, water-resistant, and provide compression at the same time. Doing so will make sure your essentials are protected without adding extra pounds in your rucksack.
There are also padded, and MOLLE cubes, but they tend to be weighty. Use them only for specific purposes – when you have to protect special gear and you need to pack really heavy for longer expeditions.
The Price
The good news is that packing pouches are not expensive. You can find quality sets of 6 pieces in the range of $30 - $45, and often ever for less. Still, some tend to be pricey for what they are. Keep in mind that anything above $50 is probably not worth the money.
Our suggestion would be to invest a little more on high-class, dependable packing cubes. Doing so will spend you a lot of nerves in the future. Nobody likes to end up with torn up pouches in the middle of a long-awaited trip.
Some of the brands known to make great packing cubes are SuitedNomads, Tortuga, Osprey, and Eagle Creek. A good affordable option is Gonex.
Let's move on and see how to use packing sleeves like a boss!
5 Smart Ways To Make The Best Use Of Packing Cubes
Without wasting time, here they are:
Roll clothes instead of folding them. You'll save space and prevent wrinkles.
Use many sizes for a better organization.
Don't overstuff over because that makes it difficult to compress them. Moreover, they'll wear out faster. Instead, buy more of them.
When compressing, push down to release the air, then push the inner material down with finger to avoid zipper snagging.
If your cubes are not meshed (see-through) and you want to easily identify your gear, tag them with paper gift cards or sticky notes.
To actually see how to use packing cubes in the best way possible, watch the video below.
Now let's see the most frequently asked questions on the topic.
FAQ
How to wash packing cubes?
Are packing cubes and vacuum bags the same thing?
Are packing cubes really worth it?
Are they more appropriate for a suitcase or a backpack?
Conclusion
Packing cubes are great for hiking. That's why they're so popular right now. Those little pouches are especially helpful for space saving and gear organization no matter where you go and for how long. Once you try them, chances are you'll love using them. Thank you for reading! 
Any questions or comments are appreciated. Leave a comment below!
---
Founder of this website, Asen is a passionate hiker and pizza lover who is also a gear nerd. He's been featured on many established hiking websites where he gives hiking advice & tips. When he is not trekking with his family or friends, he is writing articles and product reviews. Asen spends most of his time in Bulgaria but he constantly travels the world in seek of more unforgettable experiences. Read more about Asen here.