8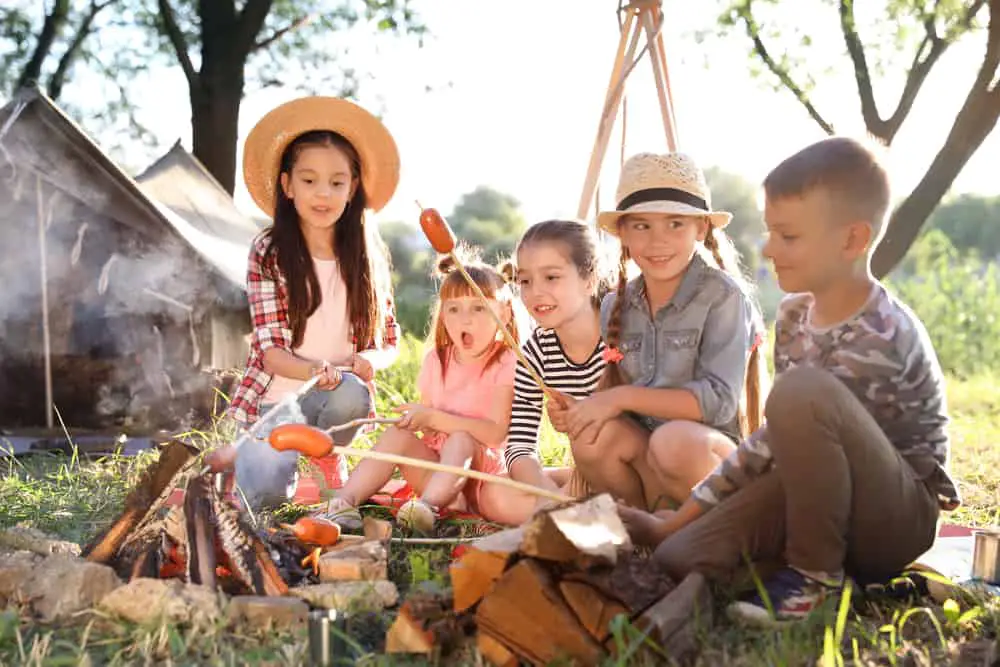 14 Easy And Delicious Camping Meals For Kids [2021]
As camping season approaches, we all scuttle around collecting ideas for yummy (and convenient) campfire meals.
After all, camping isn't about sacrificing comfort but simply adapting to being outdoors. When it comes to prepping camping meals for kids however, you may feel like tearing your hair out.
What won't make a mess? What is delicious and healthy and energizing? What if my kid is a picky eater?
Whether you're geared with a portable camping stove or building your own fire pit, here are some easy and delicious camping meals for kids that no youngster can resist.
You can modify them to fit any allergy restrictions and strong food opinions as well. Now, let's see some truly amazing camping meals for kids. Most of them are some easy camping recipes in general!
On Eating Healthy But Tasty
A little salty, a little sweet – every kid has their own preferences. But what are some general foods that can easily be incorporated into their meals to satisfy the palate?
Try to use the following ingredients to add texture and taste to your camping food. On a side note, if your kid is not a huge meat fan, check out those vegetarian meals too.
Nuts - high in healthy fats, filled with fiber and anti-oxidants.
Cheese - while each cheese differs in nutrition value, they're often packed with protein, calcium and vitamins A and D.
Oatmeal - dense with soluble fiber, it keeps digestive tracts clean and healthy.
Dried fruits and raisins - while fruits are extremely high in sugar content, they act as natural sweeteners that are nonetheless healthier than processed sugar. Dried raisins are a great source of iron while adding to the sweet factor as well.
Sweet potato - potatoes are a slow to breakdown source of carbohydrate that provides energy. Sweet potatoes offer an additional benefit. Heavy in beta-carotene, they provide a nutrient that converts into vitamin A for healthy eyes and skin.
Bell peppers - introduce texture to your meals with these incredibly nutritious 'greens'.
Camping Meals For Kids – Some Tasty Meal Ideas
When camping or hiking with kids, meal prep has to allow quick cooking time and the least mess possible.
You have to consider the nutrition value and energy output too – what foods yield high energy, is packed with protein and isn't sugar heavy? Do you have some creative camping recipes on your mind already?
Here are some delicious camping meals for kids also suitable for family trips that may even encourage active meal prep participation. You want to have an easy camping experience, right?
Breakfasts To Wake Them Up
Parents know that kids wake up ravenous and raring to go, so breakfast should be kept simple and quick.
You'll also spend quite some time tidying up the camp space. Therefore, allow yourself a more leisure morning by keeping the cooking short.
Instant Oatmeal
It can be difficult getting our regular dose of fibers out in the wild since vegetables don't last long, but oatmeal is a great alternative. That's why it made it to our list of yummy camping meals for kids.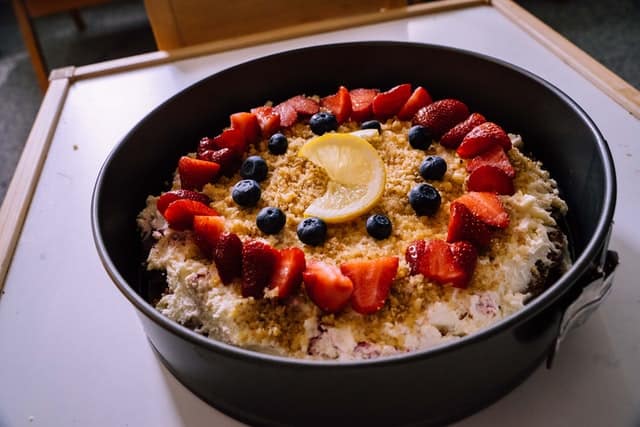 Easy to prep, pack and prepare, these DIY instant oatmeal packs should be a staple breakfast deal. Serving one pack per person, prepare these ingredients:
½ cup rolled oats
2 teaspoons dried milk powder
2 teaspoons chia seeds/flax seed
1 tablespoon brown sugar or maple syrup for flavor
2 tablespoons of add-ons (can be dried raisins, walnuts, dried fruits like blueberries and apricots, chopped dates, cranberry, etc.)
A pinch of salt
Customize the oatmeal with whatever your kids like as a garnish. Simply combine all the ingredients in a Ziplock bag.
Your add-ons can be packed separately or mixed in. To eat, empty the pouch into a container or cup and cook with ¾ cup of water.
Cook as needed but on average, it takes around two minutes and you will have one of the best camping meals for kids and one of the most exciting camping recipes ever.
Pancakes
Nothing speaks weekend food as loudly as pancakes do – and guess what, they are approved for camping. In fact, they will make your outdoor experience what you'd like to call it as an easy camping. Wouldn't you like that?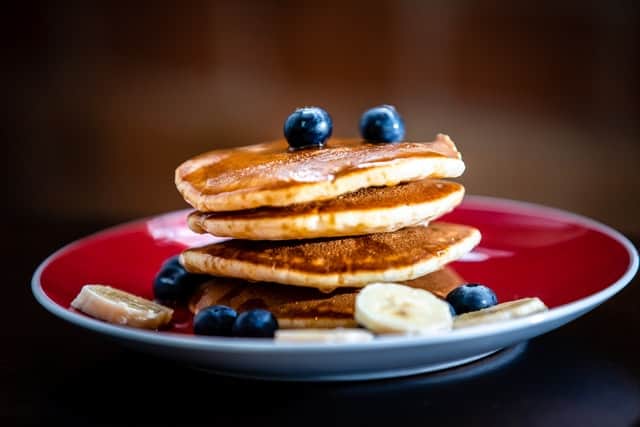 All it takes is prepping the dry pancake mix pre-trip and making sure you have enough water to turn it into batter.
Make it healthy by adding fresh berries to it. You'll need:
200g flour
1 teaspoon baking powder
4 tablespoons milk powder
1 tablespoon sugar or natural sweetener
2 eggs
500-600ml of water
1 teaspoon cinnamon powder (optional)
Salt (optional)
A cup of fresh berries or dried fruit (optional)
To create the pancake mix, combine the flour, baking powder, milk powder, sweetener, cinnamon powder and salt in a glass jar. You want one of the most delicious camping meals for kids, right?
The glass jar serves as both storage and mixing bowl. When you're ready to cook, add the eggs and water into the jar and mix well.
Grease your skillet with a bit of oil or butter if possible and then cook until the batter turns brown. You can bet that it's one of the most delicious camping meals for kids on our list.
Brekkie Tortillas
Blending texture and flavor, this is one of the healthiest and tastiest meals a kid could ask for when camping.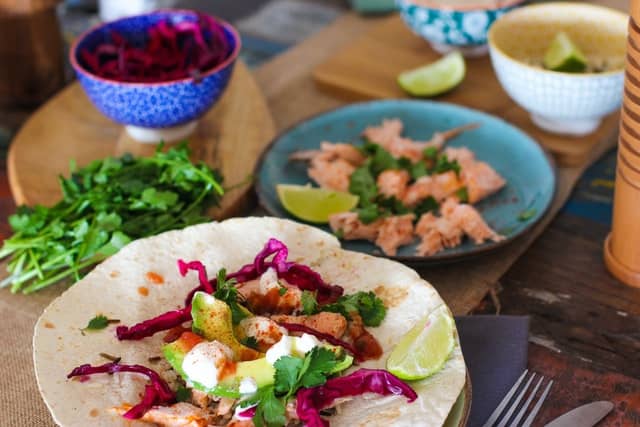 The ingredients give you a proportionate balance of carbs and high-density fats for energy burning. The nutty and fruity toppings bring fiber into the mix, making this dish one of the most sophisticated camping meals for kids that you can find.
1 pack of tortilla wraps
1 cup peanut butter or any nut spread
Sliced fruits (bananas and apples are easiest to carry; other fruits are possible too)
Walnuts, peanuts, almonds, etc.
Lay out a tortilla evenly and spread a layer of nutty butter. This will allow the fruit and nut pieces to stick.
Add fruit slices and nuts liberally – we recommend chopping the nuts first for easy application. Roll the tortilla and take a big bite! Isn't that one of the most wonderful camping meals for kids that you can prepare?
Filling Lunch And Dinner Recipes To Refuel
Lunch should be more filling than breakfast since energy has been expended. You'll likely do more hiking (check these hiking trails for kids) or outdoor activities in the afternoon as well.
Help tired muscles heal by stacking protein and recovery nutrients via meats, eggs and cheese. You'll find that easiest-to-prep and least-to-clean meals are skillets and skewers, since they mostly involve chopping ingredients and cooking it all in one go. That's why they make great camping recipes and awesome camping meals for kids and adults alike.
Bread Bowls: Ham, Egg, And Cheese
Cheese actually delivers one of the most important minerals to our bodies – calcium to make our bones grow strong.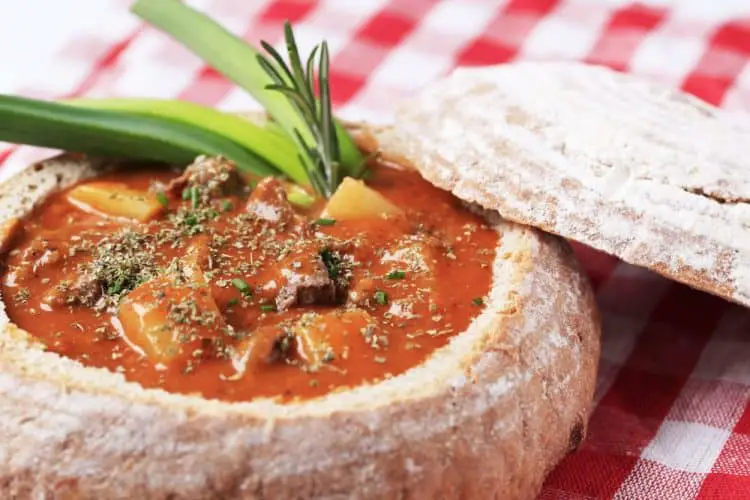 Since calcium is absorbed through movement, camping and its vigorous activities is the perfect setting for cheesy eats.
Best of all, this lunch or dinner meal leaves you with nothing to wash.
4 bread rolls
4 slices of ham (thin cut)
4 eggs
1 cup finely chopped parsley
½ cup mozzarella cheese
Create bread bowls by slicing off the tops to use as a lid, and then scoop out the center with a small knife.
Layer the ham at the bottom before cracking an egg on top. Top it off with the mozzarella cheese (two to three tablespoons per bowl) and cover with the bread 'lid'.
Wrap in aluminum foil and you're set! It could take up to 25 minutes to cook completely.
Do note that this is best enjoyed on the first day of camping since bread gets soggy and anything with egg in it shouldn't be left out in the heat too long.
Otherwise, you can bake it at home before packing, or cook on the grill upon arrival. Bread balls are delicious and easily turn into one of the most exciting camping meals for kids you can imagine.
Grilled Steak Kebabs
Spear and grill these delicious kebabs - in just 15 minutes of cook time, you get 4-6 servings. They're extremely filling and your kids get their greens.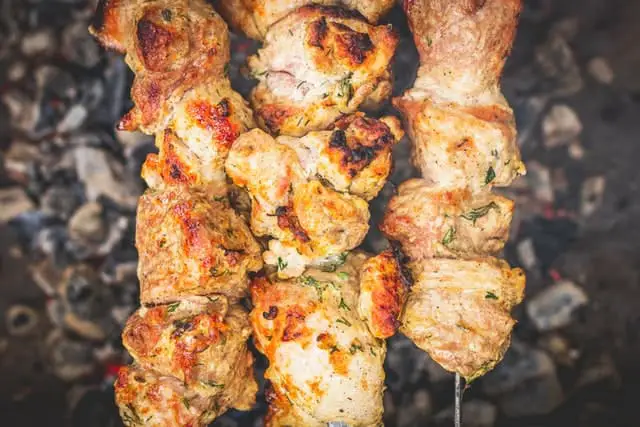 You can choose your preferred veggies but this ingredient list is a great template:
½ large onion (red or white), cut into quarters
½ of three kinds of bell pepper (green/yellow, red, orange)
1 small zucchini (sliced into rounds)
10-20 button mushrooms
2 lb sirloin steak (cut into cubes)
10-12 wooden/metal skewers
Marinade mix + water/oil/vinegar
Italian dressing
On the day before your trip, wash and cut the vegetables into bite-sized chunks. Place into a freezer bag and pour in Italian dressing, the zestier the better!
Let it marinate in the refrigerator. Do the same to the steak - cut, marinade, place in freezer bag and refrigerate overnight.
The next morning, create your skewers – remember to soak wooden skewers sticks in water before sliding on the produce. You can prep the skewers pre-trip or do it by the grill. It's one of the easy camping recipes on our list.
Kielbasa And Potato Hash
Fresh veggies and lean turkey kielbasa combine in one healthy skillet dish.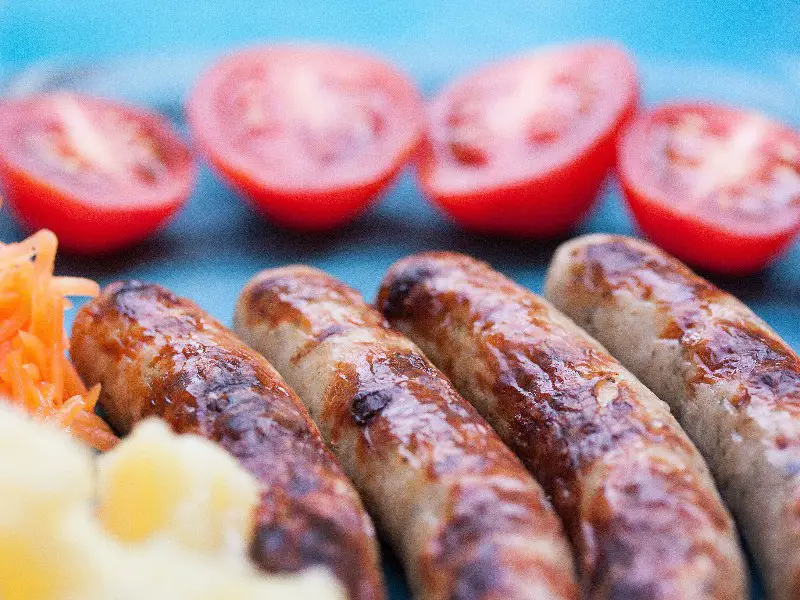 You can use pork or beef chunks, but pheasant meat and smoked sausages are the healthier alternative. All you need is:
14 ounces (or 1 pack) turkey kielbasa (cut into rounds)
1 green bell pepper
½ red or orange bell pepper
1 onion
2-3 potatoes
Olive oil
Salt & pepper
Dice everything except the turkey – those get sliced – and prep your skillet with 2 tablespoons of olive oil.
Cook the potatoes chunks first. Then season with salt and pepper while you fry them to browned perfection.
Set them aside and brown the sliced kielbasa for a few minutes. Then add the peppers and onions to the skillet. Finish off by mixing in the potatoes and season to your heart's content. All camping meals for kids should be difficult to resist to and this one is just that.
Tinfoil Chili Cheese Fries
This carb overload is a kid favorite and depending on the ingredients you buy, is actually low on the 'junk' food scale.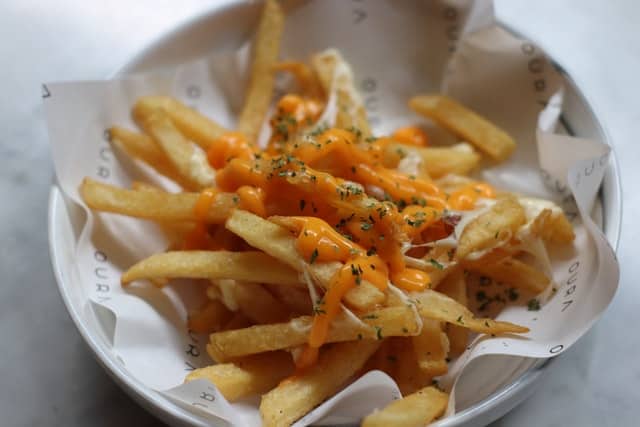 Because all you're using are pre-made ingredients, it's perfect for when you're in a rush. Opt for some non-oil laden fries, low cheese fat and healthy chili.
All you need to do is spray the inside of a doubled-up foil sheet with cooking spray, fold the frozen fries inside and cook for 15-20 minutes.
Spread cheese and chili (however much you want), close packet again and cook until it's a cheesy chili blanket. We just adore such nutritional camping food ideas.
Grilled Peanut Butter And Jelly Sandwich
If you want to keep lunch light, go with the classic peanut butter and jelly sandwich. Continue reading to learn why it makes a wonderful camping food and a genuine camping recipe.
Simply slather on the peanut butter and jelly between thick slices of bread, butter the outside (if possible, if not you can swipe a light sheen of olive oil) and grill each side until it has browned.
It's healthier than we often assume too. Nutty butters provide high-fats for energy burning and the jelly (if homemade or organic) is a natural sweetener. You will definitely diversify your list of camping meals for kids with that one.
Campfire Burritos
One of the best dinner options when camping with kids, burritos is a bit of everything wrapped up in one tortilla shell. It's classified as a super delicious camping food.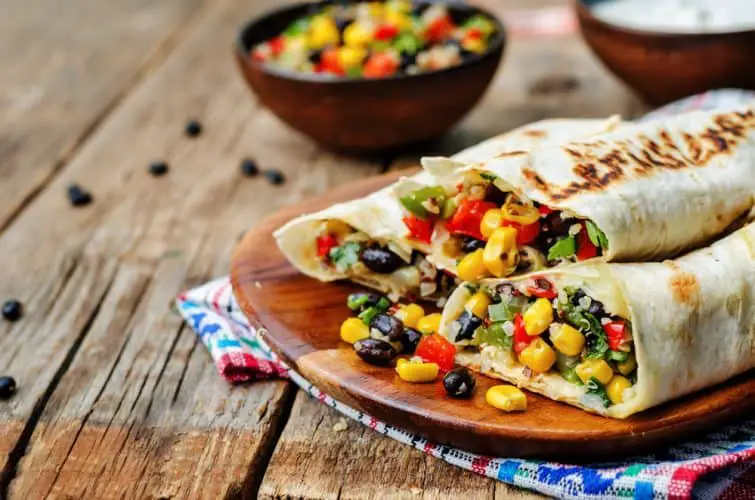 Your ingredients are:
1 lb of taco meat/marinated pork
1 cup cooked rice
½ cup salsa verde
½ cup grated cheese
4 tortilla sheets
Cooking spray
Tinfoil
Once you've cooked the rice and marinated the meat, mix them with cheese and freeze all three ingredients in a Ziplock bag or plastic container. By the ways those are great for storing eggs as well.
Make sure to thaw the fillings before putting it on grill! Stuff each tortilla with the filling mix, roll it and fold the ends. Use cooking spray on the inside of the foil and wrap up the burrito.
You can cook them on the coals directly or on the grill. The former method takes around 3 minutes to cook on each side, the latter may take longer. Isn't it one of the most original camping food ideas here?
Tinfoil Mac And Cheese
You can never go wrong with mac and cheese. That will surely affect positively your camping experience and your camping food arsenal.
The campfire version proves this. Alongside enough water to cook, you'll need:
1 pack of elbow macaroni
1 cup grated cheddar cheese
1 cup parmesan cheese
3 tablespoons of butter
½ cup of cream
Salt & pepper
Boil water and cook the pasta. Let it cool. Stir in the cream before adding butter and cheese. Flavor with salt and pepper.
Pour the prepared pasta into the foil packets (double-folded, with cooking spray) and wrap again with another foil sheet. Freeze these pasta packs at home for a longer keep. Ready to cook?
Place it on a grill for 10-12 minutes and voila! You have one of the most irresistible camping meals for kids and the entire family.
Carrot Sticks And Hummus
An undisputed snack combo is carrot sticks and hummus. While hummus doesn't keep well in the heat, it's a tasty and nutritious snack for short camping trips.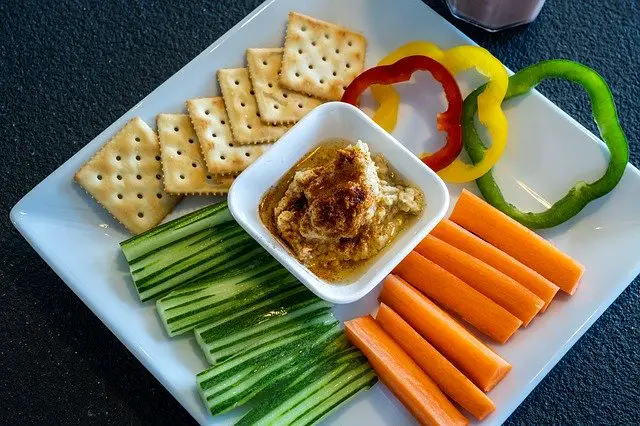 Not only does the thick, creamy spread (made from chickpeas) contain high amounts of fiber and anti-oxidants, but the carrots are similarly rich in beta-carotene to protect your eyes from the sun.
They're easy to carry as well that allows you to save enough space. Simply slice the carrot into sticks or buy a package of baby carrots.
You can buy already-made hummus or blend your own at home. All you need to do is blend chickpeas, chickpea water (from a can), olive oil, lemon juice, and tahini (optional). Then flavor with salt and pepper. Now you have some mouth-watering camping food.
Dessert Bites To Keep Them Satisfied
When adventuring deep into nature, dessert seems like a far-off dream. Surprise your kids with these post-meal treats – s'mores don't have to be the item on the menu.
Campfire Banana Boat
Mhm, imagine that melted, sweet and crunchy texture.
You can top your banana boat with any garnish you prefer, but the classic combo goes like this:
1 banana
2 tablespoons of milk chocolate (from bar or chocolate chips)
Mini marshmallows
1 graham cracker square
Slice the banana (with its peel still on!) down the middle of the concave side – be careful not to cut the whole way through.
Stuff the chocolate and marshmallows into the center. Wrap in foil and grill until everything has melted.
Top it off with some crushed graham cracker and you're done. Other fillers can include: strawberries, Nutella, chopped nuts, toasted coconut, peanut butter, etc. You can always use your imagination to create one of the most unforgettable camping meals for kids.
Berry Pound Cake Skillet
Cake and fresh fruits are an irresistible combo. Add chocolate to the mix and you've got the perfect skillet dessert.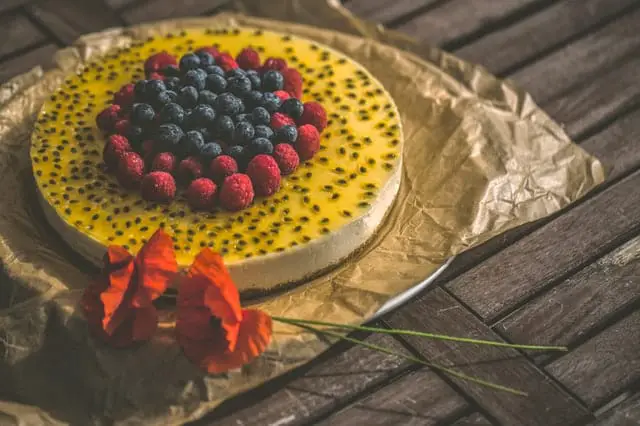 Simply let 12-16 oz of fresh berries sit in 2 tablespoons of sugar; this will release the juices. Add butter to an iron skillet and dump ¾ lbs worth of pound cake cubes into it.
Cook until brown. Sprinkle in the berries and chocolate chips, let them sit until the chocolate is melting. Mmm, what a tasty camping food to eat with your kids, isn't it?
Grilled Peach Packets
More tinfoil magic to reap! All you need is:
¼ cup of light brown sugar
2 tablespoons of unsalted butter
4 ripe peaches
4 tablespoons of granola
Tinfoil
Low-fat frozen yogurt (optional)
Mix the sugar, butter and salt in a small bowl. Remove the pits from the peaches and stuff each emptied half with the sugar-butter mix.
Enclose in double-wrapped tinfoil and grill for 15 minutes. When ready, top each serving with granola and frozen yogurt. Delicious!
Some Useful Need-To-Know For Camping With Kids
Just a few extra tips to ensure things go smoothly.
Let The Kids Join In Menu Planning
Having them contribute to the planning process (especially when it comes to camping food) goes a long way in making them excited for the camping trip.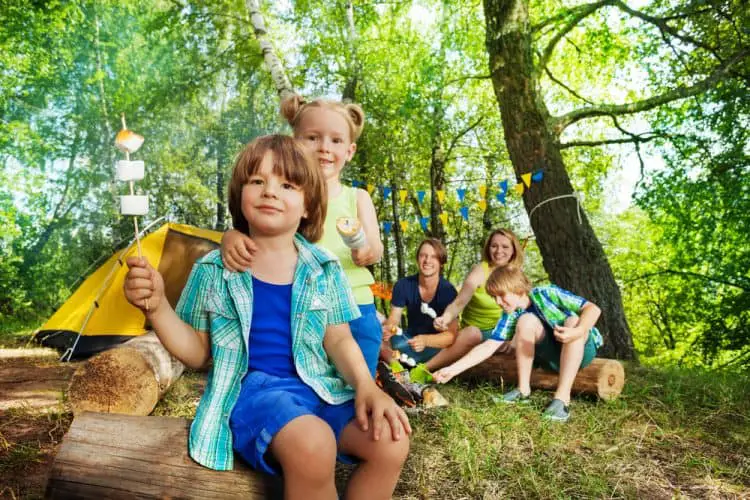 This way, you'll also pack exactly the meals they want. It won't hurt consulting this short and sweet camping checklist.
Secure The Camping Food In Unbreakables
If your kid wants to help with the actual food prep on-site, make sure to store your ingredients in plastic containers or Ziplock bags.
Glass jars are great for certain mixing action, but risk injuries if they break. Consider that when preparing camping meals for kids and any other member of your family.
Cordon Off The Cooking Area
The younger your kids, the more careful you want to be with the cooking space. If you're cooking over open fire and not on a portable grill/gas stove, let them know it is off-limits.
Bring Along Plenty Of Drinks
Water is one thing, energy drinks is another. Replenish their electrolytes after sweating buckets. Because camping food is not enough. You need camping drinks as well!
Bring A First-Aid Kit
You never know when nicks and scratches happen! Pack a first-aid kit just in case and learn how to use it. Prepare all camping meals for kids with safety in mind. Safe camping makes easy camping!
Conclusion
We truly hope that now you have some ideas for tasty camping meals for kids. As you can see, it doesn't have to be complicated in order to be delicious.
Follow our meal recipes, use your cooking skills (you sure have them!), and unleash your imagination to make the perfect dish that your kids will just love.
After all, camping is fun and enjoyable when the food is! Remember, happy kids equals easy camping.
How do you deal with meal prep when camping? What are your favorite camping meals for kids that your little ones love? Leave a comment below!