6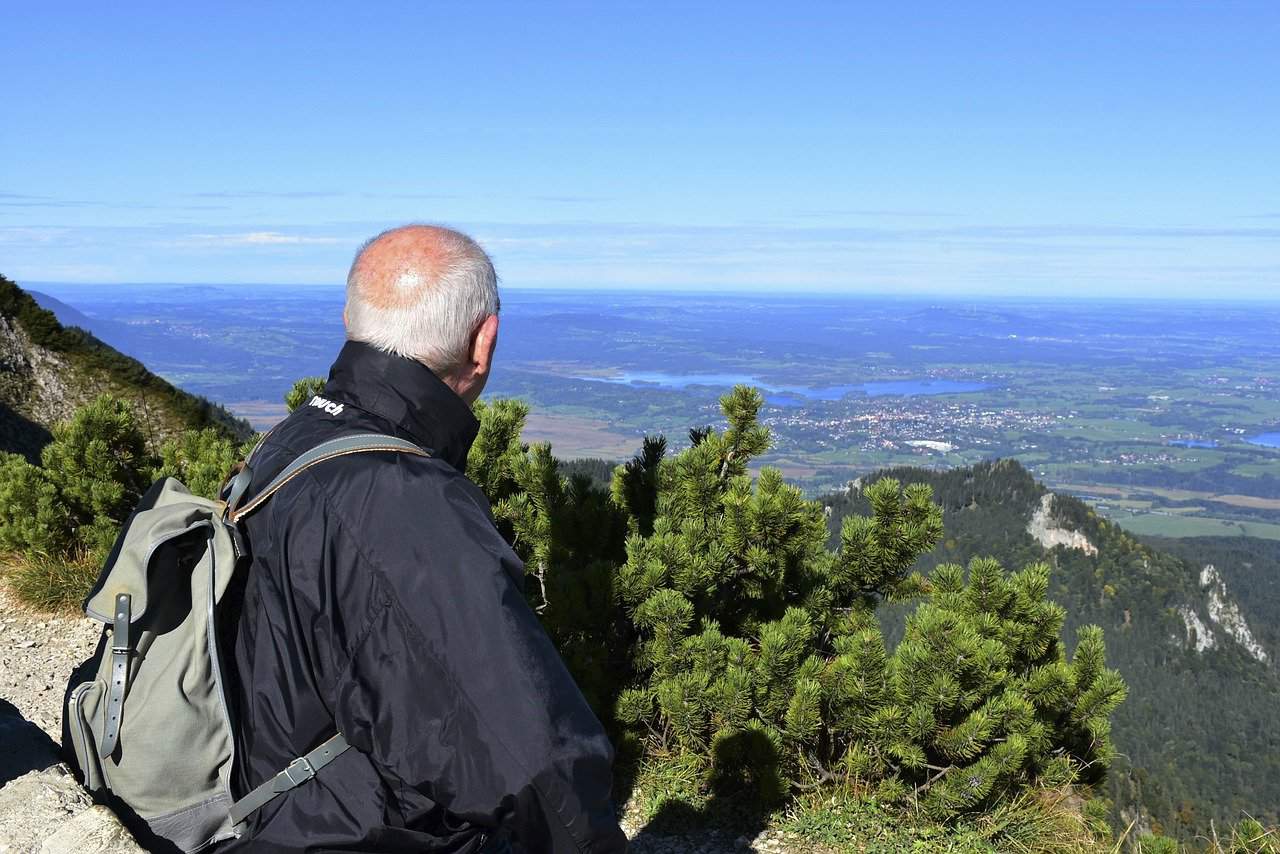 10 Awe-Inspiring Hiking Trails For Seniors In The USA
A great way for senior citizens to get out and get exercise is walking. That's why we compiled this list of some spectacular hiking trails for seniors in America. Are you ready?
We strongly advise you to read our guide on hiking during the coronavirus outbreak. Stay safe and be responsible!
There's no required skill or finesse required for walking, and it can be done anywhere at one's own pace. If walking is already a part of your daily routine, try hiking! Hiking does not have to be strenuous of difficult. Easy hikes are just as much fun, without all the work.
Studies have shown that those who go out for regular walks or hikes can reduce arthritis and ease joint and knee pain.
Many physical therapists suggest that motion is the lotion. This means that by keeping your joints active and moving, you are keeping them healthy and not losing mobility.
Regular exercise like walking and hiking can also help improve bone density, cardiovascular health and increase circulation.
Hiking has also been linked to decreased feelings of depression, isolation, and loneliness by boosting one's sense of purpose.
If you haven't been out hiking or walking much lately, start small and work your way up. Start out small with a walk around the neighborhood or a local park. Nature trails, old rail trails, and bike paths are typically smooth, flat terrain to start out on.
It's important to understand your personal limitations and don't push your comfort levels. If going hiking with a group, it's okay to be the person in the back of the pack.
When going out for a longer hike, make sure to be prepared and bring water, snacks, and whatever else you may need. Staying properly hydrated is important, especially on the trail.
Also consider bringing hiking poles or finding a good hiking stick.
Having poles that are lightweight gives you something to hold on to and help with balance on uneven terrain. Some trails are better suited for aging people than others.
Hiking trails good for seniors are typically flatter and wider. Sticking to a trail with a smooth walking surface is better for balance.
Also, try to avoid trails with higher elevation gain. Hiking uphill can be difficult for the lungs, while hiking downhill can be tough on knees as well.
Below are some of the best easy hikes in the United States for seniors. Let's begin exploring them!
Landscape Arch Trail
Hiking to the Landscape Arch in Arches National Park is an easy hike and a great way to explore the Utah desert. Parts of the trail are paved for easy walking, other parts are smooth and compact like a dirt road.
The trail is two miles out and back with only a 259-foot elevation gain. There are two other side trails that shoot off providing views of two different arches. In the spring, this is a great trail to see wildflowers and birds.
This is a heavily trafficked trail in the park so you don't need to worry about getting lost or not being able to find help.
Maroon Bells Scenic Loop Trail
The Maroon Bells Scenic Loop Trail is a great place for seniors to get out and explore the beauty of Colorado's mountains.
From the base area of Aspen Highlands, catch the shuttle bus up to the trail head at Maroon Lake. From here, you can jump on the trailhead for Maroon Bells Scenic Loop.
The loop is only 2 miles long with a 160-foot elevation gain. Though the trail is relatively flat, you are surrounded by mountains making it an incredibly scenic hike. If you have never seen the Maroon Bells in person, this is a worthwhile place to visit.
If you decide to spend a night there, pick a nice location for stargazing and bring your best tent. On a clear night, you will have a magical experience. 
Dukes Creek Trail
Located in Helen, Georgia, Dukes Creek Trail is a great 2.2 mile out and back trail featuring a nice waterfall. From the parking lot, the first part of the trail is a paved ADA trail taking you up to an observation deck overlooking the ravine and falls.
From here, the trail gets a bit more difficult as it winds down a series of stairs to an old roadbed. Most of the trail is comprised of flat, wide switchbacks with the occasional wooden boardwalk and stairs.
It is downhill on the way out with a 337-foot elevation gain on the way back up. If you are still comfortable with stairs, this is a beautiful trail and a great way to escape the Georgia heat as the creeks provide a natural air conditioning at the bottom of the gorge.
Zion Narrows Riverside Walk
The Zion Narrows Riverside Walk is a popular walking trail in Zion National Park. Located in southeast Utah, the walk is paved for the 1.8 miles out and back with an easy 206-foot elevation gain.
Located in the bottom of the Narrows, this route is a great way to beat the heat and cool off in Zion National Park. Be on the lookout for squirrels, mule deer, great blue heron, and many other species of birds. To get to the trailhead, ride the shuttle in the summer or drive in the winter along the Zion Canyon Scenic Drive.
Torrey Pines Beach Trail Loop
On the coast near Del Mar, California is the Torrey Pines Beach Trail Loop. This easy loop trail covers 2.3 miles with a 364-foot elevation gain. The trail is open year-round and is great for all skill levels.
As you hike up the trail from the beach, there are several viewpoints overlooking the ocean that are great places to rest. Keep in mind that sometimes when it rains these trails are closed to prevent erosion. Always check the weather before leaving for a hike, regardless.
Multnomah Falls Trail
Although a bit more difficult than some of the other trails listed here, Multnomah Falls Trail in Oregon along the Columbia River Gorge is an incredible sight. Though the trail is only 2 miles out and back, the trail does gain 823 feet.
Multnomah Falls Trail is paved the entire way, which makes for easy walking, despite being relatively steep. While in the area, take the time to enjoy a scenic drive around the Columbia River Gorge.
Another pleasant hiking destination in Oregon is Independance and Monmouth. There are quite a few easy, yet beautiful parks and trails near the city of Monmouth.
Hoh Rain Forest Hall Of Moss
The Hoh Rain Forest Hall of Moss trail in Olympic National Park is a great trail for seniors. This 1.1-mile-long trail has only an 82-foot elevation gain.
There are many amazing species of mosses, lichens, ferns and wild flowers that call the rain forest home.
Be sure to keep an eye out for banana slug along the trail. You don't want to step on one. These slugs can grow up to 10 inches long, making them the largest terrestrial slug. Also, be on the lookout for elk, as they sometimes wander close to the trail.
Centennial Lake Loop
Centennial Lake Loop is a cool, easy hike for those in Baltimore, Washington DC area. The loop is 2.5 miles long with only a 95-foot elevation gain.
Although the lake is man-made, it has won many awards for its natural design and sensitivity to nature.
As you walk around the lake, be sure to take in the wildlife that make this lake their home. Numerous species of birds as well as turtle, deer and beavers can be seen around Centennial Lake.
Giant City Nature Trail
The Giant City Nature Trail in southern Illinois is an easy 1-mile loop with a 160-foot elevation gain. Although the trail is short, there are many different side trails and attractions as you walk along.
This would be a great trail to bring grandchildren, as there are many things to explore along the trail.
In the spring and summer, there is an abundance of wildflowers. Take the time to check out the amazing rock formations that make up this path and provide great photography and exploring opportunities.
Anhinga Trail
One of the most popular hikes in Everglades National Park in southern Florida is the Anhinga Trail. The trail starts from the Royal Palm Visitor Center and follows a 1.5-mile loop with zero elevation gain.
Most of the trail is paved or boardwalk, which makes for easy walking. This is a great area for birdwatching, alligator spotting, and other wildlife viewing.
The national park offers ranger guided walks along the Anhinga Trail so that you can get the most of your time on the trail.
Before You Leave
The National Park Service offers a lifetime membership for those over 60 years old. This is a great investment if you live near a national park or near a national forest that requires a fee.
Many popular national park trails are easy with wide paved surfaces and limited elevation gains. If you enjoy hiking, look into the national park's lifetime pass.
All things considered, you choose the trail that is best for you. Start out with some easier walks and build from there.
If you're feeling good, then try something a little more difficult whether that be a longer hike, greater elevation gains or trail surface technicality.
There is no right or wrong way to hike, just what's best for you! Hopefully, you enjoy some of these hikes and we'll see you out on the trail soon!
---
What's your all-time favorite trail? Leave a comment below!
Founder of this website, Asen is a passionate hiker and writer who is also a gear nerd. He's been featured on many established hiking websites where he gives hiking advice & tips. When he is not trekking with his family or friends, he is writing articles and product reviews. Asen spends most of his time in Bulgaria but he constantly travels the world in seek of more unforgettable experiences. Read more about Asen here.