7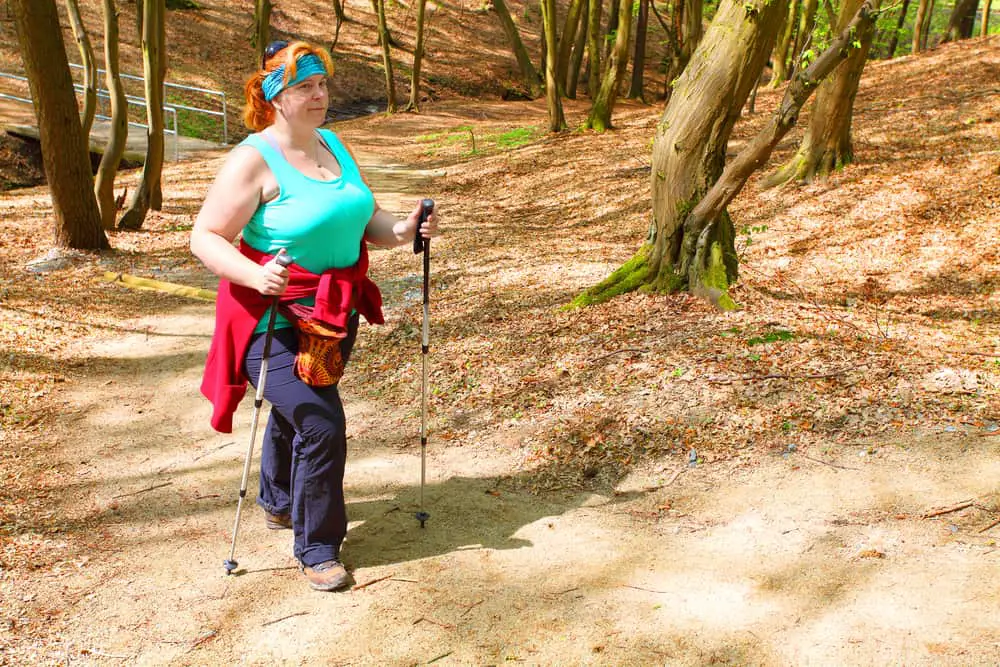 Hiking For Fat People: A Feel Better Guide (Plus Efficient Tips)
Everyone knows that hiking is a great way to stay in shape, but what if you're overweight and wish to start hiking anyway? Believe it or not, it can be done because you don't exactly have to be skinny to hike regularly.
There isn't a doubt that hiking may be more difficult when you're overweight, at least to begin with, but the good news is that with regular hiking, you can shed a lot of that weight so that the sport isn't all that difficult for you.
Because of these things, hiking for fat people never has to be as physically complicated as some people believe.
In this article we share some useful tips that will help overweight folks feel better on the trail.
Let's start with the most important thing.
Get Rid Of All Prejudices
If you're overweight and still want to hike, the first thing you need to do is get rid of all of these preconceived notions you probably have about the sport of hiking.
First of all, hiking is a universal activity that is not just made for top athletes. Indeed, anyone who loves nature and wishes to get a good workout can hike.
In fact, there are now hiking trails accessible to people in wheelchairs – that's how popular the sport is!
In addition, because each hiking trail you go on varies from the rest, every day is going to be different. This means that while one trail may be easy for you, others may be much more difficult.
When you think about hiking, therefore, get away from the notion that hiking is only practiced by thin people who are more physically fit than the rest of us, and who can handle all types of hiking trails with ease.
Of course, these aren't necessarily negative traits when it comes to hiking. As a general rule, hiking takes a lot of people out of their comfort zone, but if you learn to embrace the sport and "go with the flow," so to speak, you can truly enjoy hiking the way it was meant to be enjoyed.
One of the best parts about hiking, in fact, is the ability to stop and rest whenever you feel like it.
This means that if you do end up on a hiking trail that is a bit challenging, take breaks whenever you need to so you can finish the hike without any problems.
What you need to remember most is that hiking is nature-based, and nature belongs to everyone, regardless of your body type or even your level of fitness. This can help you remember that you do indeed belong on the hiking trail!
Hiking When You're Overweight – The Basics
Naturally, there are things you'll have to keep in mind if you're overweight and you wish to enjoy hiking, especially if you haven't participated in any other form of exercise in the past.
For people both young and old, physically fit or not, thin or overweight, you can still have medical conditions that could make hiking at higher elevations more difficult than it would be otherwise. This is why if you're overweight or have any type of medical condition, you should talk to your doctor before starting to hike
In fact, even if you don't have medical conditions, checking in with your doctor is highly recommended before starting any physical fitness activity, especially if you'll be outside in elevations that are higher.
A physical exam is the best way to do this and letting your doctor know that you intend to go hiking can help him or her to help you know just what to do to get the most out of the experience.
After all, you can't just head out and start hiking, especially if the hiking trail is at an unusually high elevation or is longer than normal.
Even if you don't take any medications and you're in shape, hiking can be rough, so approaching it with a realistic attitude is the best thing to do.
If you're overweight, you shouldn't start with a difficult or especially long hiking trail, but instead you should attempt a shorter one first.
It's a great idea to even start with trails for kids or trails for seniors as they are normally not so technical and shorter.
This is much easier than you think, because you can find out everything you need about any hiking trail in the world if you search online for this information.
It's super easy to find out the length of the trail and its difficulty level, and you need to pay attention to these things before you start the hike.
Thanks to our advanced modern age and the presence of many free hiking apps, you'll have the information you need to choose the right hiking trail when you're just starting out.
Making Sure You're Comfortable
There are things that can make hiking uncomfortable, and when you're overweight, you're at greater risk of some of these things.
For instance, let's talk about chafing. Anyone can chafe and get uncomfortable while on the hiking trail, but overweight people are more likely to suffer with this affliction.
Before you hike the first time, you can prepare yourself for this possibility by considering which body parts will be rubbing against one another as you walk, then you can get proactive by finding the right products to help you.
Preparing yourself ahead of time is, of course, your best bet, because nothing is worse than being half-way through your hike and realizing your skin is chafed through and through, then realizing you have to go back to your starting point with this much discomfort.
Chafed skin can even burn when you're walking, and stopping to do something about it usually isn't possible, but there is something you can do beforehand.
This includes numerous lotions and balms that you simply rub onto those areas, then you can essentially forget about getting chafed from then on.
Naturally, comfortable clothes, boots or shoes made specifically for hiking, and an appropriate backpack that weighs no more than 20 percent of your body weight will all keep you comfortable as you hike. And this is especially important when you're overweight.
In fact, you should pay attention to all tips designed to make hikers more comfortable as they hike, because they are more important for people who are overweight than they are for people who aren't.
Avoid regular clothing that you normally wear in the city or at home. That goes for Converse sneakers and your favorite pair of blue jeans. If it's a short and easy hike, however, you can even put your sweatpants on. 
You'd also like to avoid ski pants, as those are made of rough fabrics and could provoke chafing. 
Hiking For Fat People: 9 Helpful And Actionable Tips
In addition to these things, there are other tips that can really help overweight hikers. Let's quickly take a look at the most important ones:
#1 Keep Yourself Well Hydrated
This means drinking lots of water and electrolytes, not just before and during the hike but also afterwards. Remember, if you start to feel thirsty, this means that your body is already starting to dehydrate, so in the best scenario, you will be drinking regularly enough that you won't get thirsty.
#2 Two words: Trekking Poles!
These poles help hikers of all sizes and fitness levels have an easier time on the trail. If you're hiking over rocky areas, they'll help you remain balanced so you don't fall, and they help stabilize your body throughout the entire hike, which is useful for everyone, not just overweight people. We have an extensive guide on trekking pole baskets. 
#3 Take Things One Step At A time
You can set goals for yourself if you like, but never push yourself to do that extra-challenging hike right away. Start with easy hikes first and move up from there and never feel like you aren't doing a good enough job – because you are!
#4 Try To Hike Regularly
If you go hiking once then don't wait for another several weeks. It will be harder for you to get used to the sport of hiking. Instead, try to hike about once a week to get started, more often when you're in better shape. Hiking regularly is the best way to get into shape with this form of exercise, and it's alright if you stick with the easy trails for a while.
#5 Bring The Right Gear
These include sunglasses and sunscreen, a map and compass, extra food and water, a repair kit, extra clothing (avoid cotton and use breathable polyester) in case it turns cool, first-aid supplies, waterproof matches or a lighter, a flashlight or headlamp, and emergency shelter that can be in the form of space blankets. Other items can be added as you see fit, but these are the basics that everyone should have when they go hiking. If you hike in snow, make sure to take the right boots. 
#6 Take Regular Breaks
If you can, stop every hour and rest for 5 to 10 minutes, and make sure you elevate your feet for that amount of time so that the blood can recirculate through your body. This makes the next part of the hike a whole lot easier.
#7 Use The Right Approach When Hiking Downhill Or uphill
When you're hiking uphill, try to loosen up your shoelaces a bit because this will allow you to be cooler thanks to better circulation and blood flow. Conversely, you can tighten up the shoelaces a little when you're going downhill, and make sure you take baby steps so that you don't lose your footing when any loose rocks appear.
#8 Wear Your Clothing In Layers
#9 One More Word - Snacks!
Hiking takes a lot out of you, and you don't want to feel hungry on the hiking trail because otherwise, you could run out of the energy you need to complete the trail. Try snacks such as protein bars, dried fruit, and beef jerky, which are all good for giving you the energy you need to proceed. Here's an efficient nutrition plan.
In addition, when you're preparing to go on your very first hike – or any hike, for that matter – you should practice by doing a little bit of walking every day.
It doesn't have to be a long trek, just make sure that you walk a little bit every day to get your body ready for your upcoming hike.
You'll be surprised by how much of a difference this makes in both how quickly you get used to hiking and in your comfort level every time you hike.
Some Feel Good Bonus Tips
Some hiking tips for overweight people are the same for non-overweight people, but one of the things that overweight people need to be reminded of is that you have a right to be out there hiking.
In fact, just because you're "big" doesn't mean you can't be in good shape, and as long as you train properly and prepare yourself both physically and mentally for each hike, you can get just as much enjoyment out of these types of physical activities as the person next to you.
You should also try to concentrate on laughing and having fun while you're out there, because if you don't enjoy yourself, what's the point of hiking?
If you're out of shape or you feel a little awkward, you should take a buddy along with you. In case you can't regain your normal breathing when you take those 10-minute breaks, you should consider going back to your starting point because you might be overdoing it.
Using common sense helps a lot when you're a hiker, and to get the most out of the experience, you should also put away your cell phone and camera so you can enjoy your trek free of distracting technology.
Does this mean you can't take your cell phone or camera out every now and then and snap a picture?
Of course not, but you shouldn't have your phone or camera with you constantly. Just put it away and keep it away until you absolutely need it.
Conclusion
If you're overweight and therefore have never thought of going hiking, you've missed out on a very fun and exciting activity.
Hiking has always been a popular sport, and just because you have to take a few more precautions than the average person because of your weight doesn't mean you should just forget about hiking altogether.
The main thing you have to remember is to fully prepare yourself, which includes training, wearing the right clothing, and taking along everything you'll need to make the trip more successful.
If you have any medical conditions, you need to discuss those with your doctor, but otherwise just remember to take it slow, take your time to build up to the challenging hikes, and most of all, have fun!
See you on the trail!
Founder of this website, Asen is a passionate hiker and writer who is also a gear nerd. He's been featured on many established hiking websites where he gives hiking advice & tips. When he is not trekking with his family or friends, he is writing articles and product reviews. Asen spends most of his time in Bulgaria but he constantly travels the world in seek of more unforgettable experiences. Read more about Asen here.